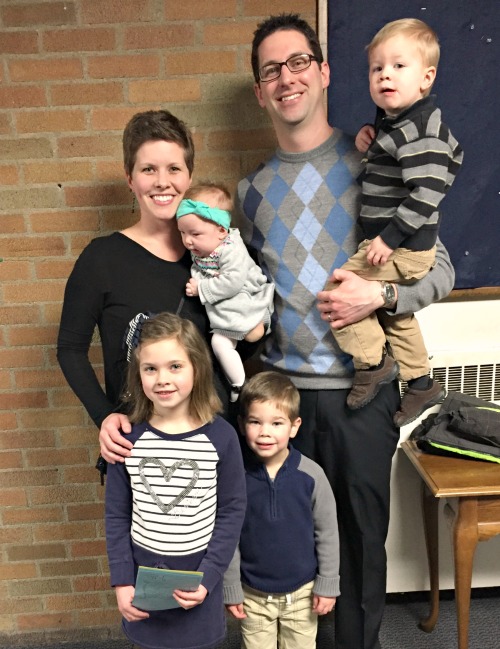 What a full week we had last week — not necessarily because of so many activities, but simply because each one of our kids had something pretty special going on last week!
.
NORA:
Nora was the Star of the Week for her kindergarten class — which might not sound like a big deal, but… it was a BIG deal!
Not only did she get to be the line leader all week, get to pick a special spot to sit for lunches, and do all sorts of other special things in her classroom; she also got to bring her favorite book to school for the teacher to read to the whole class, and fill out a questionnaire about herself and her family.
We also "celebrated" at home by doing her hair in a star braid one day, wearing star clips another day, and packing star-shaped food in her lunch.
She thought she should be the "star of our home" all week too — I decided to draw the line at just star food and hair 🙂
.
SIMON:
Simon went to preschool orientation last week!
He was SOOOOOOOO excited! He's been asking about it every day for weeks now, and when I finally told him "yes, today is the day", he could hardly focus on anything else the entire day.
He got a special t-shirt that he's already worn twice, and he's asking for a new backpack, lunch box (even though he won't eat lunch there), and homework from me so he can "get ready for school".
Such a sweet boy — I can't stop smiling when I think of how much fun he's going to have in preschool!
JAMES:
James moved into a big boy bed last week — with absolutely zero issues! He never got out (or fell out) of bed once!
Right now, he's just sleeping on a mattress on the floor (mainly because we don't have another bed frame yet) but I'm sure we'll move him to an actual bed sooner than later!
Also… he essentially potty trained himself!
He's been asking to wear underwear for months now (I think he started asking right before Clara was born) but I always said "no" because I couldn't deal with one more thing to think about while I was also trying to take care of a brand new baby and get Nora started on a brand new school schedule.
I decided that after Christmas, we'd give it a shot; so last week, I told him he could finally wear underwear… and the rest is history! He's still wearing a diaper at night, but it's bone-dry every morning, so we might switch him to undies at night in a few more weeks.
Hallelujah for only 1 child in diapers after at least 2 kids in diapers for the past 4 years!
And only one crib!!
.
CLARA:
As I mentioned in this post, Clara celebrated 4 months last week!
She got her 2nd haircut over the weekend… along with a little cold and cough. Thankfully, she's still (mostly) smily and happy.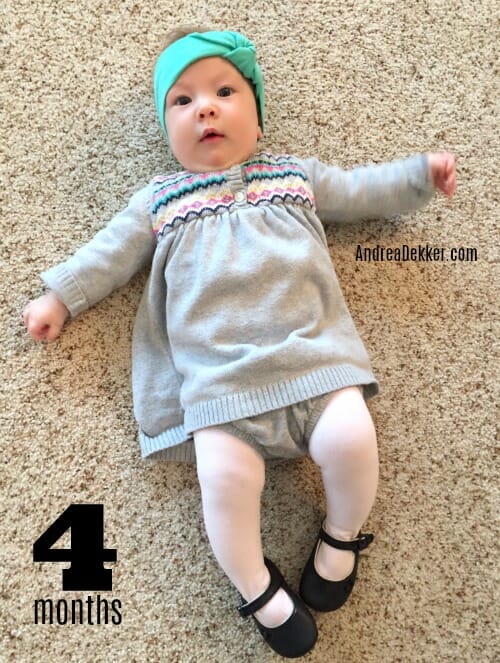 .
ME:
After purging our master bathroom (more on that later this week), I did a quick mini-purge of our diaper bag.
I pulled everything out onto our island counter and shook the whole bag upside-down over our kitchen sink (there were SOOOO many crumbs, sand, etc. inside!). Before putting things back into the bag, I majorly simplified and pared down, as I realize we really don't need all that much stuff with us.
Our van is stocked with diapers, wipes, a changing pad, a baby carrier, Dixie cups for snacks or water, some candy and gum, chapstick, lotion, hand sanitizer, etc. so I actually feel pretty confident going on shorter outings without even taking the diaper bag along!
Of course, with 4 young children, I still feel a diaper bag is necessary, but it sure feels great not to be tied down to it! Maybe I'll have to do an upcoming post on exactly what I keep in our diaper bag now that we have 4 kids!
.
And speaking of bags, I upgraded my very old and VERY worn Carry-It-All Wristlet to a brand new All-In-One Crossbody. It was a bit of an investment — even though I didn't pay what they are asking on Amazon — but I'm SO happy with this purchase!
I've had the Wristlet for years (probably almost 8 years) and have used it every single day as my main "purse". The strap is completely frayed, there are holes in the fabric, and (most frustrating for me) my much larger phone no longer fits in the phone pocket.
I really wanted a wristlet that could hold my iPhone (with a little extra room in case I get a bigger phone someday) — and although I LOVE the wristlet style, I really wanted something that wasn't JUST a wristlet as it's not always convenient to have a wallet and keys dangling from my wrist when I'm trying to carry a carseat and hold little hands.
When I saw the All-In-One Crossbody, I knew it was perfect for my needs. Not only does it have a large pocket that fits my cellphone and chapstick, it also has a basic wallet compartment, AND an extra zippered pocket that easily holds gum, a pen, bandages, coupons, a grocery list, etc.
It has a spot for me to hook my keys on the outside AND an extra wristlet strap if I want to wear it as a wristlet versus a crossbody bag.
I gave Nora my old wristlet — she was THRILLED! It even coordinates with a Vera Bradley purse we found for her this fall ($1 from a local thrift store!)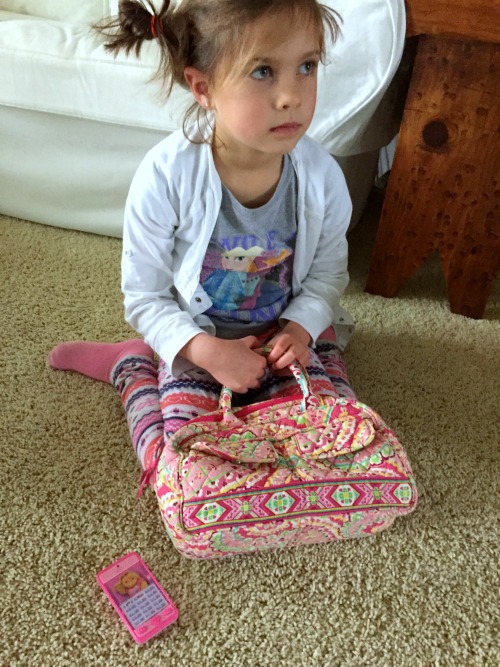 In other news, we purged Nora's closet and gave a big bag of clothing to our neighbor girl. I also purge more of James' clothing and gave a big bag to my sister for her little guy.
We made toilet paper outfits one morning… and 3 fresh batches of homemade gak another morning.
Oh, and… I got out of the house EVERY SINGLE DAY last week (with multiple children each time).
I know, can you believe it!
.
What I've Been Watching and Reading:
We officially finished The Crown in Netflix and now I'm watching Planet Earth — it's fascinating!
I read Miracle At Coney Island (free for Prime readers) — all about how one man (not even a doctor) saved thousands and thousands of premie babies and transformed American medicine. It was a really quick and interesting read.
.
Our Weekly Menu:
SUNDAY
Dinner at Dave's parent's house
MONDAY
Pork chops with Angel hair pasta (I tried this recipe and it was super yummy)
Green Beans
Zucchini
Fresh Fruit
Applesauce
Ice Cream
TUESDAY
Broccoli and Cauliflower
Corn
Applesauce
Fresh Fruit
WEDNESDAY
Stir-fried veggies
Chips
Fresh Fruit
Brownies
THURSDAY
Raw veggies
Chocolate Chip Cookies
FRIDAY
Broccoli and Cauliflower
Applesauce
Fresh Fruit
Rolls
Scotcharoos
SATURDAY
We have a few fun things planned for this next week — including a birthday party for my dad, Homecoming week for Dave's school, a playdate with friends from church, and a special half day of school for Nora.
Who knows, maybe Clara and I will catch a few more catnaps together too 🙂