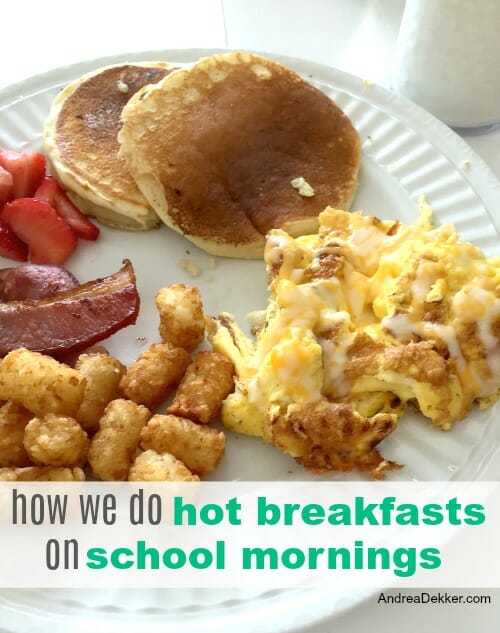 Over the past 5 years, I have often mentioned that we eat a hot breakfast almost every single day of the week.
In fact, up until the start of this school year (September, 2017) the kids and I usually ate 2 breakfasts every morning — with the 2nd breakfast being a fairly large, hot meal around 8:30 or 9:00am.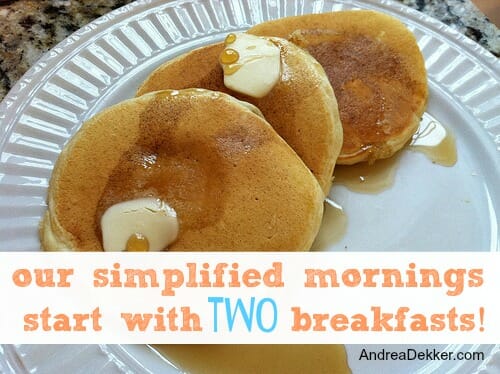 Our hot breakfast routine worked wonderfully for our family, even while Nora was in preschool, as we still had time to eat a hot meal before loading everyone up to bring her to school 2 mornings a week.
However, this past summer, I wondered if it would be possible to do a hot breakfast, even with Nora leaving the house around 7:00am to catch her bus 3 mornings a week (now 4 mornings a week after Christmas break).
Plus, I knew Clara's arrival in late September would make mornings a lot more challenging!
Recently, I've had several readers ask if we're still doing a hot breakfast every morning — and if so, what we eat and how we make it work with an earlier school schedule.
So now that we're already a few weeks into 2nd semester, I figure it's time I share the 2 main reasons we've managed to enjoy a hot breakfast, even on school mornings!
1. We do NOT all eat at the same time.
Dave wakes up at 5:30 (sometimes earlier) and eats soon after. He then gets ready, does some school work, wakes Nora up at 6:30, get's Nora's hot breakfast going (see notes on this below), wakes me up around 6:40, and then leaves for school.
I finish getting Nora ready and out the door by 7:00… which is right around the time the boys wake up.
I get them dressed and let them watch a 15 minute show while I quickly get dressed and ready. Then we eat our hot breakfast together around 7:30am.
Clara wakes up whenever she feels like it 🙂
On Saturdays and Sundays, we do all enjoy a hot breakfast together, but during the week, it's just not practical with the ages of our children and how early Dave needs to leave.
2. I prepare the food ahead of time.
As with almost everything in my life, I find it's easier and simpler to have a hot breakfast when I plan ahead and have things ready to go in advance.
Preparing for our hot breakfasts means…
I ALWAYS have a variety of fruit washed, cut up, and ready to go in the fridge so we can simply scoop it onto plates when serving breakfast.
I fry up several pounds of bacon and sausage at one time and pre-portion it into a few different freezer bags. I take one bag out every few days (or as needed) so we can enjoy hot meat most mornings with almost no mess or extra time.
I make a big batch of waffle mix or pancake batter every other night as it will last our family for 2 mornings. Then all we have to do in the morning is put a scoop of waffle batter in the waffle maker or pour pancake batter on the griddle (or pop already-made pancakes in the toaster).
I always have eggs and cottage cheese in the house (read why I add cottage cheese to our eggs in this post). It's so easy that even Dave can make eggs for the kids!
Sometimes I make cinnamon rolls, oatmeal, or a quiche the night before so we can just reheat those.
I even go so far as to fill water bottles and juice cups the night before!
.
I realize this might sound a little (or a lot) over-the-top, but mornings with 4 young children who need me to do almost everything for them are not my idea of a good time. And if I don't get breakfast on the table quickly, the kids get crabby and whiny and clingy — making it even more challenging for me to make breakfast.
Plus, if I have everything ready to go, Dave is able to quickly pop sausage or bacon in the microwave while the waffle batter cooks or while pre-made pancakes heat in the toaster.
This means he can enjoy a hot breakfast AND get Nora's breakfast going WHILE I SLEEP!
If I have everything ready to go the night before, our breakfast is on the table ASAP with almost no effort from me, which means the kids are full and happy and I have one less thing to worry about when I'm still a little tired myself.
After they eat, the boys are happy to run back upstairs and play together (Nora is at school already) while I clean up the kitchen and get Clara up, changed, dressed, and fed.
Then we move on with our day.
Honestly, our entire day runs smoother simply because I have breakfast ready to go!
It's definitely not a perfect system, nor do I expect this method to work for every family, but I DO know from lots and lots of personal experience that my life runs smoother and my family is happier when I plan ahead (for breakfast and everything else too!)
Those 2 benefits are more than enough for me to continue planning ahead whenever and wherever humanly possible.
.
The point of this post is certainly NOT to advocate for serving your family a hot breakfast!
But rather, to show that a very stressful period of my day is GREATLY simplified because I take 10-15 minutes every night to plan ahead for breakfast.
Maybe you have a different period of the day that is stressful for you — if so, take some time to think through that part of your day and consider if there are any ways you might be able to plan ahead in order to simplify and destress that part of your day or your life.
It might take a bit of time to come to your solution, and you might need to spend a few weeks tweaking your new system or routine, but once you finally have something that works for you and your family, I'm positive the results will be worth any time and effort you spend putting them in place.
.
My family and I love a hot breakfast, and I've figured out a way to get that for us with little to no time, effort, or stress in the mornings… I'd consider that a win-win situation for sure!
Oh, and if you're wondering what griddle I use (I always get questions on this), we currently have an older version of this griddle. We've had it for 12 years, use it daily, and love it (maybe a little too much)!
It's starting to show quite a bit of wear and tear so I currently have this ceramic griddle in my Amazon shopping cart. I haven't made the purchase yet, but I'll let you know when/if I do!