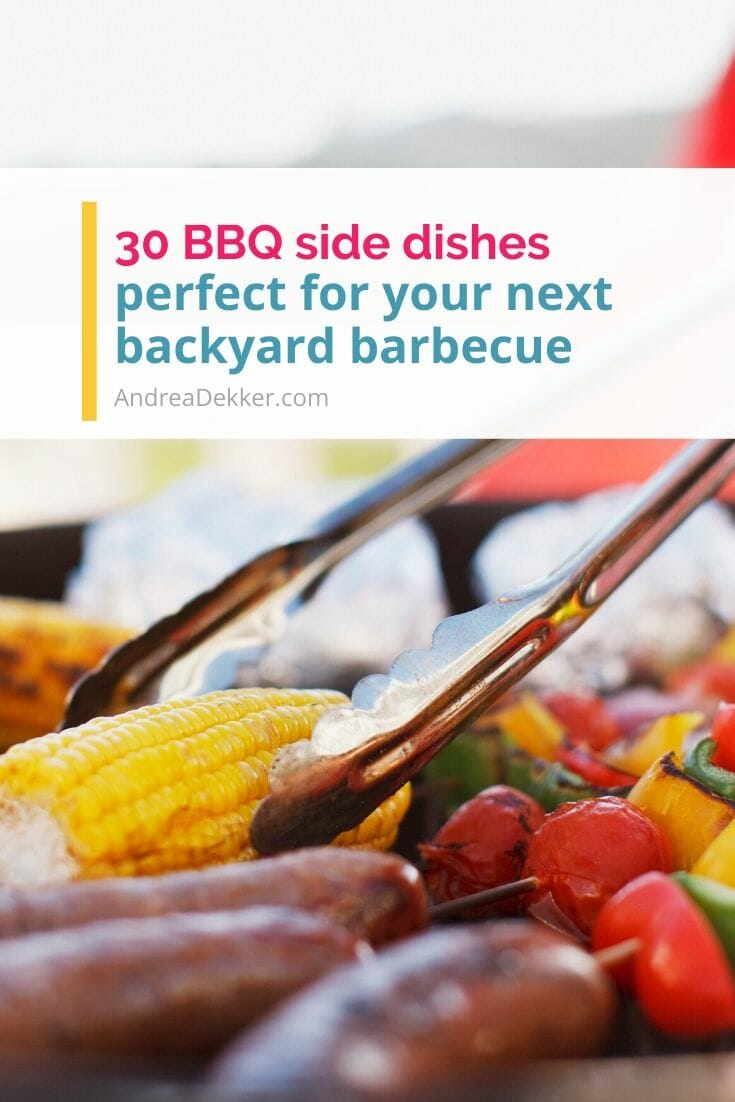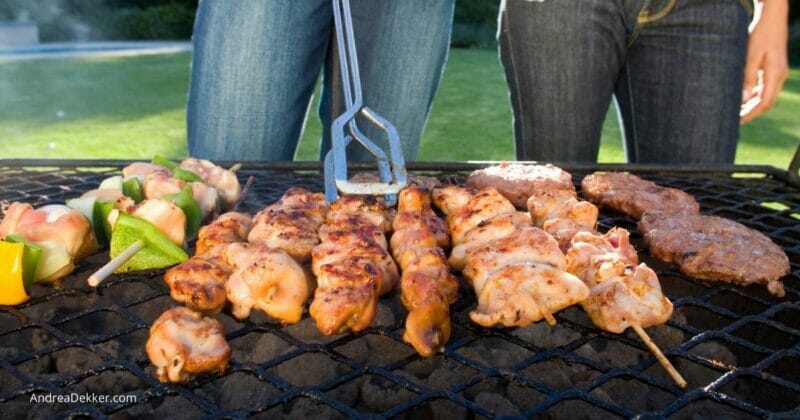 As the weather warms up, our family instinctively transitions many of our inside activities to the great outdoors.
We play outside, we read outside, we work outside, we hang out outside, we entertain outside, and we eat outside.
Yup… eating outside is one of our family's favorite things about spring and summer — partially because the mess stays outside, but also because I think food just tastes better when we're outside (especially if it's fresh off the grill!)
Backyard BBQs with lots of delicious and easy side dishes are a regular occurrence this time of year — often just for our family, but also for the various neighbors, friends, and extended family members we've fed over the last 10 years.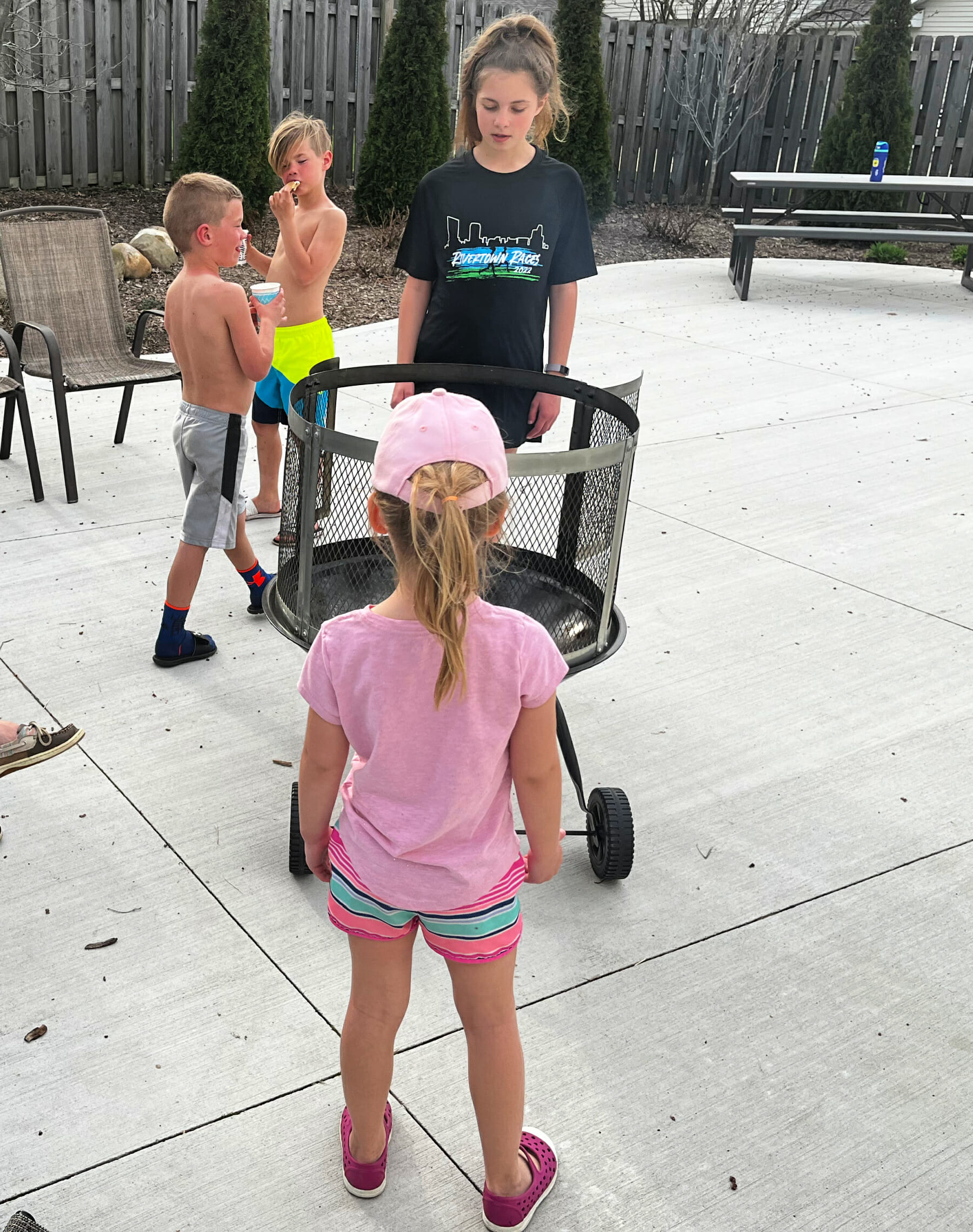 The main part of any BBQ is the meat (at least for our family) but in my opinion, side dishes make or break any meal… and our family loves having lots of side dish options.
If you're struggling to come up with easy side dishes to serve at your own BBQ or to bring to a friend's party… let me help!
Click the recipe links below for our favorite easy BBQ side dishes.
DRINKS:
1. Simple Punch — there are many variations of this recipe. Feel free to mix it up.
2. Strawberry lemonade — make it from scratch, make it from a mix, or buy it from the store… you can't go wrong with strawberry lemonade at your next BBQ.
BREAD:
4. Cornbread
6. Homemade rolls or buns — you can make your own hamburger and hot-dog-shaped buns using your favorite bread recipe or frozen bread dough.
SALADS:
7. Fresh fruit salad — use whatever is in-season
9. Layered Lettuce Salad — you can make this one ahead of time (even with the dressing)
10. Harvest Spinach Salad — this salad works any time of year
11. Coleslaw or Brocoslaw
12. Grilled Corn, Tomato, and Avocado Salad
NOTE: here's a link to ALL my salad posts.
POTATOES:
13. Cheesy Hashbrown Potatoes — you can easily make these ahead of time in a slow cooker
14. Oven Roasted Red Skin Potatoes
15. Baked Herbed Potato Wedges — or really any type of french fries
16. Baked Potatoes — in the slow cooker or the oven, with a variety of toppings
VEGETABLES:
17. Baked Beans
18. Grilled Veggies — these are SO easy
19. Jalapeno Poppers — not nearly as spicy as they sound
20. Sauteed Mushrooms — mushrooms + butter = delicious!
21. Grilled Corn on the Cob — the leftovers taste great
22. Raw veggies and dip — always a good "stand by" for pickier eaters.
OTHER:
23. Finger Jell-O — a favorite with the 10-and-under crowd!
24. Cowboy Caviar — the perfect dip for almost any type of chip, cracker, pita bread, etc.
25. Guacamole and Salsa with chips or pita crackers
26. Watermelon — here's a simple trick to quickly slice a watermelon.
27. Pickles — my kids devour these refrigerator dill pickles at almost every meal
28. Homemade BBQ sauce — a great sauce for grilled or roasted meats
DESSERTS:
29. Monster Cookies
30. Brownie Kabobs — you could go "patriotic" with this dessert too!
31. Strawberry Short Cake Cups — the essence of summer
32. S'mores — you can't make this one ahead of time… but it's a classic!
33. Pie — everyone loves a thick slice of homemade (or store-bought) pie
Are you hungry yet?
Try a few of these easy side dishes for your next outdoor meal and enjoy the flavors of summer… and less mess in your kitchen!
What are YOUR favorite easy BBQ side dishes?
?
Visit my virtual recipe box for more simple, delicious, family-friendly, recipes!