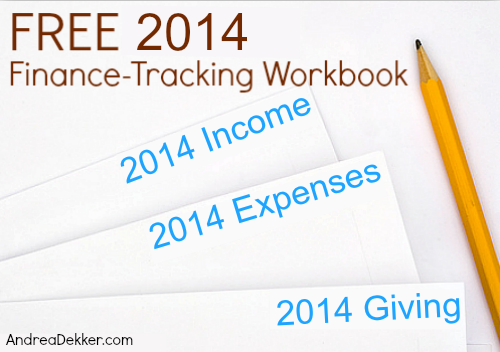 If you've been reading my blog for any amount of time, you know that I'm a HUGE advocate for financial stewardship — tracking our finances, budgeting, using our money wisely, eliminating all debt, etc. etc.
I will be very upfront and say that Dave and I are fortunate to live in an area with a relatively low cost of living, and to have had two incomes for our entire married live.
These two factors are obviously huge when it comes to being able to save more and spend less. However, since the day we were married, we've been VERY diligent in living well below our means, talking openly about our finances, putting as much of our income as we possibly can towards paying off our student loans and our mortgage, refusing to buy anything we can't afford, and doing without many things we could easily afford.
We don't do this to be boring, tight-wads, stingy, or super cheap. We still do plenty of (frugally) fun things — and I promise, we don't hate our lives just because we choose to live well below our means. In fact, I'd say that we enjoy life MORE because we can occasionally do fun splurges every now and then without guilt or dreading our next credit card bill.
I fully realize that not everyone has the luxury of two incomes and living in a low-cost area; however, no matter where you sit financially, I think EVERYONE can benefit from being more knowledgeable and aware of where their money is going.
.
For almost 10 years now, I've been using some form of this Finance-Tracking Workbook. I originally created an extremely simple version of it back in college, and have since added more categories, more worksheets, and more features to fit our finance-tracking needs.
It's by-far my favorite financial tool, and has really helped me to monitor our finances over the years. I can see that we're spending MORE on groceries, cell phones, and restaurants now than when we first got married. And I can see we're spending LESS on travel, clothing, entertainment, and any sort of "subscriptions".
All of that information is helpful for me when it's time to set a budget — or if we feel like we're blowing through our savings faster than we thought. I can simply look back at what we've actually spent (cold hard facts don't lie) and see if we need to make any adjustments.
And because this Finance-Tracking Workbook has helped me to simplify and organize my finances for almost 10 years, I'm sharing it with you once again!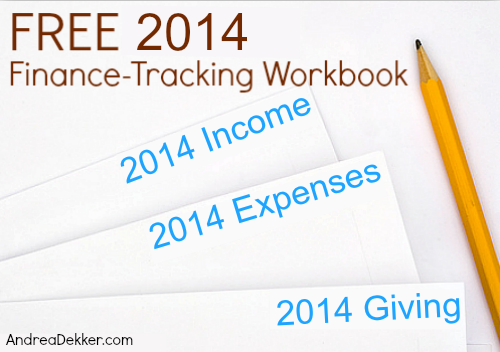 DOWNLOAD YOUR FREE 2014 FINANCE-TRACKING WORKBOOK BELOW:
NOTE: The files will automatically download to your computer by clicking the link above. You will need Microsoft Excel (or similar program) on your computer to be able to use this worksheet — and you should save it in a convenient place (like your desktop) so you can easily update it on a daily/weekly basis.
.
Frequently Asked Questions:
Since I first started sharing this fully editable workbook with you back in January of 2011, I've gotten many of the same questions over and over again. So to hopefully save us both some time this year, I'm sharing my answers to some of those FAQ's below 🙂
1. Can you customize or edit something on this workbook for me?
No, sorry. I've specifically provided you with the original Excel document so you should be able to do any edits or make any changes yourself — provided you understand how Excel works. Due to my time constrains, there is no way I could possibly have the time or energy to complete all the custom requests I get. Sorry!
2. Will this work with a Mac and PC?
It should, I've used this exact same form on two different Mac computers and 3 different PC computers with no issues whatsoever. I did create this year's workbook on a Mac (using Microsoft Office Excel for Mac), but I tested it for compatibly on a PC with no issues.
I'm sorry if for some reason it does not work with your computer — but that probably has more to do with the version of Microsoft Office you're using (or not using) versus the specific computer you're using.
3. Can you teach me how to use this workbook?
Again, the answer is no. I simply do not have the time or energy to teach many different individuals how to use each specific feature of Excel. I'm sure there are Google tutorials explaining the ins and outs of using Excel.
If you'd like some general guidance as to how I use this specific workbook, you can read this post from 2011 or this post from 2013.
4. Can I make changes to this workbook?
Yes, please do! I'm giving you the original Excel file so you can customize it to your own personal needs. Feel free to change anything you'd like — as long as you're only using it for your personal needs and not distributing it to others (see #8 below).
5. Does this file contain a virus?
Honestly? I get this question SOOOOO many times, you would not believe it!
No, this file does not contain a virus — I literally use this EXACT file on both of our computers on an almost daily basis, so there is no way I would create and use something with a virus. Not to mention, I would not share something with a virus on my website as that certainly wouldn't be good for business.
If for some reason you think this file transferred a virus to your computer, I can guarantee you I know nothing about it. I can also strongly suggest that whatever virus you acquired most likely came from something else you were doing on the internet — not my super simple Excel workbook 🙂
6. But this isn't a budget… how do I create a budget?
You're right, this workbook is NOT a budget — it's better than a budget in my opinion, and it's the first thing you absolutely MUST do before creating a budget.
If you've never created a budget before, you have no way of knowing what numbers to plug into your budget. So by first tracking your income and expenses for 6 to 12 months, you'll have a MUCH better idea of where your money is coming from and going to. Then you can use those numbers to set a more realistic budget that you'll actually be able to stick to.
If I'm really honest, Dave and I are way past the point where we need to be tracking every single penny we spend, but this workbook is just so simple to use and I really enjoy seeing where our money is going each month. It's an invaluable tool in our financial life — which is why I've been sharing it with you for the past 4 years!
7. So what budget do you use and how do you budget?
To be perfectly honest, I don't feel super comfortable answering this question because I think budgets are really personal and totally depend on your family, your needs, your income, your area's cost of living, etc. etc.
There is no way I could confidently give YOU specific budgeting numbers (or even percentages) because your own budget really just depends on your own priorities.
For example, Dave and I literally spent NOTHING ($0.00) on travel or entertainment in 2013 because those things aren't super important to us. However, we did spend a little more in our "restaurant" category due to the fact that I hardly cooked at all the first 3 months of my pregnancy.
We also most likely spend a lot more in our "home" category since we're constantly doing home and yard renovations. We also are putting lots of extra towards our mortgage every month to hopefully pay that off in the next couple of years — so our budget numbers would look completely different than most of yours.
If you're looking specifically for a free budgeting download or printable, here is one from Life.YourWay.net. Also, here are a few more FREE budgeting resources from MoneySavingMom.com.
8. Can I share this workbook on Facebook or on my own Blog?
Yes… and no.
You may gladly share the LINK back to this post (https://andreadekker.com/2014-finance-tracking-workbook/) on your Facebook page or your blog, but you may NOT offer the free download directly from your Facebook page or blog.
I'm providing this workbook completely free based on the fact that users need to come to my blog and download it directly from me — increasing my page views and my advertising dollars (thus making it possible for me to keep offering all this information for free!)
Ok so I think that covers some of the main questions I get over and over and over again 🙂
I'm so excited to share this workbook with you again in 2014, and I REALLY hope you will benefit from it as much as we do.
Here are the links to download the workbook once again:
Here's to getting your finances back on track in 2014!