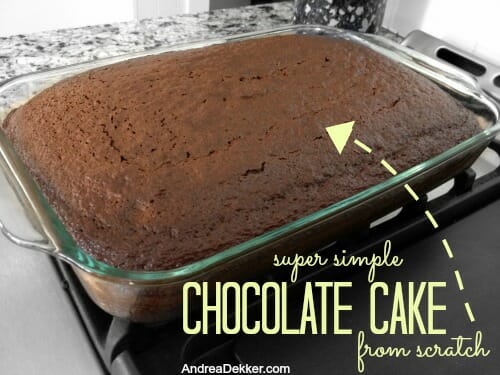 I have a confession to make — I actually NEVER made a cake from scratch until about a month ago!
I've always, always relied on boxed cake mixes because they are cheap, easy, and taste great — so why mess with it, right?
Well, when I was baking up cakes for Simon's birthday party last month, I realized (a little too late) that I was completely out of chocolate boxed cake mixes. I had plenty of yellow cake mixes, but I really wanted to do the cake with half chocolate, half yellow (and I'm stubborn so I didn't want to change).
There was NO way I was loading up 2 kids to drive to the store just for one stinkin' chocolate boxed cake mix when I knew it was most likely extremely simple to make the cake from scratch. So I googled a few different "simple from-scratch cake recipes" and came up with a winner.
Not only does this recipe have super-simple basic baking ingredients you most likely have in your pantry… but it can also be made in ONE bowl — which means hardly any dishes to wash!
If you'd like to venture out into the crazy world of from-scratch cakes, I would highly recommend this super simple recipe!
Plus, look how cute my Thomas the Train cake turned out 🙂
Recipe for Chocolate Cake from Scratch
Serves 12-14
INGREDIENTS:
2 c. white sugar
1¾ c. all-purpose flour
¾ c. unsweetened cocoa powder
1½ t. baking powder
1½ t. baking soda
1 t. salt
2 eggs
1 c. milk
½ c. vegetable oil
2 t. vanilla extract
1 c. very hot water
DIRECTIONS:
Preheat oven to 350ºF and grease your pans (I used a 9″ x 13″ but this recipe makes a lot so you could easily use two 9″ rounds or three 8″ rounds)
In a large mixing bowl, whisk together all dry ingredients
Add all wet ingredients to dry ingredients and stir until thoroughly combined
Pour into prepared pans and bake for 30-35 minutes or until center is set
Let cool completely and frost as desired
I'm honestly not a huge cake fan (I always had ice-cream sundaes or pie for my birthday) but in my experience, from-scratch cakes have often tasted drier and less flavorful than cake from the box.
However, for a non-cake-lover, I was pleasantly surprised by the texture and moisture of this from-scratch cake. And although I never mentioned that the chocolate cake was from scratch, I got several compliments on it at Simon's party (and Simon certainly approved!)
Also, as I mentioned above, this "from-scratch" cake mix makes A LOT more cake than a boxed mix (see photos below of chocolate from-scratch cake versus yellow boxed-mix cake in the same pan).
I certainly don't anticipate making all future cakes from scratch, but I am happy to know I have a go-to recipe in case I ever run out of the boxed mixes again 🙂
Are you a from-scratch or boxed cake mix person?
Visit my virtual recipe box for more simple, delicious, family friendly recipes!