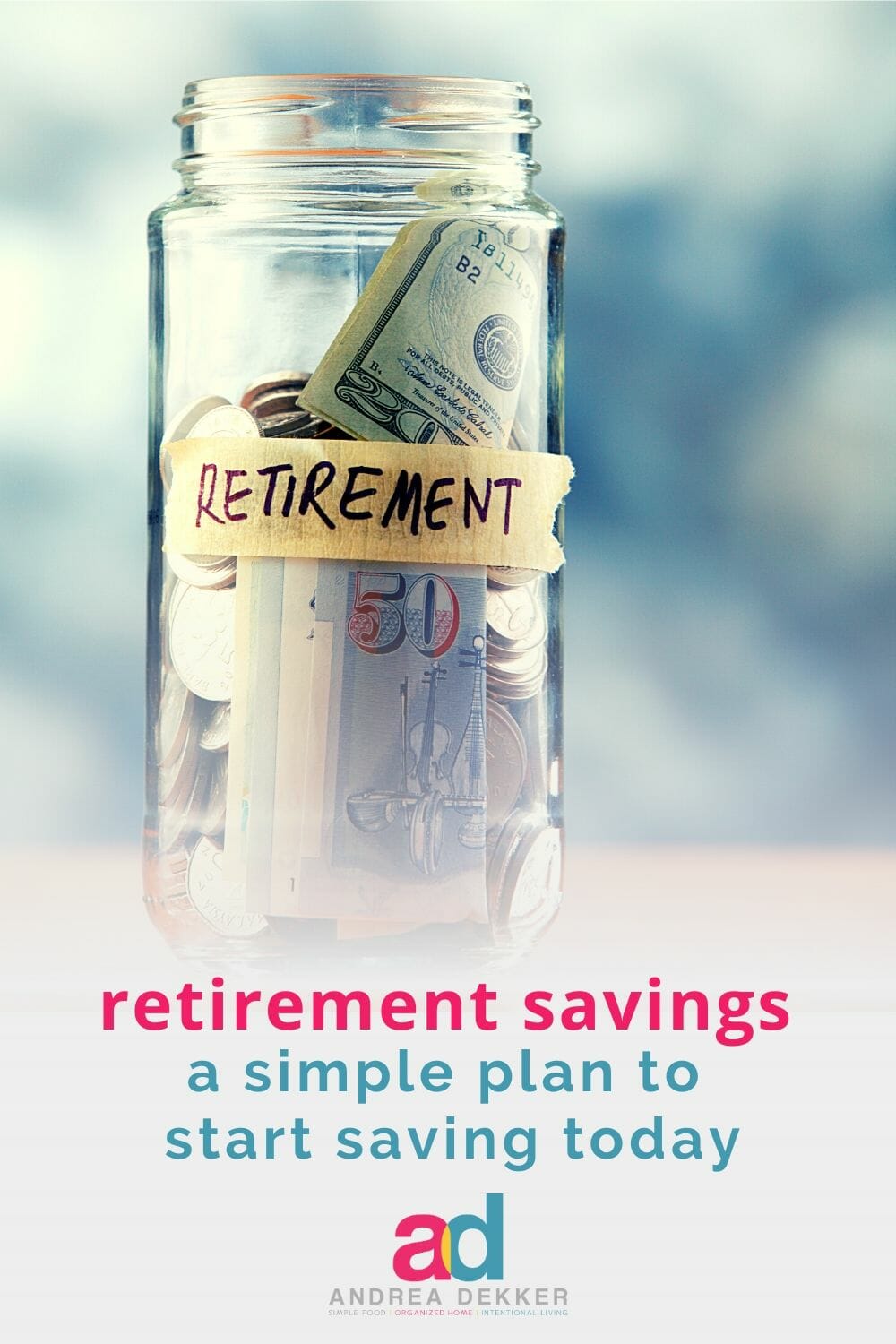 Inside: Super simple quick tips and practical advice to motivate and inspire you to start saving for retirement today!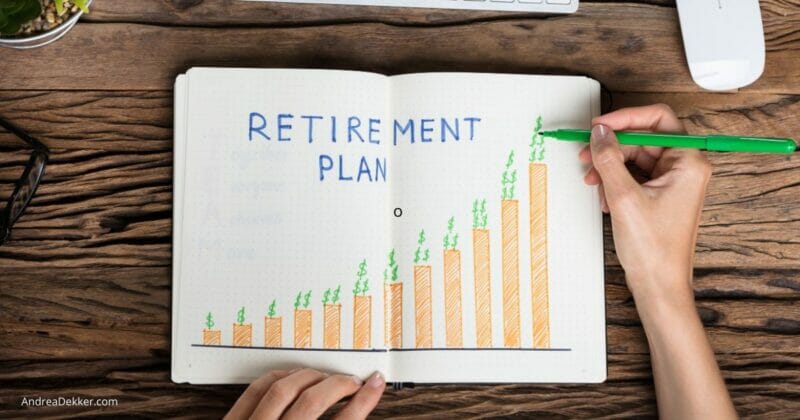 I'm not an investment expert, but I am pretty good at simplifying overwhelming ideas and topics.
I'm also good at laying out a plan and taking the first (slightly overwhelming) steps to get started.
Today's "how to start saving for retirement" post is for you if…
you've ever felt overwhelmed with the idea of saving for retirement and don't know where to start
you don't think you can afford to save for retirement
you feel you're still young and don't need to start saving for retirement yet
you're worried you might lose money
you're curious how Dave and I handle our retirement savings 🙂
Let's jump right into this…
I Feel Overwhelmed and Don't Know Where to Start:
I have 2 super quick to-do's for you today — choose one, or (preferably) both.
1. Contact your employer and figure out what type of retirement savings options they provide.
If they offer a matching plan (they contribute 3% if you contribute 3% of each paycheck) I HIGHLY recommend you take advantage of that ASAP.
Ask questions, fill out the paperwork, and get that set up as soon as possible. (It's usually a very simple process).
Then automate the process so a small amount comes out of EVERY paycheck (you'll hardly miss the money this way!)
2. Find an investment agency (or person) in your area and set up a personal retirement account.
Whether or not you have retirement savings set up through your employer, I'm still a huge advocate for saving for retirement on your own as well.
My suggestion is to start a Roth IRA, but once you find an investment person you trust, they will most definitely be able to recommend the BEST plan for YOU (trust them and let them do their job!)
Then, set up a monthly autopayment to deposit a specific amount of money from your bank account to the retirement account every month. (You'll save so much time and your account value will add up faster!)
See… that's wasn't so bad. Was it?
Let's move on.
But I can't afford to start saving for retirement:
Even without knowing anything about your financial situation, I can confidently say that you CAN afford to save for retirement.
In fact, you can't afford NOT to start saving for retirement.
Even Small Amounts WILL Make a Difference
Dave and I started with only $100 per month — but even just $10 a month is better than doing nothing at all.
Those small amounts WILL add up into larger amounts throughout the years… plus, you'll develop the habit of "paying yourself" — which will make it easier to increase this amount later on.
I highly recommend prioritizing your retirement savings above many other expenses… including:
cable TV
Netflix, Amazon Prime, or other non-essential subscriptions
going out to eat
expensive coffee or alcohol
signing kids up for every club and group
new clothing
date nights
name brand products that cost more than generic
buying 18 gifts for everyone at Christmas
vacations
expensive hobbies
You get the idea — saving for retirement is IMPORTANT… you can't afford NOT to get started!
I'm so young, I don't need to start saving for retirement yet.
If you are over the age of 18, you can start saving for retirement.
If you are over the age of 25, you SHOULD start saving for retirement.
It's never "too early" to start saving. However, I also argue that it's never "too late". If you're in your 40's or 50's and haven't started saving for retirement yet, don't beat yourself up about it. Instead, take action using my 2-step plan above and get your retirement savings set up TODAY!
The longer your money is in your account, the more time it will have to accrue interest and build in your account. Start early… start now!
But might I lose my money?
Technically yes.
In fact, Dave and I just "lost" tens of thousands of dollars in the value of our IRAs over the past few months.
However, we can't access that money for another 30 years… so it really doesn't matter that we "lost" some of it now.
There is plenty of time for the market to pick back up again — and when that happens, we'll have a larger base to start with, so our gain will be even greater.
I very rarely check the values of our accounts (I did it for this post) so if you're worried about losing money, just don't look for a while! The market is bound to get stronger again and things will pick up eventually!
How Dave and I Handle Our Retirement Savings:
Again, I want to reiterate that we are not experts in any way… but we've been doing this for 14 years now (and we work with an expert) so I feel confident my tips and our story will be helpful for many of you!
Dave contributed to his school's retirement account from the start
Dave has always contributed the maximum matching amount into his school's retirement account. This is separate from our personal IRA's, but with a very similar concept.
Since I'm self-employed, I don't have this option right now. I simply contribute to our personal IRA's.
We set up a personal IRA's after getting married
One of the very first things Dave and I did after getting married (literally just a few weeks after our wedding) was to find a local investment manager we liked and trusted with our teeny-tiny post-college salary.
Even though we had almost nothing extra left in the bank after covering our most basic living expenses, we made the decision to invest $100 per month (each) into a Roth IRA.
This is back when I spent $20 per week on groceries, back when we didn't pay for cable or internet, back when we used free flip phones, back when we didn't do anything extra unless it was free.
So yeah, $200 per month was a HUGE expense for us.
At the time, we were "only" contributing $1200 per year into each of our accounts — but based on our extremely small income, this felt like a monumental accomplishment.
We max-out our retirement accounts
As soon as our budget allowed, we began to fully fund, or "max out", our retirement accounts each year.
This basically just means we put the maximum allowed amount into our Roth IRA account each year. However, this maximum amount changes on a yearly basis — and it's different based on your age.
Currently, the max for our age-group is $6000 per person per year. If you're over 50, you can contribute $7000 per person per year.
We simplify the process by dividing the maximum amount by 12 months and having that amount automatically withdrawn from our bank accounts every month.
In our case, that means $1000 comes out of our bank account each month ($500 per account) and at the end of the year, our IRA is "maxed-out" or "fully funded" with $6000 added to each of our IRA's.
We set up automatic monthly deposits
This is another HUGE simplifier when it comes to saving for retirement.
If you don't automate the process, it's so easy to say "we don't have the money this month, I'll just hold off until next month".
At the beginning of our retirement savings journey, there were a few months when we considered "pausing" our automatic withdrawals because we weren't sure we could get $200 into our bank account before the withdrawal pulled it back out again.
But I'm happy to say that we never once paused our monthly automatic payments to our retirement accounts… NEVER!
We always figured out a way to cut our expenses or create additional income streams to make it all work (one year, we had 17 different W-2s and 1099s between us!)
If we didn't have the system automated, I'm positive we would have made excuses and simply stopped funding our IRAs for a bit.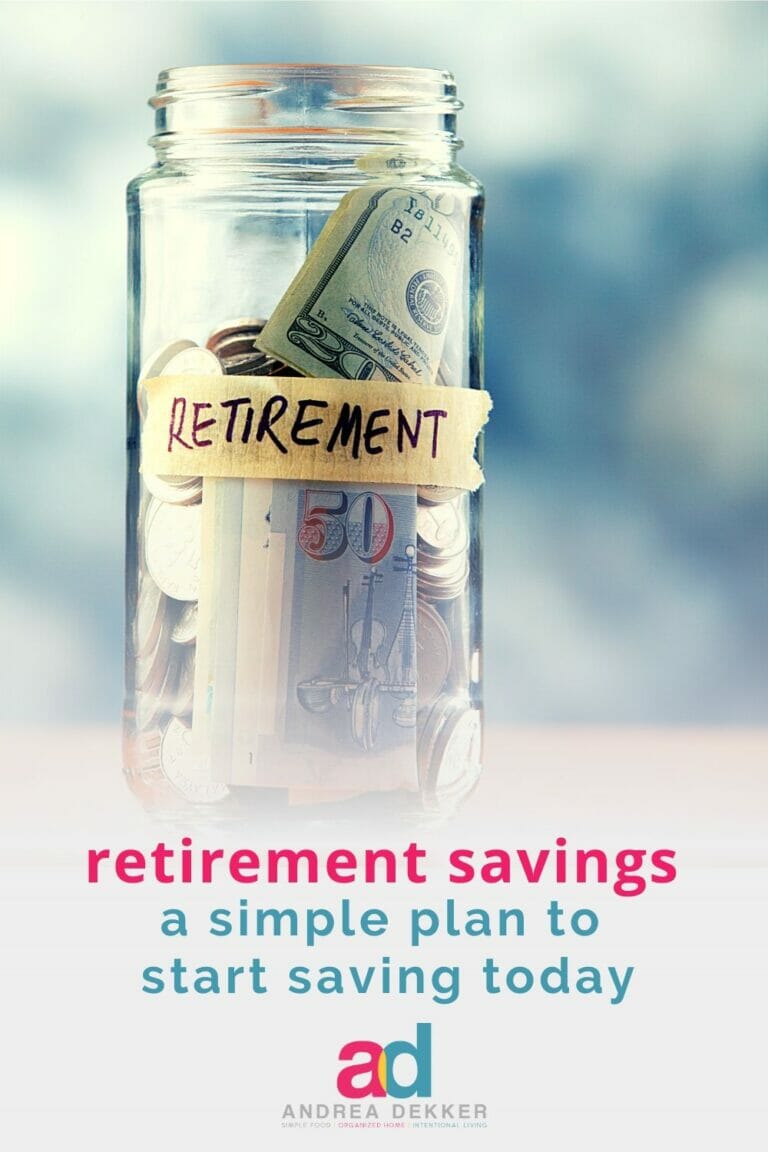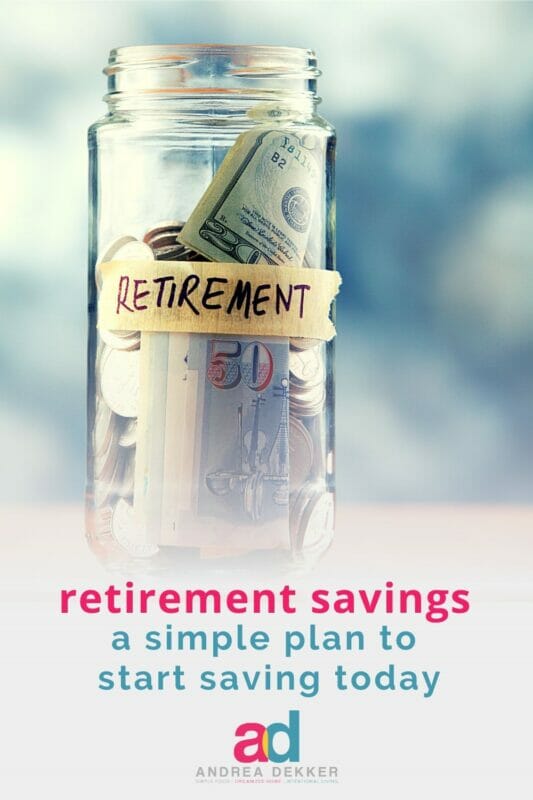 OK… I think that does it for me today!
I've barely scratched the surface of everything we could cover when it comes to saving for retirement… however, I hope I've made the process seem less overwhelming and more "doable" for you.
It truly does not need to be complicated — and it can be very hands-off if you want it to be.
You are worth it… and your retired self will definitely thank you later!
Are you excited to take action and start saving for retirement?
Do you have other tips to add? Or maybe more questions? Feel free to add them in the comment section below!