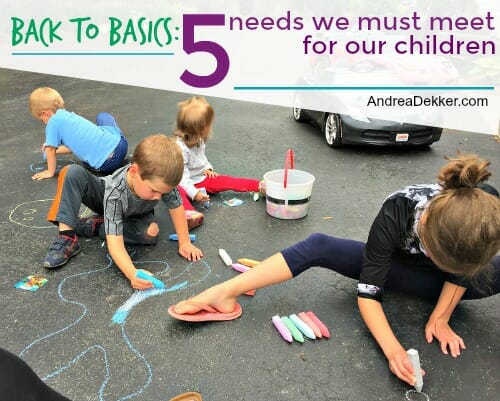 As many of you might remember, Nora was a very high-needs baby and toddler.
She caused a huge amount of stress for Dave and for me during the first 2-3 years of her life when we basically had no idea what we were doing in terms of parenting. To add to our stress, almost everyone we knew gave us advice about what to do, what not to do, what books to read, what products to buy, and what "always worked for them" (news flash, it never worked for us!)
Nora was always hyper-sensitive to any type of "different" situation, often over-reacting and having a complete meltdown with even the slightest discomfort.
Because of this, I got VERY good at watching her, reading her cues, and doing everything I could possibly do to prevent her from being over-stimulated (and having a massive meltdown in public).
It was more-than-frustrating at the time, but looking back, I can see how this steep learning curve has paid off exponentially with the rest of our children, because I'm so much more attune to their needs (many times, even before THEY know what they want or need).
If you are the parent of a high-needs baby, a slightly-sensitive toddler, or child who regularly acts out for seemingly "no reason", I would strongly encourage you to put your parenting books back on the shelf for a month or so and simply get "back to the basics".
Spend more time with them, talk to them, listen to them, and read their cues. Even if they can't talk yet, there's a good chance they can "tell" you what they need… as long as you're listening!
In my opinion, there are 5 basic needs we must meet for our children… I ask myself the following questions whenever my children start acting out, BEFORE I start threatening punishments or forcing them to do something I think they should do.
1. Are They Hungry?
Whenever my kids get crabby or start acting out in any way, my first thought is ALWAYS "are they hungry?" I mentally calculate how long it has been since they last ate something, and if it's been more than a couple hours, I offer a banana or a cheese stick (or serve up the next meal, depending on the time of day).
More often than not, hunger is the cause of SO much of my children's ill-moods and uncooperative behavior — and as I'm sure many of you can relate to, sometimes I have already offered food and they have declined because they don't want to stop playing or they truly don't realize they're hungry.
Simon is our child who seems to be most affected by hunger, so I always take a handful of snacks along with us wherever we go. If he starts getting crabby, fighting with his siblings, or complaining about everything, I know it's time to stop and have a quick snack. His mood is often instantly transformed and we can move on with the rest of our day.
Food is a relatively "quick fix", but it's something that is very easy to overlook (especially when we're frustrated because our child is misbehaving or being uncooperative.)
.
2. Are They Tired?
Children need SO MUCH SLEEP — it's honestly sort of crazy to realize how much they can (and should) sleep every day.
Back when we hired our sleep consultant, we realized just how much sleep our kids really do need — and since then, we have worked extremely hard to get our kids IN BED by 7 pm every night so that they can wake up bright and early (often by 6:30am) for school and other activities the next day.
I will admit to pushing this bedtime back a bit over the summer — we've been letting them stay up until closer to 8:00 in the summer, but they've adjusted to sleeping in until closer to 7:30 as well (Clara usually sleeps until almost 9!).
Many of the parents I hear from tell me that a 7:00 bedtime is totally impossible for their family because of all the extra curricular activities the kids are involved in… and while I think extra curricular activities can be very beneficial, I will always say that sleep is more important (especially for very young children).
If your children are constantly irritable, disrespectful, crabby, etc. try bumping their bedtime up 15 minutes every few days or see if you can figure out a way to get them to nap (or even just rest) for a bit in the afternoon.
There were times this past year when Clara went to bed at 6:00 because she was acting tired already after dinner. I'm thankful the 6:00 bedtime didn't stick around for long (maybe she was just having a growth spurt) but I'm happy we were able to figure out why she had been so crabby, and make the necessary changes to bring back our happy, smiley little girl!
Sleep is not always a magical cure like food (it might take a few weeks of consistently earlier bedtimes to see any sort of result) but you might be surprised to notice how much of a difference more sleep makes in terms of the child's overall mood, disposition, attitude, and behavior.
.
3. Are They Overwhelmed?
Young children have very little control over their life or the situations they are forced into… we tell them what to eat, we buy the clothes they will wear, we decide where they will live and go to school, we drive them (or don't drive them) to the places we allow them to go, we set rules for so many things throughout the day, their teachers have rules for everything at school, etc. etc. I can't even imagine dealing with that as an adult — it could definitely get overwhelming at times!
I figure there's a strong likelihood our children might feel overwhelmed if they are pushed into a new situation with strange people, forced to eat foods never tried before, or told to do an activity they've never done before.
Maybe they've been away from home all day and just need to decompress for a bit. Or maybe their home situation is very stressful but they can't get away. Maybe their parents have recently divorced, maybe a new baby just disrupted their happy-go-lucky life, maybe they just moved to a new town with a new house and a new school and they don't know how to deal with all the changes.
Towards the end of the school year, Nora came home in such a bad mood and was acting very disrespectful and rude to us. I finally asked her what was wrong and she instantly started sobbing and told me all about a "hard project" they were working on at school and then a friend who apparently "yelled" at her on the way home. After we talked about it and I let her cry for a bit, she was totally fine the rest of the afternoon — but I was also much more empathetic towards her as I could tell she felt very overwhelmed with the day's activities.
Although it's not always easy (especially in the heat of the moment) I often try to put myself in my child's shoes when they are acting out. It definitely helps me see things from their perspective and realize they might just need a bit of time to decompress after a "stressful" day, or they might just need an empathetic listening ear.
.
4. Are they Uncomfortable?
Are they hot, cold, or feeling claustrophobic? Do they have sand in their shoes, a hair in their mouth, a sliver in their finger, or an itchy tag on their clothing? Is their shirt too fitted, is the seat belt too tight, are the lights too bright, is the music too loud, are there too many strangers around, or too many strong smells?
These might seem trivial to us as adults, but they can be a HUGE deal to small children — maybe even the difference between a pleasant morning running errands and a stressful scream-fest that leaves both the parent and child completely exhausted.
This point is probably the biggest take-away I got from parenting Nora for the first 3 years of her life — if I could keep her from being uncomfortable, I could drastically reduce the number of hours she spent crying every day.
Now, 4 kids and 4 years later, I'm hyper-aware of my children's discomfort and can usually remedy the situation before it escalates out of control.
It's a sanity-saver, that's for sure!
.
5. Are They Developmentally Ready?
Sometimes I think we fail to consider what our children are actually capable of. They seem so competent at times, but they are still children who lack many of the basic skills we have been perfecting for years already.
Even IF they are capable of learning a certain task or skill, we are still responsible for teaching it to them in a way they can understand AND giving them enough of an opportunity to practice the skill before we expect them to do it the right way every time.
For example, Dave and I try not to get upset when James talks too loudly in church (I swear, that boy has no "inside voice"). He's not trying to be disrespectful or disruptive, he simply doesn't know how to whisper yet and he's not ready to sit through an entire church service without asking us a question at some point. Nora and Simon, on the other hand, do just fine and never cause any issues in church. James will get there eventually!
Other situations that immediately come to mind are potty training and sleeping through the night. These are 2 HUGE milestones for parents of young children — but unfortunately they cannot happen until the baby/child is physically, emotionally, and mentally ready to do it. You cannot force it to happen, and you often can't "teach" the child to do it any faster than they are ready to do it.
For older children, it might be something like buying phone, having a social media profile, or staying home by themselves — there's not a set age when these things should happen for all children. We as parents need to use our judgement to determine if our children are actually developmentally ready for these tasks (and yes, it can be tricky!)
This should not discourage you from trying to teach your children new skills or give them new privileges and responsibilities, but rather, it should hopefully help you to realize that there might be times when your child just simply isn't ready to do something… and instead of getting frustrated with them or thinking they are trying to disobey us, we can take a step back and give them a bit of grace.
.
I want to clarify… these tips and suggestions are for ALL children and parents – not just parents of high-needs children (although they are especially helpful in those high-needs situations).
Until we address (and remedy) these 5 basic needs of our children, we will not be able to coax or force or bribe them into being more cooperative or better behaved.
Of course, meeting these 5 basic needs will not always guarantee our children will magically behave all the time… however, they are a REALLY great place to start.
It doesn't require a degree in childhood psychology or a library full of the best parenting resources to pause and consider if our children are hungry, tired, overwhelmed, uncomfortable, or simply not developmentally ready for something… but it can make a HUGE difference in how we react in a tense situation and how our children respond to us.
Give it a try and see for yourself!
What are your best "back to basic" parenting tips?