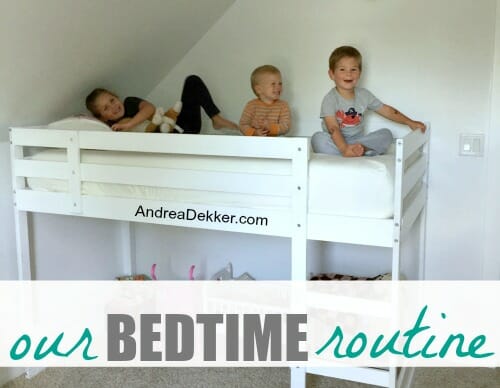 Exactly 2 years ago, I hired a sleep consultant to help James sleep at night.
I had already lived through 3 years of sleeplessness with Nora, and I wasn't willing to wait that long for James to finally learn how to sleep. After 2 weeks of working with the sleep consultant, we had James sleeping much better at night, AND we had a new and improved, amazingly awesome bedtime routine for Nora and Simon.
Since then, we have tweaked this bedtime routine slightly as the kids have gotten older, but I'm ecstatic to say that we have been rocking this same basic bedtime routine for 2 years now, and all 3 of our older children sleep fabulously well at night!
Of course, there are always exceptions to the rule, kids get sick, they have bad dreams, they can't sleep for whatever reason, but for the majority of the past 2 years, the boys sleep 12 hours at night (with a 1-hour nap during the day) and Nora sleeps 11ish hours — seriously, I never thought I'd see the day when Nora slept well at night!
Since Dave and I both do quite a bit of work in the evening, getting our kids to be early and with a regular routine gives us such a huge sense of satisfaction, and creates a much more positive environment in our house — both because Dave and I have plenty of "down time" at night, and because our children are well-rested each day.
Today, I'm sharing what our children's bedtime routine looks right now — not because I think everyone should use our routine, but simply because I get asked about our bedtime routine quite often, and I know it's always interesting to read what works for other families!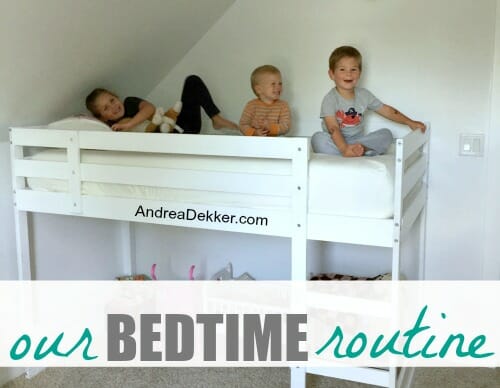 .
6:00pm – Pick Up, Baths and PJs
Everyone starts to pick up the entire house — all toys, games, books, dress-up clothes, crafts, projects, etc.
The 3 older kids pick out their clothes for the next day and bring them to the living room (Nora puts her clothes in the bathroom).
Dave starts a bath for the boys, Nora gets in the shower.
Dave finishes picking up the upstairs while I finish cleaning up the main floor, pack lunches, and start the dishwasher.
I give Clara a quick bath while the boys are still in the tub, put her PJs on, and get snacks out for the older kids.
Nora finishes her shower and gets her PJs on while Dave gets the boys' PJs on.
Everyone meets in the living room for snacks and stories.
NOTE: I realize 6pm might sound ridiculously early to start the bedtime process, BUT Dave gets home from school around 3:30 every day and we eat dinner around 4:30/4:45 every day — so it's really not difficult to start the bedtime process at 6.
Also, our kids wake up fairly early and Nora needs to be up by 6:30 to get on the bus just after 7:00.
We do try to push back the bedtime process a bit in the summer, but 98% of the time, we really do start the bedtime process at 6pm every night.
.
6:30pm – Snacks and Stories
The older 3 kids eat their snack while Dave and I read books to them (Dave often reads to the boys while Nora reads to me and Clara!)
I usually feed Clara at this time too.
NOTE: I'm often asked what we give our children for bedtime snacks… Sometimes I just decide for them, but often, we let them choose between a bowl of grapes + a couple slices of cheese, a banana, string cheese, or yogurt pouches (I make them myself using these pouches).
These snack options are all fairly mess-free, so the kids can eat in the living room while we read books. Also, they are all somewhat filling and they don't get a bunch of junk stuck in the kids' teeth!
The kids tell us what they want before starting their baths and I get it ready while they are washing up.
.
6:45pm – Brush Teeth, Sing Songs, Lights Out
After 15-20 minutes of reading books, the kids head upstairs.
They each go to the bathroom one more time, wash their hands, brush their teeth, and put lotion on (they are big lotion fans!)
We give kisses and hugs and get them tucked into bed.
Dave takes Clara downstairs and I sing a handful of songs with the older 3.
The lights are usually off by 7:00 pm, and the kids are usually sleeping by 7:15 every night!
NOTE: I should mention that the older 3 kids ALL share a bedroom now. It's sort of a long story, but it seems to work well for us right now. I'm planning to share an updated tour of their bedroom next week!
.
7:00 – Hang out with Clara and tackle our to-do lists!
Once the kids are in bed, Dave and I usually "play" with Clara while watching Wheel of Fortune at 7:00. 🙂
Then we both get started on our to-do lists for the night…
Dave grades papers, plans lessons, and gets everything ready for the next day.
He often cleans out the dishwasher, washes dishes, gets the mail, takes out the trash, shovels snow, mows the lawn, etc. during these evening hours.
I use this time to tackle most of my blogging and VA work (when Clara lets me).
I also do laundry or other quiet household chores, bake, prepare food for the next day, run errands, and do yard work during these evening hours.
Clara is starting to go to bed earlier — yay! Once she's sleeping (usually between 8pm and 10pm) Dave and I take showers and get ready for bed.
We usually try to be in bed by 11:00pm, but as I mentioned the last month, I often stay up late 1 night a week to finish my to-dos after Clara is finally sleeping.
NOTE: last month, we started letting Nora stay up about 30-45 minutes later than the boys when she doesn't have school the next day. She can play games with us, read a few more books, or work on a craft project.
.
The kids are awake again by 7:00 am (often earlier) and we start all over again!
Dave and I certainly have a long way to go before becoming "super parents" but I will say we have our kid's bedtime routine DOWN TO A SCIENCE!
If we're in a hurry or get home late, we occasionally skip the bath process and just read a few books while eating snacks and head right to bed. However, for the most part, our kids are bathed, dressed, fed, and in bed by 7pm every single night!
Glorious!!
.
I realize that by the time Clara is fully on-board with the earlier bedtime routine, Nora will probably be old enough that she won't need as much sleep — but for the time being, Dave and I thoroughly enjoy the fact that our house is usually quiet and big-kid-free for 3-4 hours every evening!