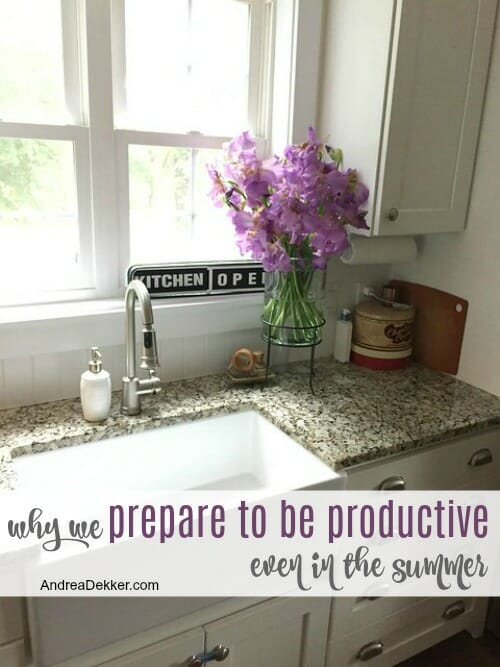 A few years ago, I shared a post about Why I Prepare To Be Productive.
In that post I said:
As with almost everything in life, my productivity changes as my season of life changes. The productivity tips, tools, and ideas that work for me right now, probably did NOT work for me a few years ago, and might not continue working for me in another year or two.

Sometimes one thing works for a while, then another tip or idea or tool works better, then we have another baby or take on a huge home renovation project and I completely change my most productive time of day, and then the kids start sleeping better so I change back… I think you get the idea! 🙂

However, one thing I have always done is "prepare to be productive" the night before.
Read the rest of that post here… but make sure to come back and finish reading this post!!
.
Now a couple years later — with one more child thrown into the mix, more school schedules to work around, more "extra" activities for our family, and the fact that Dave and I now wake up a 4am every day, I can honestly say that preparing to be productive is EVEN MORE crucial for my productivity each day.
And yes, I still "prepare to be productive" every single night – even in the summer!
I think we often fall into the trap of thinking summer should be this magical time of no work, all play, beach days, ice cream cones, sleeping in, watching movies, going on vacations, throwing schedules away, and having fun all the time.
I don't know about you, but that's not how my summers have ever been (even with Dave home all summer)!
This is NOT to say we don't thoroughly enjoy our summers, but we certainly still have schedules and to-do lists each day.
In all honesty, preparing to be productive seems to be even more important for us during the summer months when we have SO many extra things we want to pack into our schedule.
Not only do we have a laundry list of house projects (big and small) to work on every summer, we also have a huge amount of yard work, pool maintenance, and a growing vegetable garden that take up much of our "extra" time during the summer months.
And of course, there are all sorts of fun things we want to do with our kids and as a family when we're all home in the summer — things we wouldn't normally do during the school year.
family bike rides
playing at various park
picnics, or going out for lunch or ice cream
bowling and/or mini golf
zoo and/or farm visits
library events and various reading challenges
play dates with friends
special outings with each individual child
day trips to local events and attractions
splash pads, water parks, and pool parties
sports camps and swimming lessons
Vacation Bible School
special crafts and activities at home
various book series and movies we want to read and watch
etc. etc.
So yes, our summers are fun, and the schedule is definitely a different "pace" than during the school year, but in order for us to be able to enjoy doing all these fun extra activities and still have time for cooking, cleaning, blog work, and managing everything else we do on a daily basis, Dave and I absolutely MUST "prepare to be productive" all summer long!
So How Do We Prepare To Be Productive in the Summer?
Dave and I sit down at some point EVERY evening and look over the things we NEED to do the next day and our menu plan for the next day:
house projects
mow or weed the lawn
clean bathrooms
do laundry
bring a meal to someone
bake bread or roast veggies
blog work (Andrea)
course work (Dave)
attend various meetings or appointments
Next, we discuss the things we WANT to do, if we have time:
take the kids somewhere fun
do something fun with the kids at home
visit a relative or have friends over
run various errands
non-urgent house and work projects
give Nora a piano lesson (something we're slowly working on over the summer)
have friends over
watch a movie
pick strawberries or blueberries
wash and vacuum the cars
Finally, we figure out IF and HOW we can fit it all into our day.
Often times, with a plan in place the night before, we can easily fit everything we NEED to do and everything we WANT to do into a given day — and still get the kids in bed by 7:30!
However, sometimes we realize we most likely will not be able to fit everything into one day — the beauty of planning ahead to be productive is that we realize this BEFORE we're in the middle of our day, wondering why we can't fit everything in (and then dealing with crabby, disappointed kids who were excited to do something we no longer have time to do.)
If we notice our schedule is more full than normal, we can easily drop a few things off our "want" list and push them back to another day.
If we'll be gone/busy all morning or all afternoon, I'll pack lunches and get food in the slow cooker while I'm making breakfast so we don't have to worry about what to eat for the rest of the day.
If we know we have a house project that requires both of our time, we plan to work on that in the afternoon when Clara is napping and while the other kids play outside or watch a movie (depending on the weather).
If we know the weather forecast is bad, we'll plan fun inside events for the kids or head to the bowling alley… and if we know the weather is going to be sunny and warm, we'll plan to go to an outdoor location or invite neighbors over to swim.
If we know we all need to be out the door on time to get to an appointment, I'll plan to make a breakfast we can eat and clean up quickly (like cinnamon rolls and smoothies.)
If grandparents offer to take the kids for a couple hours, we arrange our schedule accordingly so we can do more focused work during that time period (or just go out for lunch if it works with our day!)
If Dave or I have a pressing deadline to meet for a project or for school/blog work, the other one might arrange to take all the kids out of the house for a few hours while the other one stays back to work.
I realize Dave and I are both very "type A" and thrive with schedules and routines — however, I can honestly say that without planning ahead to be productive the next day, we would not have nearly as much time in our schedules to work on house projects, keep our yard looking nice, make meals from scratch, and do ALL sorts of fun things with our kids every single day.
And no, we do NOT schedule our days by the minute or even by the hour. We simply have a do-able, realistic plan going into each day that makes it much easier to be productive and much more likely we'll actually be able to do everything we set out to do in a given day (work and play)!
Without a plan, I have a feeling our summer days would fly by without us realizing it and we'd end up in August no closer to hitting any of our "summer goals" and wondering why we never had the time to cross off any of our summer bucket list items.
For the record, our summer goals are:

DAVE: take an online course for school, work on several school projects, and learn video editing (to help me with upcoming blog projects!)

ANDREA: master the art of Sourdough bread making, learn the process of making videos for online purposes

NORA: learn to play the piano, improve her swimming abilities, read a ton of books

SIMON: learn to ride a bike without training wheels, swim without swimmies, pee standing up, and start reading

JAMES: learn to pump himself on the swings and learn to swim without swimmies

CLARA: drink from a normal cup and stop waking up in the middle of the night

HOUSE: paint and make some smaller renovations in our outbuilding, and tackle the bathroom off the kitchen
I certainly believe that summer is an excellent time of year to have a lot of fun, but it doesn't have to come at the expense of your productivity.
Dave and I are both home all day — so we most likely have more time to tackle house and yard projects, grow a big garden, run an in-home business, cook from scratch, maintain a clean-enough home, entertain regularly, and do TONS of fun stuff with our kiddos every single day. If you work outside the home, it's even more important to have a plan in place and prepare to be productive so you don't end up totally burnt out by the time school starts up again.
As long as we prepare to be productive, we are able to make the time for the things we NEED to do, as well as many of the things we WANT to do!
How do you handle summer schedules for your family?