I was recently asked what my favorite magazines were and what magazines I read regularly.
I had to stop and think for a second before I realized that I don't read any magazines… ever! I got Better Homes & Garden for a few years when Dave and I were first married. It was a Christmas gift from his brother, and I really did love flipping through every single page of that magazine and daydreaming about our future farmhouse and how cute it would be decorated.
I saved pages that I liked and put them in my dream house ideas book. I cut out craft project and holiday decorating ideas to implement in my own house "someday", and I eagerly waited for the next issue to arrive each month.
Back before I had kids, I actually did some of the craft and decorating projects — and we did implement many of my "idea book" ideas into our farmhouse renovations.
However, as I became busier and busier with our farmhouse renovations, as my business continued to grow, and as we added children to the mix, I quickly realized that not only was I not willing to make the time to do those magazine projects or make those fancy recipes, I also had little to no desire to even read magazines anymore. So I stopped!
Over the last year, I have canceled every single one of my magazine subscriptions (even the free ones) and I don't plan to subscribe to anything else in the near future… here's why.
I personally feel like magazines are becoming more and more and more FAKE and completely STAGED. They have designers come through and add a bunch of decorations and embellishments to make the homes look beyond perfect. They remove clutter and photoshop anything that doesn't look just right.
When our house was featured in HGTV magazine 2 years ago, it wasn't even because of my decorating style or how cute it was. It was simply because we bought our current house and sold our previous house on Craigslist. However, they still photoshopped a bunch of things in and out of our photos to make it more appealing.
I guess it's just all kind of annoying to me — how magazines like Real Simple, Country Living, HGTV, Martha Stewart, etc. claim to have "simple tips" and "real-life ideas" when it's obviously all too fake.
So, since many people are shocked to hear that I don't read or subscribe to any magazines (and that I rarely ever visit Pinterest anymore) I figured I'd share 9 (slightly humorous) reasons why 🙂
9. Because we have more than one pair of boots.
And we also need room to sit on our benches to put our boots on.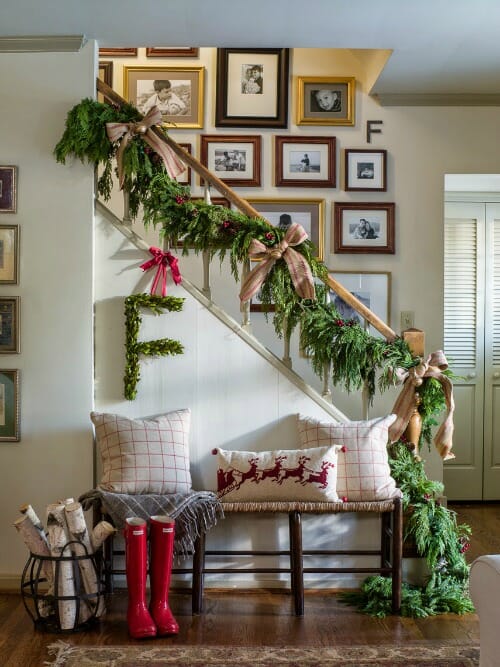 8. Because it's impossible to keep an outdoor living areas looking this nice.
Dave and I have several outdoor living areas around our house and they are constantly covered in bird poop, pollen dust, or dead bugs. It grosses me out and that's just on our plastic adirondack chairs and picnic table that are really easy to hose down.
I can't even fathom putting a bed, or a couch, or any nice, plush, indoor furniture in a mostly exposed outdoor location. Maybe it doesn't rain or snow or sleet or blow where they live. And maybe they don't have bugs or birds or squirrels either!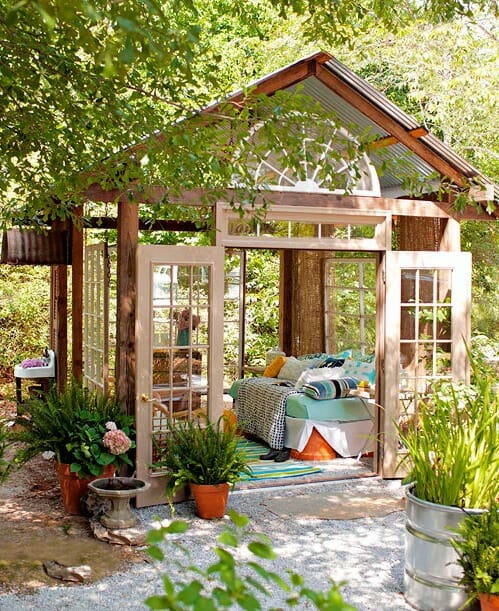 7. Because our kids actually play in their rooms.
Not to mention most of us probably don't want to risk a massive tree branch falling on one of our children in the middle of the night 🙂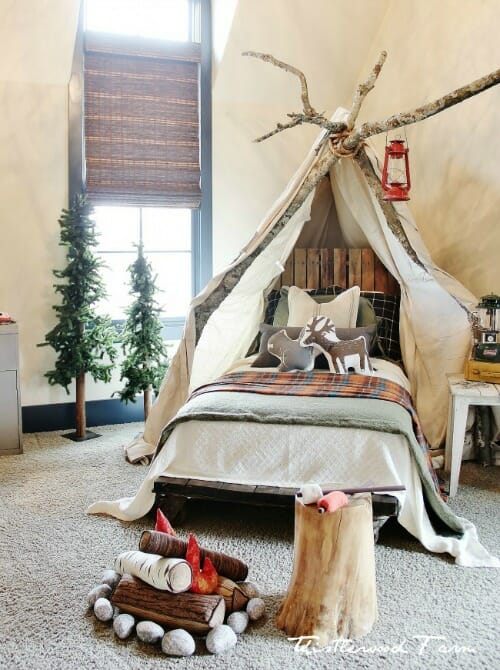 side note: the photo above is from a blog post entitled "10 Simple Holiday Decorating Ideas" Really? Simple?
6. Because our snow doesn't fall perfectly.
Honestly, I'm not sure it's possible for snow to fall everywere else but right down the center of the walking path. I'm also impressed that it somehow missed all the outdoor decorations too!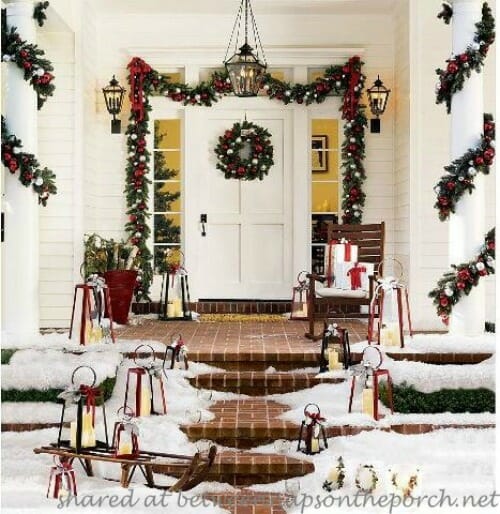 5. Because we actually do laundry in our laundry rooms.
I can appreciate a classy, clean, and well-functioning laundry room as much as anyone (especially since mine is so tiny and cramped) but seriously, this is a bit much.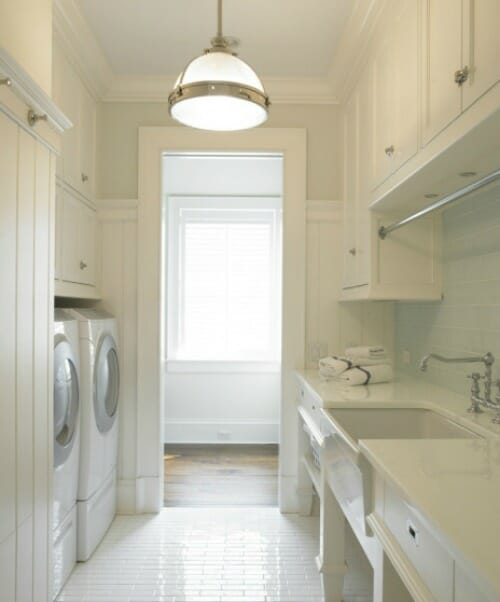 And I don't know about you, but I don't sit in my laundry room waiting for the load to finish — so I'm not sure why they'd need a chair in there 🙂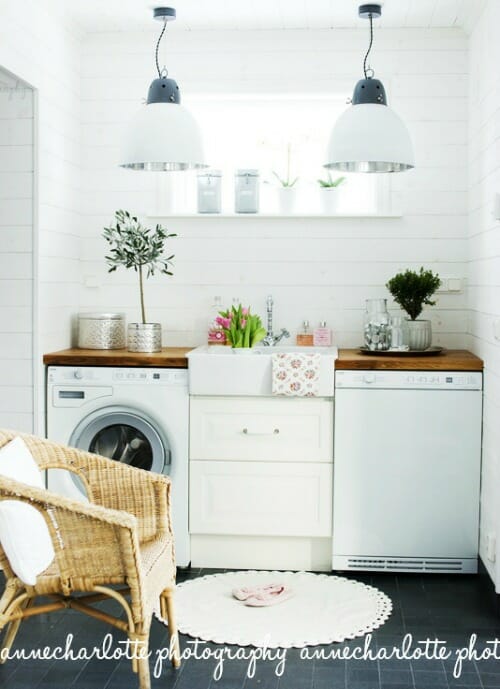 4. Because we don't have a color-coordinated pantry.
Boy do I love a nicely organized pantry — especially when all the pantry items match so perfectly, because that's just how we do it in our house 🙂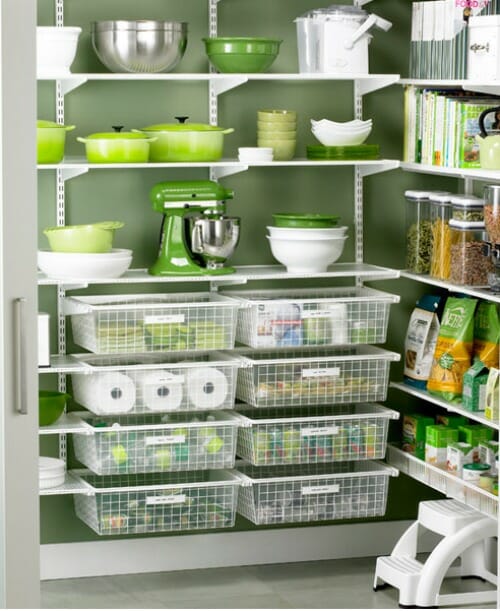 3. Because we wear more than one color too.
You all know how much I love white — but this is even too much for me. Are you really telling me this person only wears whites and creams — and apparently only wears tall white boots or flimsy flats?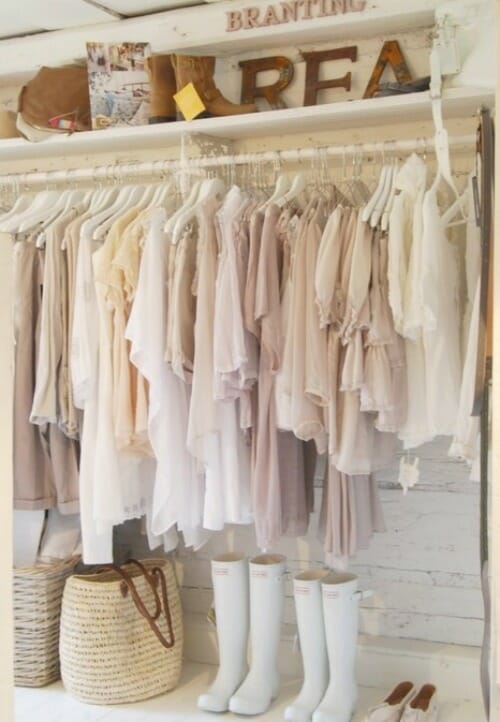 Oh, and I'll just assume none of us have a two-story closet!!!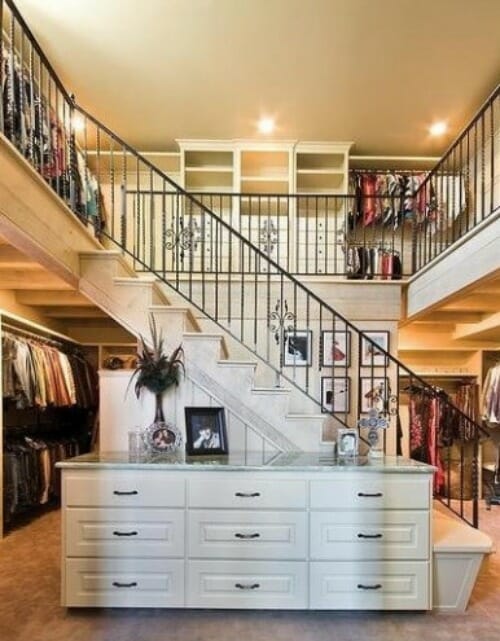 2. Because we don't plan our entire home's decor around one season.
I don't know why, but it bugs me SO much when they show a home perfectly decorated for Christmas and all the walls are painted red… or the garden is immaculate and full and gorgeous in May — but it's because they have all spring-flowering plants that will die off by mid summer.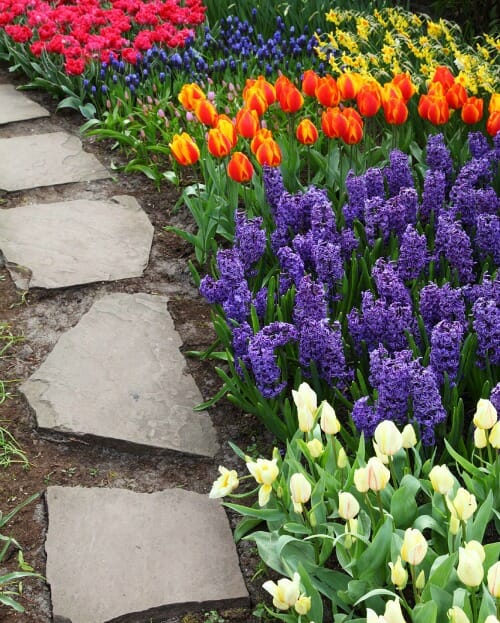 1. Because we actually live in our homes.
Many of the homes featured in magazines are 2nd homes, summer homes, cottages, cabins, lake homes, etc. They aren't lived in year-round and don't get as much wear and tear. Also, even if they are lived in year-round, they most likely are "put on hold" for the entire day of the photo shoot.
I know several bloggers who have been featured in prominent magazines, and EVERY time, the magazine has shipped boxes and boxes of props for the various photo shoots. They have sent teams of designers in to "overhaul" the already cute and nicely decorated homes. They remove doors and take screens out of windows to get better angles for their pictures. In some instances, they have even asked the family members to "move out" for a couple days so they could get all the photos without any of the decorations being messed up.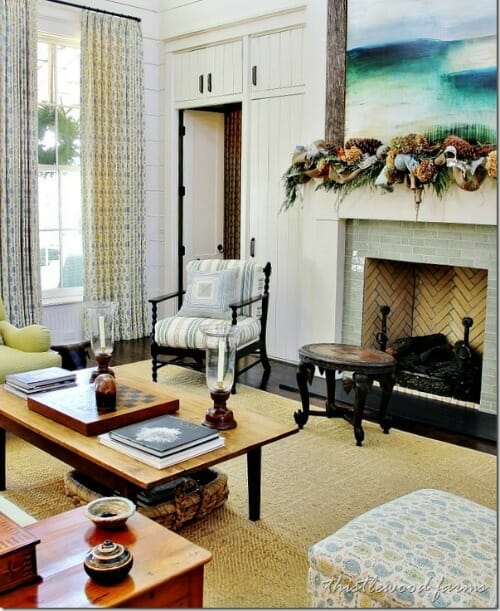 Now don't get me wrong — I don't think magazines or design blogs or Pinterest are evil. I enjoy looking at the occasional perfectly decorated, totally-over-the-top homes as much as anyone.
I certainly don't expect everyone to stop reading or subscribing to all magazines… in fact, if I come over to your house and see a stack of magazines lying around, I'll probably need to have a quick peek 🙂
I guess I finally realized that since it took me all of 5 minutes to flip through a magazine and I never ripped out any pages or ideas or recipes anymore, magazines weren't worth my time or money. Everything was too over-the-top, too time-consuming, too much, and too fake for my taste… so I just decided to stop reading them.
What are your thoughts on magazines these days?
Do you feel like they are getting more and more fake? Or am I just getting more practical?