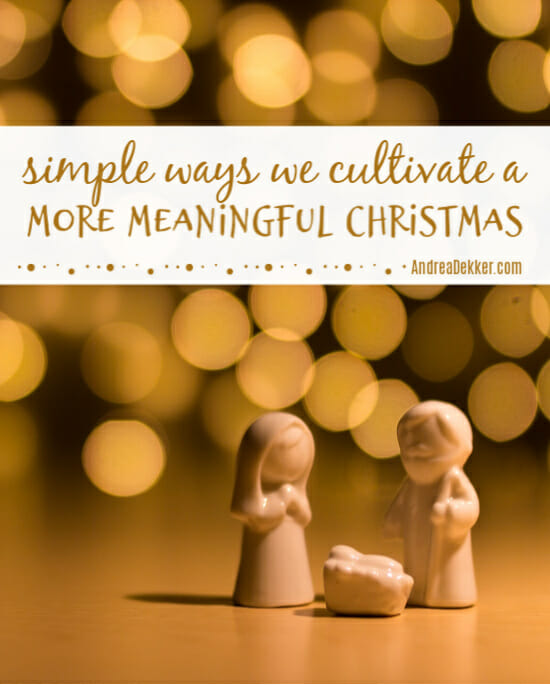 In an effort to cultivate a simpler, more manageable, and more meaningful Christmas season for our family, we made a few changes this year!
1. We re-evaluated our holiday traditions and eliminated many of the "extras".
2. We simplified everything (especially gift-giving).
3. We switched our focus away from commercialism.
These changes were not made because I'm a scrooge or because we don't eagerly anticipate this very special time of year. Quite the opposite actually!
The changes were because I felt we needed a little more breathing room in order to fully enjoy the Christmas season THIS year.
THIS year – not forever and always.
Maybe next year… maybe not… maybe never again.
I'm not exactly sure why, but THIS year, of all years, has felt much more "full" for our family.
Maybe it's because the kids are getting older and have more school and outside activities. Maybe it's because Dave and I have many more church and school responsibilities than we've had in a long time. Maybe it's because I'm pushing forward with several new blog projects and ideas for 2020. Or maybe it's because my threshold for "busy" is simply lower this year!
Whatever the case, I felt a nudge to majorly simplify our Christmas season several months ago already… and I'm SO glad I followed my gut and didn't let outside pressures get to me.
So far, I haven't felt like we "missed out" on anything. Our children haven't mentioned a word about some of the things we "skipped" or didn't do this year (more on those below).
I even overheard the kids talking about how beautiful our house looks "all decorated for Christmas". I just had to chuckle to myself because the ONLY decorating I did was to put up the Christmas tree, set up their nativity, and light a Christmas candle!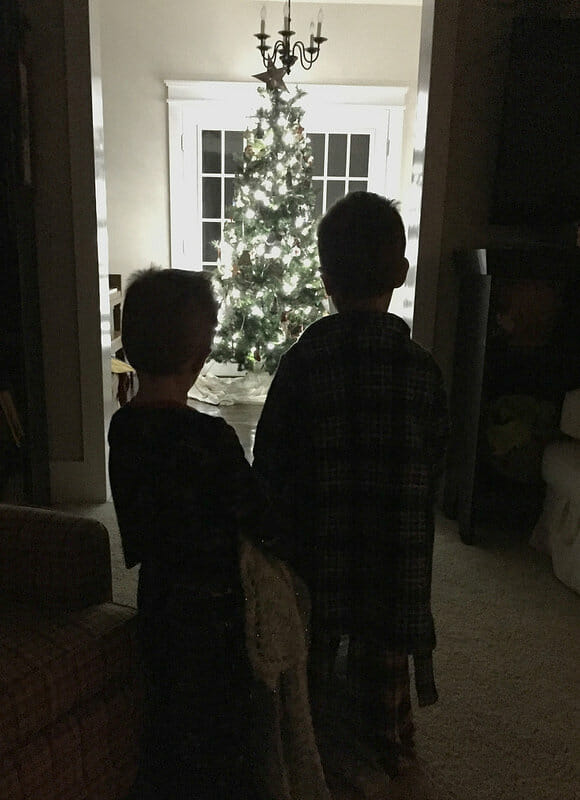 I know we're already half-way into the Christmas season, but I don't think it's "too late" to make a few changes… if that's what YOU want THIS year!
There's still plenty of time left to simplify and create a more meaningful Christmas season for you and for your family.
Here's how our family is attempting to do that THIS year.
1. We Re-Evaluated Our Holiday Traditions and Eliminated Extras
I know this might seem like a huge let-down for some families, but for our family, it has actually served to free up our schedule, offer a more meaningful Christmas experience, and allow time to do other things we're more excited about THIS year.
We skipped the annual holiday parade as we had another event on the same day — our kids didn't protest one bit.
We hosted a VERY simple Thanksgiving meal with both sets of our parents and did it later in the day instead of right after church, and both our parents brought a significant amount of food so I wasn't in the kitchen all day.
We said "no" to a few holiday parties that were not with close family members and later in the evenings (which is not great for our early-to-bed, early-t0-rise kiddos).
We didn't do anything with stockings — we honestly haven't done this for a few years and no one misses it!
We didn't put any decorations up except the artificial Christmas tree and our Nativity — our house still feels so festive with the glow of the lights and the kids had SO much fun doing ALL the ornaments themselves (there are literally zero ornaments on the top third of our tree!)
We haven't done one bit of holiday baking yet — we might do some over Christmas break… we might not.
We canceled some tentative travel plans we had in lieu of spending more down-time at home.
We didn't put any outside decorations up — I'm a little bummed about this, but I'll be thankful when I don't need to take them all down again later in the year!
2. We Simplified Everything (especially gifts).
I honestly can't even begin to express just how simple and glorious our holiday season has felt so far — it's just what I needed after a busy few months of go-go-go with school, church, blogging, etc.
But it has not been "easy".
I've been very intentional about the decisions I've made these past 3-5 weeks, and we've gotten some pushback, but my efforts have paid off in a less stressful, more meaningful Christmas season so far.
We did SUPER SIMPLE gifts for all the "extra" people in our lives (teachers, coaches, bus drivers, church people, friends, neighbors, etc.) See what we did in this post (and get your free printable gift tag).
We celebrated our family's Christmas extremely early — we usually celebrate the first weekend in December because that's when the kids have their Love Bazaar at school (and they are just so excited to give their gifts to us!) We also celebrate early in an effort to spread out the festivities for our kids, and so they don't get bombarded with a massive number of gifts all at one time.
I wrapped all the other gifts very simply — I usually enjoy spending time wrapping gifts, but this year, I knew I needed to keep things simpler. I wrapped everything in brown craft paper or gold tissue paper, then tied it all with gold ribbon (all of which we already had in the house).
The kids used their own money to buy gifts for each other at the school's Love Bazaar — honestly, this was SO sweet. They had so much fun buying for each other, and could hardly wait to watch their siblings open the $2 and $3 gifts! It also meant that I didn't have to go shopping with each one of them to buy gifts!
We are giving lots of gift cards! Gift cards are my go-to gift to simplify our holiday season… and contrary to what you may think, they don't have to be "impersonal" at all. I can't go in to too many details because we haven't given all the gifts yet! But I have a full post about creative ways to give gift cards.
We purchased many second-hand gifts for our children (and others) — I know, this could be taboo for some of you, but it works for us! I got our children many of the exact items they requested for a fraction of the new price, and I stayed away from online shopping (and the mall) which is a huge "win" for me!
I enjoy thrift store shopping and we have many amazing thrift stores in our area — so this was a fantastic way to save a bunch of money and simplify this time of year for me personally.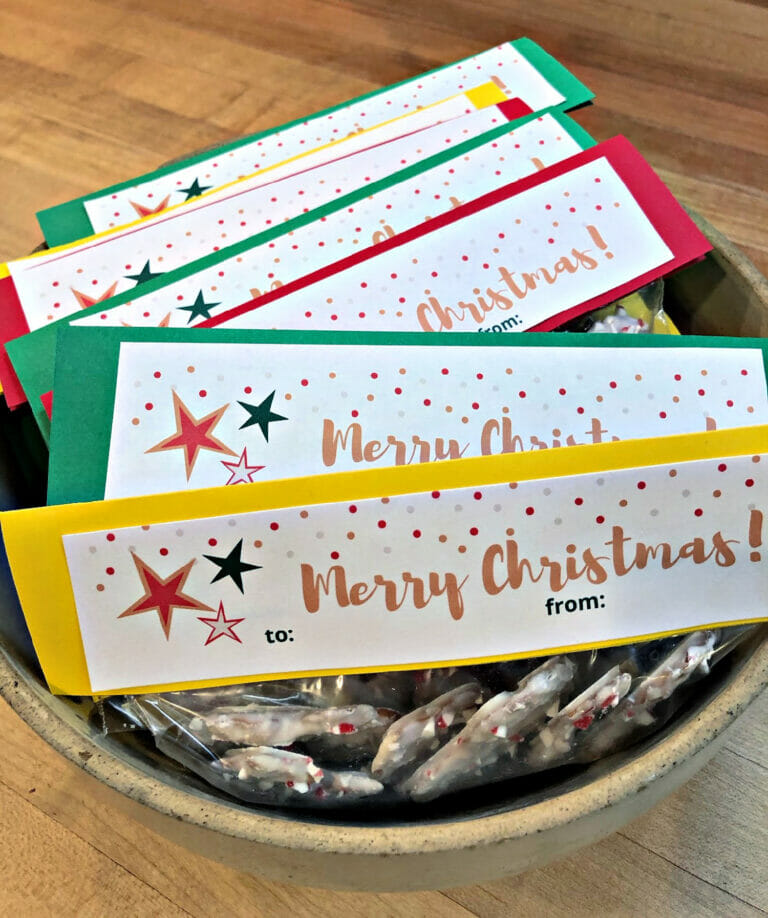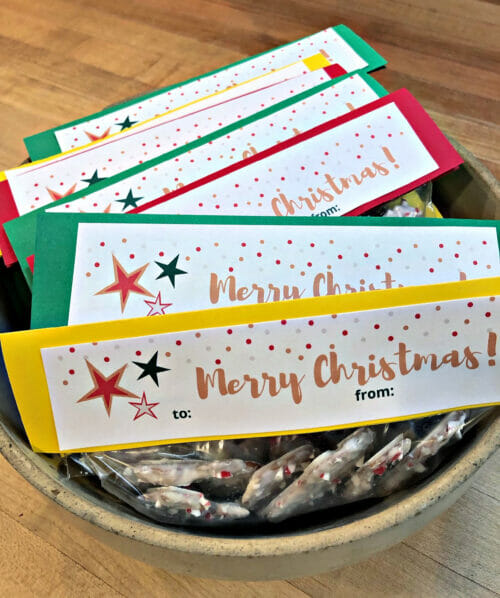 3. We Switched our Focus away from Consumerism.
No matter where you look this time of year, you're bound to see pictures of glamorous homes dripping with decorations and filled with smiling families wearing matching pajamas and sipping hot cocoa from mugs that just so happen to match the home's decor!
Seriously, it's everywhere.
But in my own life experience, that is nowhere near reality, and it certainly won't help you create a meaningful Christmas for you or your family.
Yes, we always decorate in some way for Christmas. And yes, we often drink hot chocolate after coming in from outside. But oh my word, these photos and blog posts and magazine articles are SO unrealistic, and SO far from the real meaning of Christmas!
I've been approached by companies asking me to share sponsored posts of this nature (matching PJ's, insane holiday decor, huge piles of gifts under the tree) and although the opportunities would be very lucrative for me, I just can't do it for fear that I'll be contributing to this ridiculously unrealistic and consumeristic portrayal of the holiday season.
It's not like that for 95% of people — and the other 5% are getting paid (very well) to make it look like their holiday season is actually like that.
As I've mentioned before, I don't watch the news (or really any TV these days), I don't subscribe to any magazines or newspapers, I don't do anything with social media (outside of posting content for my own blog), and I rarely ever go shopping — even (or maybe especially) during the holiday season.
This means the number of advertisements and unrealistic expectations I come into contact with each day is drastically lower than many others. It also means I'm so much more content with what I have (and don't have).
It really works!
Turn your TV off, step away from your computer for a day or so, remove social media and news apps from your phone, and walk right past the magazine display at the grocery store.
It's not easy to do, but if you're able to lower your expectations a bit, I have a feeling you'll be happier, your life will feel simpler, and you'll have a more meaningful sense of what's truly important throughout the holiday season and all year long!
If you're looking for a good Christmas or Advent devotional we used this one last year, and we're reading it again this year. It's very meaningful, with simple-enough concepts for our young children to understand, and thoughtful exercises and crafts to go along with each lesson.
What do you (or did you) do to create a more meaningful Christmas for your family?
For those of you "further down the road" a bit, is there anything you wish you would have done differently?