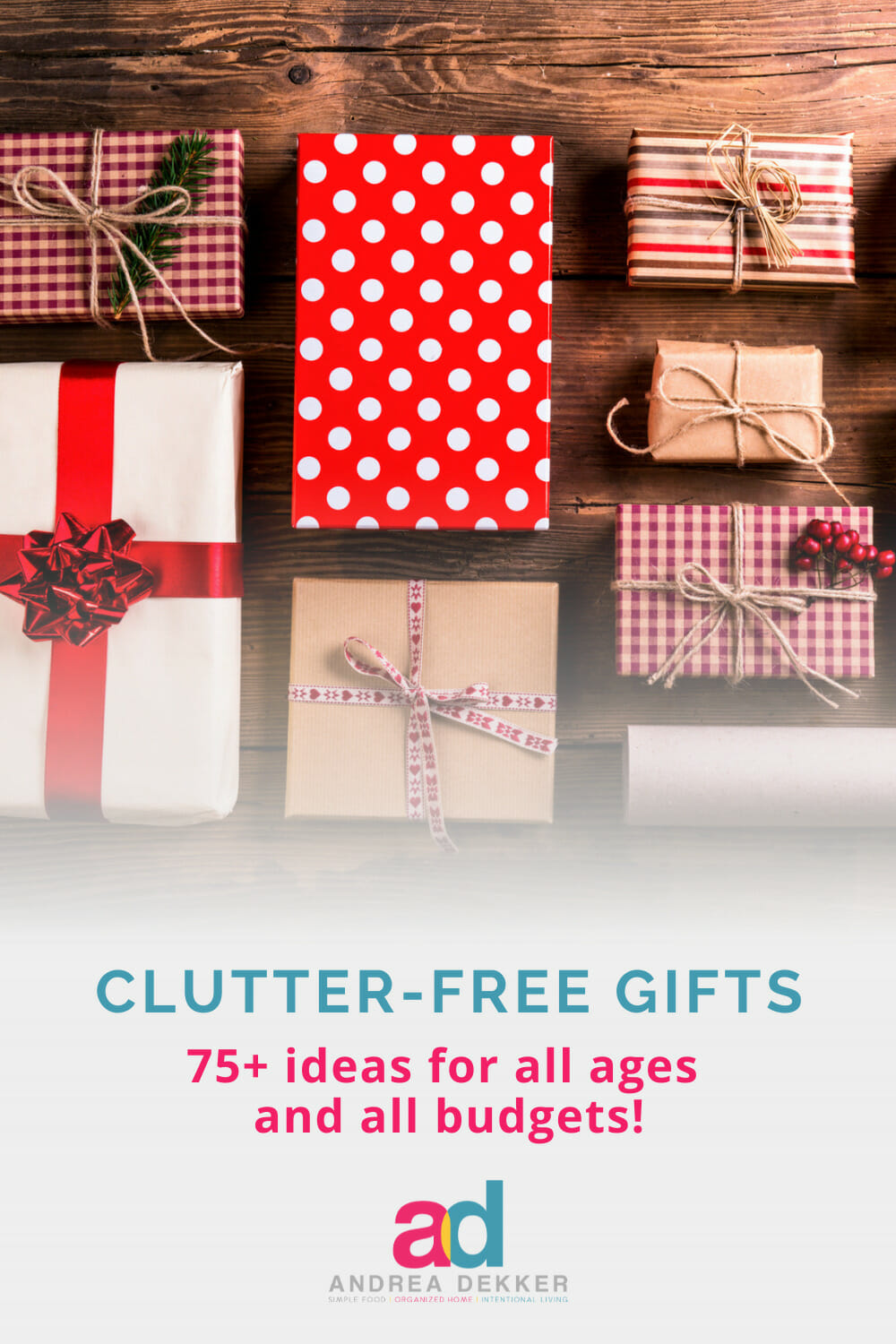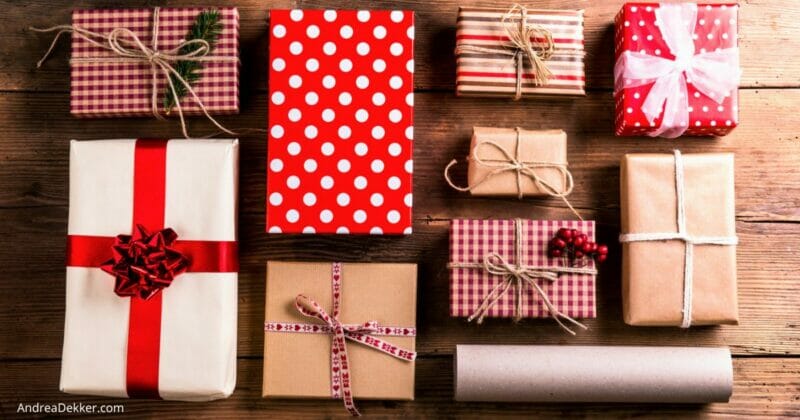 Looking for a few clutter-free gift ideas to simplify an upcoming birthday, anniversary, graduation, teacher appreciation event, or holiday party?
If so, you're in luck because I've got a HUUUUGE list of more than 75 clutter-free gift ideas for all ages, all budgets, and all seasons.
Everything from cash and gift cards to acts of service and experiences they will remember forever… just keep reading!
Clutter-Free Food Gift Ideas:
Our family loves receiving any type of food gift.
It's not uncommon for us to ask for a freezer meal or baked goods for a birthday or Christmas gift — and of course, Dave is always game for dinner at Culver's.
Most of the people on my list also enjoy food gifts — and with all the fun gourmet and allergy-friendly options at grocery stores these days, food gifts really can be a wonderful clutter-free gift option (yes, store-bought gifts are totally acceptable!)
Some examples of my favorite clutter-free food gifts:
Home-canned and preserved goodies — especially jam.
Caramel corn (or other "fancier" flavored popped corn).
Jar mixes (like cookies or brownies in a jar).
DIY Goodie Bags (I made 30 bags in under 30 minutes for under $30)
King-Size candy (buy in bulk to save.)
Specialty beer, wine, soda, coffee, juice, or tea (skip the mug/cup).
Homemade or store-bought snack mixes.
A quarter of a cow or half a pig (Dave's parents do this for us every year).
Their favorite vitamins and/or supplements (if you know what they use).
Lunches for the week (offer to pack or buy them lunch for an entire week).
Bring someone a meal (schedule it with them ahead of time).
Make a candy-countdown chain leading up to a special event.
A couple of freezer meals to reheat whenever.
Buy groceries for the week.
Costco muffins or pie.
Special snack boxes (our kids asked for these for Christmas this year)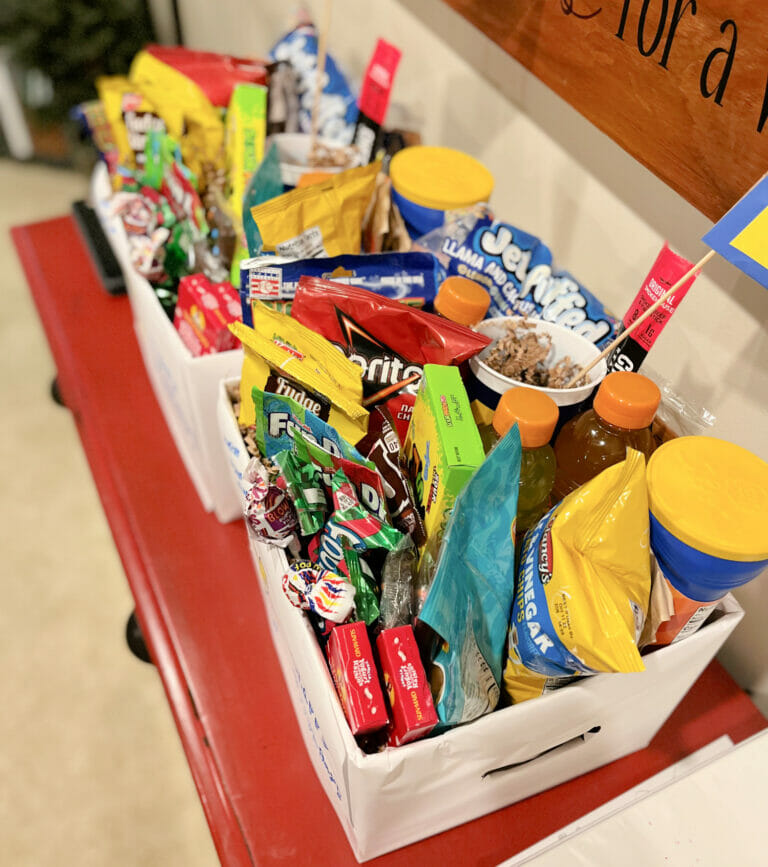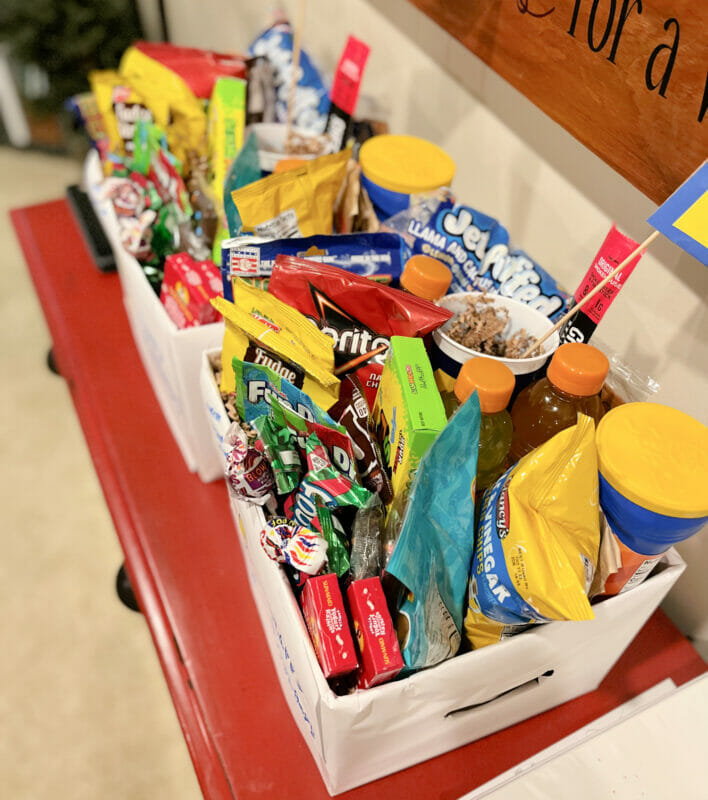 Clutter-Free Gift Card Ideas:
Contrary to popular belief, giving a gift card doesn't necessarily mean you "forgot" about a gift and waited until the last minute. And gift cards don't need to be impersonal gifts either.
I give gift-card gifts all the time — I buy them in advance, and I enjoy giving them in a thoughtful way… keep reading to see what I mean.
Some examples of my favorite clutter-free ways to give gift cards:
Amazon gift cards — they come in super cute (free) gift boxes!
Gas gift card + air freshener + car wash certificate (or membership).
Movie theater or Netflix gift card + popcorn, candy, and other common movie snacks.
Restaurant or coffee shop gift card attached to a coupon for "free babysitting".
Spa or salon gift card with bath salts, wine, and chocolate.
Any gift card taped to the back of a bar of our favorite Bend Soap!
Hardware store gift card packaged with a favorite (edible) treat.
iTunes gift card with another Apple product (like Air Pods, Apple watch, or even a new phone) — a bit pricier, but appreciated!
Any gift card for a place you know they go regularly — wrapped somewhat creatively, or even hidden throughout the house in a scavenger hunt style.
Clutter-Free Cash Gift Ideas:
Cash gifts often get a bad rap for being impersonal… but they don't have to be.
There are plenty of ways you can give super fun and creative cash gifts to people of all ages.
And if you don't feel comfortable giving an all-cash gift, think of a way you can pair it with a tangible gift — like buying the coffee maker they requested and stuffing the coffee carafe with $1 bills; or buying the book they wanted and lining the inside cover with cash.
Some examples of my favorite clutter-free cash gifts:
Put money inside balloons before you blow them up.
Hide money inside a roll of trash bags (yes, you need to unroll them all first.)
Give several rolls of coins for a super heavy gift.
Hide dollar bills inside a book, planner, calendar, photo album, or magazine.
Put cash behind a picture in a frame.
Simply buy a bunch of cute cash envelopes.
Freeze money in a block of ice (cold hard cash).
Give a "money tree" (here's a tutorial on how to make one).
Hide bills inside a favorite snack or food item.
Give a piggy bank or wallet that's already filled with money.
Fold bills into origami shapes (here are a bunch of tutorials on how to do this).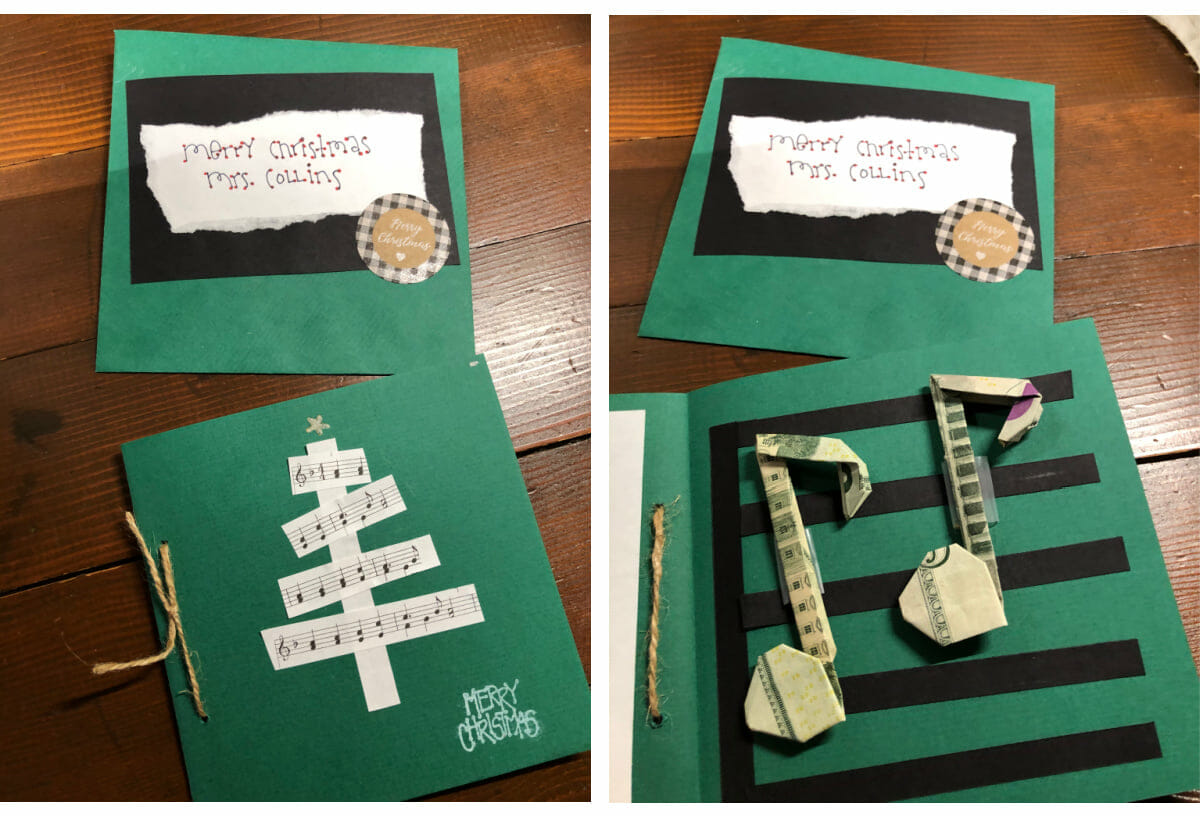 Clutter-Free Experience Gift Ideas:
Whenever I mention "clutter-free gifts" people usually think of experience gifts first — and that's probably because there are so many fabulous clutter-free experience gifts.
Some examples of my favorite clutter-free experience gifts:
Trip to the zoo, museum, aquarium, amusement park, etc.
Tickets to a concert or special event.
Season tickets for a sports team or musical group.
National Park Pass.
Family pass or membership for local attractions.
Plan a trip together.
Have a "yes" day (you say yes to anything they ask for — within reason).
Help them complete something off their bucket list.
Plan a date with mom, dad, grandparents, aunts, uncles, etc.
Head to the spa or salon together.
Go to a play, musical, movie, or concert together.
A gym membership or online fitness program (this one is my favorite).
An online subscription for music lessons, craft tutorials, or cooking classes.
An Amazon Music Unlimited, Kindle Unlimited, or Audible subscription.
Organize and host a freezer-cooking day or craft day with them.
Host a grandkids' slumber party (this can be a gift for the kids and parents!)
Clutter-Free Acts of Service Ideas:
Along with food gifts, Acts of Service gifts are some of my favorite clutter-free gifts — I'm guessing many mothers can relate!
While acts of service gifts aren't for everyone, I know lots of people love them. If you're on a tight budget this year, acts of service gifts might just be the way to go.
Some examples of my favorite clutter-free acts of service gifts:
Free childcare for a few hours.
Prepare a meal and deliver it already cooked.
Order a meal from their favorite place and have it delivered.
Pack their children's lunches for a week.
Clean the house for them (or with them).
Do all their chores for the day (especially fun for siblings).
Run errands for them for a day.
Make a menu plan for them for the week or the month.
Wash their car (inside and out).
Give them a voucher to sleep in.
Do the laundry for the week.
Pull weeds for an afternoon.
Plant flowers or shrubs (we planted several hydrangea bushes for my parents one year.)
Charitable Donation Gift Ideas:
Charitable donations are often the best gift idea for the person on your list who has everything.
Whether it's making a monetary donation in their name or volunteering together as a nice way to spend time together, there are lots of great organizations to choose from.
Some examples of my favorite charitable donation gifts:
Volunteer together (or as a family/group).
Make a donation in their name to any church, school, organization, or cause they are passionate about.
Sponsor a Child through Compassion International.
Shop through the World Renew gift catalog in their name.
Sponsor a local family during the holiday season — shop for and wrap the gifts together.
Serve a meal at a soup kitchen.
Support a disaster relief fund in their name.
Buy and donate books to the local library in their name.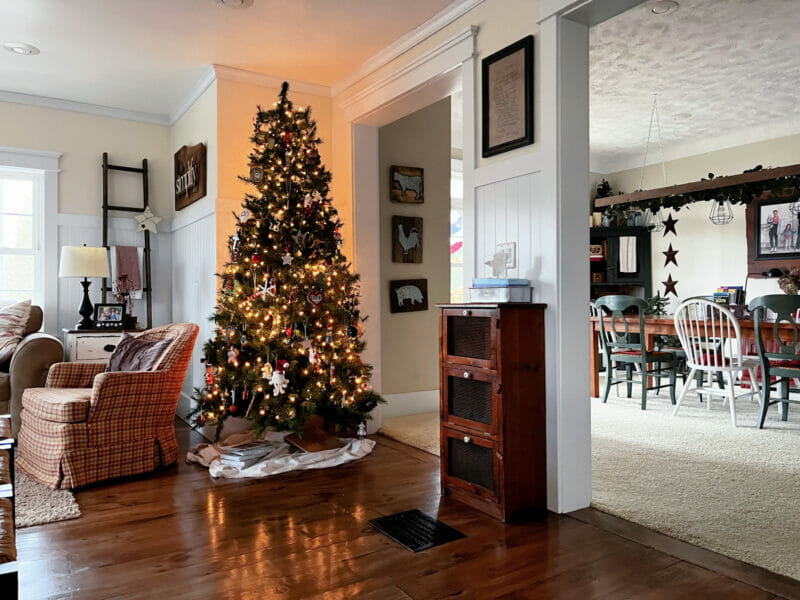 Looking for more specific clutter-free gift ideas?
I've listed several below based on age.
I tried to come up with a variety of ideas, price points, interests, age levels, etc. but I know there are HUNDREDS more.
Feel free to share your favorite ideas in the comments below!
Clutter-Free Gift Ideas for Kids:
Zoo or museum memberships.
A date with a favorite person (mom, dad, grandparents, aunts, uncles).
A special outing with friends.
Tickets to an age-appropriate concert, movie, or another event.
Subscription for a kid's magazine or book club.
A special privilege (staying up late, extra dessert, a special snack, getting out of doing chores for a day, etc.).
Ear piercing.
Bedroom makeover.
Craft supplies (that will eventually be used up).
A baking/cooking day with a favorite grownup.
A "night with the lights" — driving around looking at holiday lights and having special snacks in the car.
Park pass for local water or amusement park.
Paying for special classes or lessons (music, dance, sports, art, etc.).
Sponsor a child from another country and let your child write back and forth and send pictures.
Clutter-Free Gift Ideas for Teens:
Concert or sporting event tickets.
Movie tickets.
Gift cards for gas, carwashes, or oil changes.
Gift cards to the mall, a favorite store, or a favorite restaurant.
iTunes (or other music) download credit.
Cell phone, Tablet, smartwatch, etc.
Cell phone accessories or Apps that they might want.
A weekend away (or a night away) with a parent and a couple of friends.
Special jewelry.
Netflix subscription.
An Amazon Music Unlimited, Kindle Unlimited, or Audible subscription.
Volunteering for a needy organization together for a day (possibly with a group of friends).
Setting up a day to do as many Random Acts of Kindness as you can fit in (maybe with a special lunch or dinner out).
Toiletry items (perfume, cologne, makeup, or something else that will eventually be used up).
Bedroom makeover.
Gym membership.
Day at the spa (with friends).
Letting them get all dressed up and make a fancy dinner for their friends (I did this before Prom one year and it was so fun).
Cash! 😊
Clutter-Free Gift Ideas for Adults:
A season pass to their kids' or grandkids' sporting events.
Gift cards to a favorite restaurant or coffee shop.
Movie or concert tickets.
Theater or sporting event tickets.
An educational class (dancing, cooking, drawing, painting, pottery, etc.).
A subscription to an online class.
Donation to a special charity of their choice.
Picture calendar with pictures of children or grandchildren.
Digital photo frame loaded with pictures.
Baked goods or meals for a month (once a week or whatever you decide).
Freezer meals for a week.
Wine, cheese, dessert, or fruit of the month club membership.
Gift certificate for a family picture.
Monthly maid service.
Landscaping service for a season.
Snowplow service.
Gym membership (in person or online).
Day at the spa.
Car wash membership.
Flowers.
Girl's night or Guy's night out.
Netflix, Hulu, Sling TV, or another TV subscription.
Date night with free childcare (if applicable).
Special "coupon book" for household chores, back rubs, etc.
Weekend getaway.
National Park Pass.
Help them complete something off their bucket list.
Ok, I think that covers it!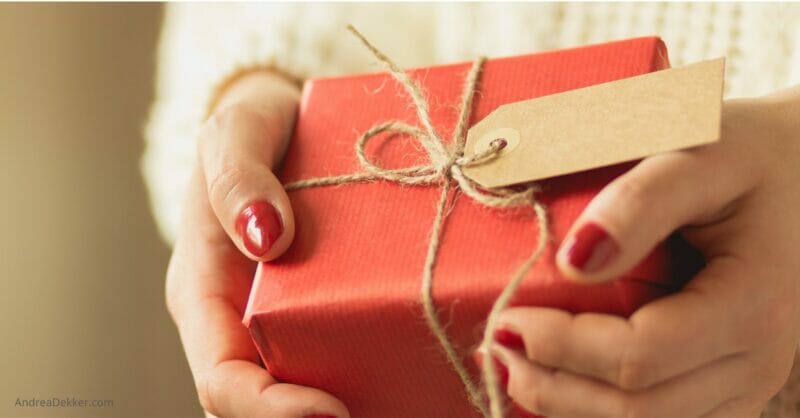 I hope this list of clutter-free gift ideas is a good starting point for you!
With a little thought, I'm positive you can come up with fantastic clutter-free gift ideas for everyone on your list all year long!
What are YOUR favorite clutter-free gift ideas (to give and to receive)?