50+ Clutter-Free Gift Ideas for All Ages
posted by Andrea | 10/28/2015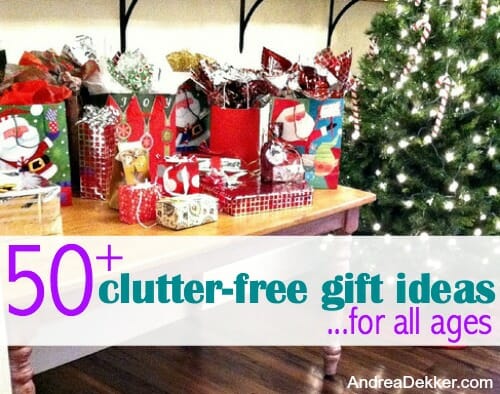 I still can't believe we're only days away from November — and November means that the gift-giving seasons for the Dekker family is in full force.
As I've mentioned before, in Dave and my immediate families, we have 6 birthdays between Thanksgiving and New Year's — and while we don't go very extravagant with birthday gifts, it does all pile up when you think about all the regular holiday gifts along with all those birthdays.
Although I'm not opposed to tangible gifts (especially for my kids who are in the stage of life where opening presents is one of the most exciting things ever) I do try very hard to come up with semi-creative ways to give relatively clutter-free gifts to everyone on my holiday (and birthday) lists.
Over the past 5 years, I've shared many different Clutter-Free Gifts posts; so this year, I thought I'd try to compile ALL those posts and ALL those ideas into one place.
General Clutter-Free Gift Ideas:
FOOD: 
Dave and I are both big "food gift lovers". It's not odd for us to ask for a freezer meal or baked goods for a birthday or Christmas gift — and of course, we LOVE restaurant gift cards to our favorite places.
I realize that food gifts can get tricky when allergies and food sensitivities are involved, but if you enjoy baking and cooking, the gift of food might just be the perfect clutter-free gift for the people on your gift-list!
Here are some of my favorite food gift ideas.
GIFT CARDS: 
Contrary to what many of you might think, a gift card doesn't mean that you waited until the last minute to buy something. There are a bunch of surprisingly thoughtful ways to give fabulous gift-card gifts.
Here are a few ideas to get you thinking.
CASH:
I realize that giving cash might seem very impersonal… but I promise it doesn't have to be. There are plenty of ways you can give super fun and creative cash gifts to people of all ages.
And if you don't feel comfortable giving an all-cash gift, then think of a way you can pair it with a tangible gift — like buying them the coffee maker they asked for and stuffing the coffee carafe with $1 bills; or buying the book they wanted and lining the inside cover with cash.
Here are a bunch more creative cash gift ideas (be sure to read the comment section too!)
EXPERIENCES:
Whenever I mentioned "clutter-free gifts" people usually think of experience gifts first — and that's probably because there are SOOOO many fabulous clutter-free experience gifts.
I could probably list 100 ideas in just a few minutes! However, since I don't want to write a mile-long post, I'll just share the link to some of my favorite experience gifts (see below for more ideas as well!)
ACTS OF SERVICE:
This is always one of my favorite clutter-free gifts — and Dave is really good at giving acts of service gifts to me. He realizes that I'd MUCH rather have him wash the dishes, fold the laundry, take the kids outside to play all afternoon, or help me pull weeds than buy me a dozen roses or a new pair of earrings.
While acts of service gifts aren't for everyone, I know lots of people love them!
Here are a bunch of creative ideas for your next acts of service gift.
CHARITABLE GIFTS:
For the person on your list who has everything, I've found that charitable donations are often the best gift.
Whether it's making a monetary donation in their name or volunteering together as a nice way to spend time together, there are lots of great organizations to choose from.
Here are just a few of my ideas. Also, here are a few more ways to give back during the holiday season.
In case you're looking for specific gift ideas, I've listed out some below — however, I'd love it if you left your favorite clutter-free gift ideas in the comments!
Clutter-Free Gifts for Kids:
Zoo or museum memberships
A date with a favorite person (mom, dad, grandparents, aunts, uncles)
A special outing with friends
Tickets to an age-appropriate concert, movie, or other event
Subscription for a kid's magazine or book club
A special privilege (stay up late, extra dessert, special snack, get out of doing chores for a day, etc.)
Ear piercing (guess what's on Nora's list this year!)
Bedroom makeover
Craft supplies (that will eventually be used up)
A baking/cooking day with a favorite grownup
A "night with the lights" — driving around looking at holiday lights and having special snacks in the car
Park pass for local water or amusement park
Paying for special classes or lessons (music, dance, sports, art, etc.)
Sponsor a child from another country and let your child write back and forth and send pictures
Clutter-Free Gifts for Teens:
Concert or sporting event tickets
Movie tickets
Gift cards for gas, carwashes, or oil changes
Gift cards to the mall, a favorite store, or a favorite restaurant
iTunes (or other music) download credit
Cell phone or Tablet (if you're ok with it!)
Cell phone accessories or Apps that they might want
A weekend away (or a night away) with a parent and a couple friends
Special jewelry or watch
Netflix subscription
Volunteering for a needy organization together for a day (possibly with a group of friends)
Setting up a day to do as many Random Acts of Kindness as you can fit in (maybe with a special lunch or dinner out)
Toiletry items (perfume, cologne, makeup, or something else that will eventually be used up)
Bedroom makeover
Gym membership
Day at the spa (with friends)
Letting them get all dressed up and make a fancy dinner for them and friends (we did this before Prom once and it was so fun)
Cash 🙂
Clutter-Free Gifts for Adults:
Season pass to kids or grandkids sporting events at school
Gift cards to a favorite restaurant or coffee shop
Movie or concert tickets
Theater or sporting event tickets
An educational class (dancing, cooking, drawing, painting, pottery, etc.)
Donation to a special charity of their choice.
Picture calendar with pictures of children or grandchildren
Digital photo frame loaded with pictures
Baked goods or meals for a month (once a week or whatever you decide)
Freezer meals for a week
Wine, cheese, dessert, or fruit of the month club membership
Gift certificate for a family picture
Monthly maid service
Landscaping service for a season
Gym membership
Day at the spa
Girl's night or Guy's night out
Date night with free childcare (if applicable)
Special "coupon book" for household chores, back rubs, etc.
Weekend getaway
National Park Pass
Help them complete something off their bucket list
I think I could go on and on with various other ideas!
There are so many creative, thoughtful, and fun ways to give clutter-free gifts, you really have no excuse not to give a few this year! And as I mentioned above, you certainly don't need to restrict your gift-giving