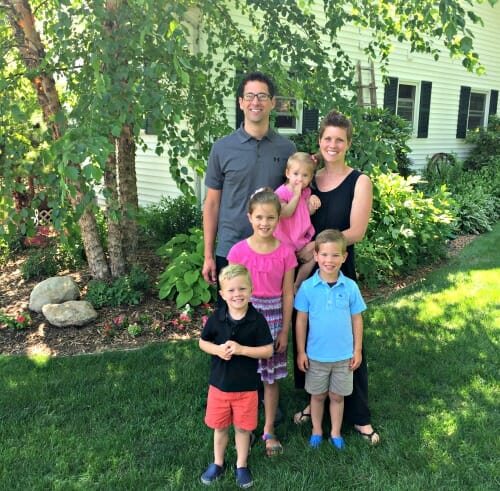 If you stopped by the blog last week, you probably noticed I wasn't around all that much!
I took last week off as a little "blogging break" over the holiday week, and it really was perfect timing. It was great to step away from my computer for a few days, and I honestly don't think anyone missed me too much since I hardly got any emails or questions. Hopefully you were all too busy spending time outside or doing something fun with family and friends!
Our week was actually VERY low-key, as we didn't have anything special planned. The weather was HOT and HUMID every single day, so we basically lived in the pool and wore our swimsuits from breakfast until bath. In fact, I only did ONE load of clothes laundry the entire week, and that was mainly just PJ's and undies! (I did wash swimsuits, towels, bedding, etc.)
We had a combination of friends, neighbors, and relatives over almost every day — for pool parties, pizza parties, and "just because".
I think we went through 3 watermelons, several pounds of cherries, 4 pans of different bars, and 2 bags of licorice — and that was just the snacks, not even the full meals!
We also hosted James' Monster Truck 4th birthday party over the weekend (his actual birthday isn't until next weekend but we won't be around much next weekend).
I'll share more about James, his party, the food I made, etc. next week!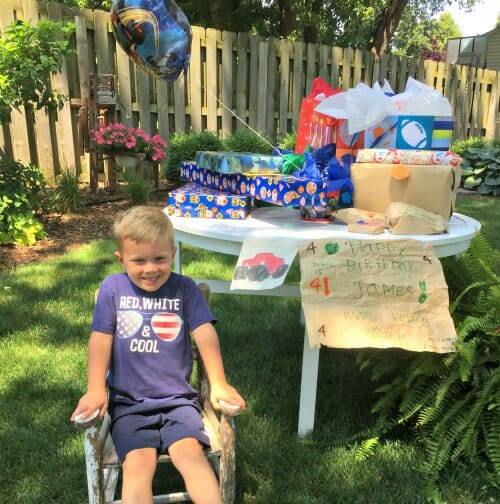 Aside from making (and buying and cleaning up) food, swimming in the pool, and keeping our home and yard fairly maintained, I didn't do a whole lot last week — which was nice for a change!
One "mini project" I started and completed in the matter of 2 days was to re-landscape the area in front of my parent's house. They had pulled out the existing (overgrown) plants but never put anything back because they were waiting to have some brickwork done. I was tired of looking at the weeds and dirt, so I went there while they were gone on vacation and pulled weeds, spread mulch, and spruced it up a bit.
Everything is movable for whenever their brickwork finally happens (it was too rainy this spring) and I'm very happy with how well it turned out. They were super surprised when they got home!
.
Of course, Dave and I still have a long list of summer projects we are hopeful will happen, but considering we're nearing mid July already, I'm slightly less optimistic than I was at the beginning of the summer.
Who can relate!!
Speaking of "summer projects" the kids have all been working on various goals as well.
Nora finished swimming lessons — and they were a HUGE success! She is much more confident in the water, she swims with her head down using actual strokes, and doesn't have to use nose plugs anymore!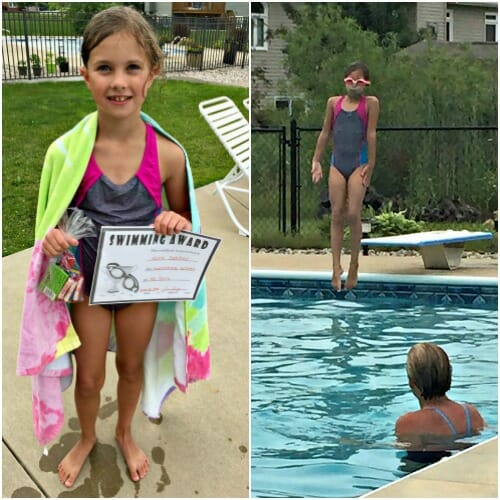 She also got her own library card and is reading like crazy. She is sort of taking piano lessons from me, and she has a whole pile of craft projects she wants to finish.
Nora is outside most of the day — either playing with the neighbor kids, pushing Clara around in various scooters or strollers, swimming with the boys, or making various forts in our landscape!
Simon is gearing up for soccer camp today (with Nora) and is just as excited to be outside all day as Nora is.
He is tall enough to touch the bottom in our pool, which has made swimming much more fun for him this year. He now swims without any floaties and is excited for his week of swimming lessons next week.
Simon wants us to take the training wheels off his bike, but every time we do, he decides he really just wants them back on! The goal of learning to ride a two-wheel bike is currently on the "back burner" because we're tired of taking his training wheels off only to have to put them back on again 15 minutes later.
Maybe he'll master this later in the fall!
James had a fantastic Monster Truck birthday party yesterday — I can't believe he'll be FOUR later this week!!!!
I have a feeling we'll be celebrating a little bit every day!!
After many LONG afternoons spent pushing him on the swing, I am happy to report James has finally mastered "pumping" — we are both super excited!
James does not love the pool as much as the older kids as he can't touch and he doesn't want to get his face wet. He says, "I'll get my face wet when I turn 4"... so I have his swimming lessons scheduled for the week after he turns 4 — we'll see how they go!
In the mean time, you can find him pumping away (usually singing at the top of his lungs) on one of our many swings, playing with Clara, or riding his bike "super fast" up and down our driveway!
Oh, to be a kid again!
Miss Clara has grown up so much over the summer already — it's fairly impressive how well she keeps up with her older siblings and neighbor friends!
She has been sort of trying to skip out on her afternoon nap — but I'm not ready for this to happen yet! We're hoping she will keep napping through the rest of the summer and maybe we can phase her out of naps once the school year starts up again.
However, I will say, she goes to bed even earlier (and sleeps SO well at night) when she doesn't nap. We'll see if I cave in and let her skip naps more often!
Clara's new favorite thing is to drink from a normal cup — not a sippy cup. Thankfully, we mostly just drink water, and we've been eating outside for most meals this summer, so it's not a big deal if she spills.
Clara is a pool rat — she wakes up pointing outside saying "mama, poool, mama, poooooooool, mama, poooooooooooool" until we finally let the kids get in after breakfast.
She has no fear and will even put her face in (something none of the other kids did at her age).
.
Dave and I have so many projects in our heads and somewhat started — but nothing far enough along to share on the blog.
Dave is trucking along with learning how to do more with video. Hopefully this will benefit our family by being able to create some fun home movies. I'm also hoping it will allow me to do more with videos on the blog — we'll see!!
.
I have made some amazingly delicious sourdough waffles, but my sourdough bread hasn't been good at all. It's SO sour, I'm not sure if I'm doing something wrong, or if we just don't particularly care for the taste of sourdough bread.
I told Dave we should buy some really great sourdough bread from an artisan-type bakery so we know what the "end goal" should be. However, we're not really sure where to buy it from.
If you have any suggestions for authentic sourdough bread in the West Michigan area, I'm all ears!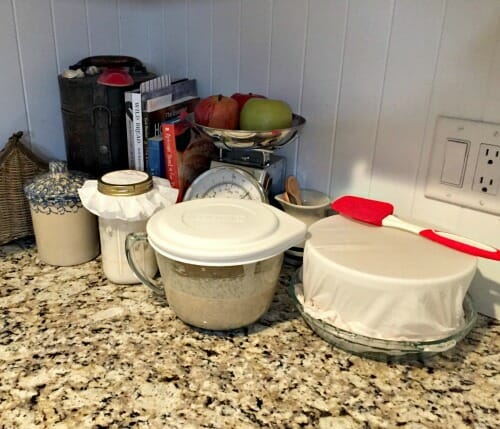 Free Stuff!!
I came across 2 really great freebie deals this past week that I want to share with you. These freebies use my affiliate link, but I personally use the products and services listed below and wouldn't recommend them if I didn't! Read my disclosure policy here.
If you've never ordered from Grove before, you can get a FANTASTIC free gift with your first purchase.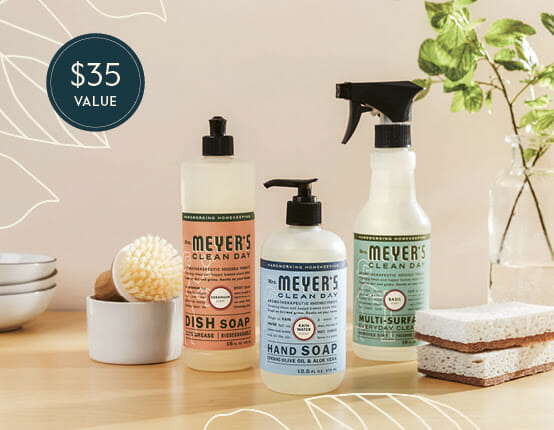 This 5-piece Mrs. Meyer's cleaning kit has so many of my favorite products in it (I LOVE that little scrubber so much) and from what I can tell, there is no minimum order.
UPDATE: a reader emailed me to let me know there is a $20 minimum on the order. However, it's still a great lineup of freebie products, so probably still worth it in my opinion!
.
I shared this deal on my Facebook page last week — but it's still going on this week so I wanted to share again!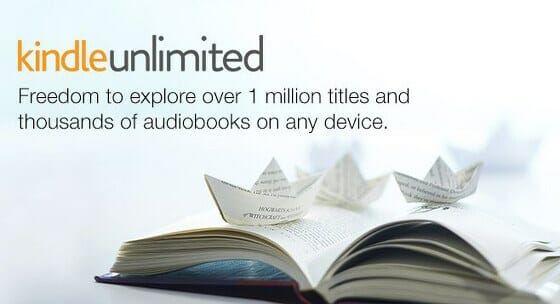 If you are an Amazon Prime member, you can sign up for 3 free months of Kindle Unlimited (even if you've already signed up for free/discounted months in the past).
I signed up again and already have a long list of books ready to read throughout the rest of the summer (perfect timing!)
Just remember to make a note to cancel again in 3 months, otherwise you'll be charged $9.99 a month — that said, if you are a big reader, the monthly fee might be worth it to continue with this service. I personally read so much more when I have books on my phone!
.
If my math is correct, we have 6-7 more weeks of summer left (6 for Dave, 7 for the kids) and while we don't really have many grand plans, I'm certain we will make the most of our time together.
One thing I've been doing lately is jotting down a few notes about the things we do each day (even if they are small or insignificant). I write it down on my wall calendar and it has helped me remember so many more details when I make our digital photo books. It's also fun to just look back over the weeks and months and remember the simple but fun things we did together.
That's all for now… I'm glad to be back to blogging again!