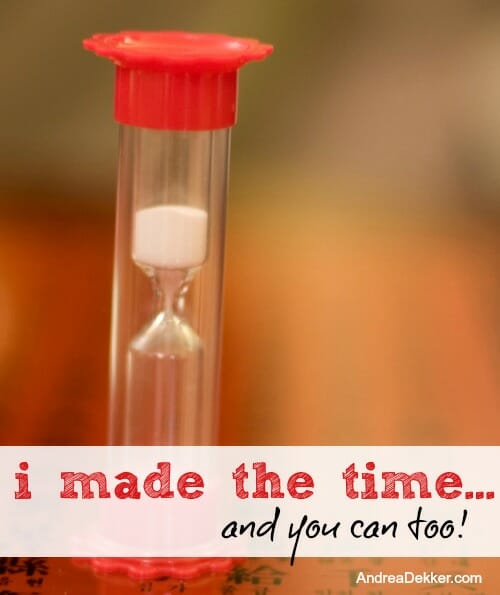 One of my biggest pet peeves FOREVER and EVER has always been when people complain about "not having enough time" to do something.
I realize some people are busier than others, some people work faster than others, some people have more energy than others, and some people are more efficient with their time — but we ALL have 24 hours and (for the most part) we have some choice as to how we spend those hours.
As you can probably imagine, some of the most common "I have no time for _____" complaints I hear are:
I don't have time to clean / organize / put away / fold / hang / etc.
I don't have time to meal plan / cook / bake / freezer cook / etc.
And just for fun, we can add in the following:
I don't have time to exercise
I don't have time to shop for gifts
I don't have time to host the party
I don't have time to help at my kid's school
I don't have time to volunteer
I don't have time to join that group
I'm sure you've all heard (or said) something similar over the course of your life — I've even let these statements slip out of my mouth!
However, I truly believe if something is important enough to us, we will do everything in our power to MAKE the time for that activity, event, person, task, etc. If it's not important enough, we won't make the time. PERIOD!
We CHOOSE what we will or will not make time for (sometimes subconsciously, but it's almost always a choice).
.
One thing that hasn't been very important to me over the years is reading for my own personal enjoyment. I've never been a big reader, I don't particularly enjoy reading, and it's not all that important to me at this point in my life.
So, even though I read boatloads of books to my children and we visit our local library at least once a week, I've never made any effort to read books for my own enjoyment — not because I don't HAVE the time, but because I have chosen to spend my time in other ways.
However, based on a bunch of time-management related emails I got in early September, I decided to challenge myself to integrate reading into my regular daily routine — and to see how many books I could read in 6 weeks.
I figured I would "practice what I preach" and find a way to fit a decent amount of reading into my relatively full schedule… and you know what? I think I even surprised myself by how easy it was to shift a few priorities around to MAKE more time to read.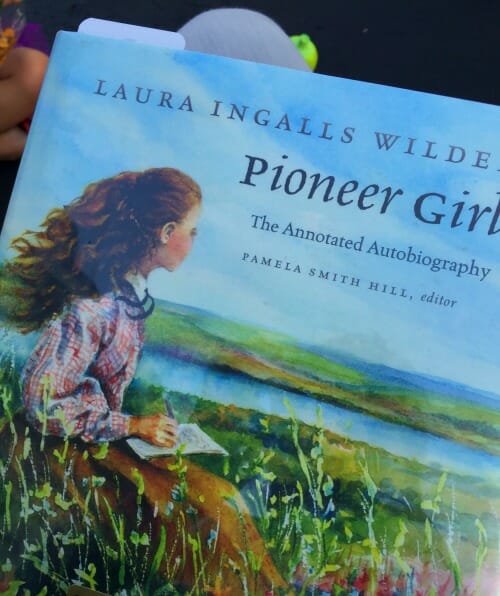 Before my self-inflicted reading challenge, I can only think of 4 or 5 books I read for myself since Dave and I got married (TEN YEARS AGO)! So imagine my surprise when I managed to plow through 9 full-length books in less than 6 weeks!! And that's on top of all the books I read to my kids!
WOW!
I truly don't feel like I "gave up" much to make time for reading each day — and I actually ended up enjoying almost all the books I read!
Who knows, maybe I'll become an avid reader like Dave after all 🙂
The NINE Books I Read:
1. Pioneer Girl: The Annotated Autobiography (Laura Ingalls Wilder)
I have a weird obsession with the Little House books and with Laura Ingalls Wilder. I think I secretly wish I could have grown up "out on the prairie" although I know it really wasn't as fabulous as the books make it out to be.
Anyway, I didn't read all the "extras", but it sure was interesting for me to read more about Laura, not just her stories.
2. The 5 Love Languages (Gary Chapman)
Dave and I both read this book when we were dating, but it was fun to re-read it now that we've been married for 10 years… and yes, my top love language is still very much "acts of service".
Also, the Kindle version of this book is currently free!
3. Havah: The Story of Eve (Tosca Lee)
This book was recommended by a lady from church, and it was SO good. The beginning felt a bit like a romance novel to me — something I'm not into at all, but overall I really really liked this book.
It's obviously fiction — but the author did an extensive amount of research in attempts to make the storyline and details of the book fit with different speculations about the life of Eve.
4. For the Love (Jen Hatmaker)
Such a fun, light-hearted read!
I literally laughed out-loud many times while reading this book. Dave would mock me — but then when I reread things to him, he even laughed.
5. 7: An Experimental Mutiny Against Excess (Jen Hatmaker)
I was really excited to read this book, but I struggled to stick with it. I had to force myself to keep reading — I guess I just didn't like the diary format.
6. When I'm Gone (Emily Bleeker)
The only reason I decided to read this book is because I could get it free on my Kindle App. The storyline started slow for me… but by the 3rd or 4th chapter, I was totally hooked. I actually stayed up late and woke up early just to keep reading more and more and more!
As of right now, the book is still free for Kindle!
7. Genesis For Normal People (Jared Byas)
Dave had this book saved to our Kindle account from something he read a year or so ago. I skimmed through it because I'm in a Bible Study on Genesis right now.
It was interesting, but not the type of book I'd just sit down and read straight through.
8. Keep It Shut (Karen Ehman)
I checked this book out from our local library and read it off and on while I was reading other books. It was good, but a little boring in my opinion.
9. The Fringe Hours (Jessica Turner)
I've been wanting to read this book for a while now and I snagged it for just $0.99 on Amazon a couple weeks ago. It was a really quick read — and so full of good ideas!
I actually thought this book was going to be about time management — but ironically, it's about making more time for yourself and things you enjoy.
.
So how did I make the time?
I'm sure there are many little things I did to to make more time for reading — but as I thought about what I did, 4 distinct things came to mind. I think these 4 tips made the biggest difference in my ability to carve out more time to read.
1. I made it convenient to read.
I always carried a book (or my phone) with me so I never had an excuse not to read.
I read while Dave drove, I read while I made dinner and the kids were playing with Dave, I read on my phone while I was up in the middle of the night rocking a stuffy-nosed James, I read outside while the kids rode bikes up and down the driveway, I read on my phone when I waited in my car to pick Nora up from school.
If it wasn't convenient, I wouldn't do it… but since I always had at least one hard-copy book lying around and at least 2 books ready to go on my phone, it was always convenient to read a few more pages.
2. I prioritized reading.
Instead of saying "I'll read whenever I'm done with everything else I need to do", I read for 5-10 minutes BEFORE tackling my to-do list (I know… shocking!)
I would usually read for 5-10 minutes right after I woke up, and another 10-20 minutes right after the kids went to bed at night. This way, I always got at least 15-30 minutes of uninterrupted reading in every day.
3. I focused on "progress", no matter how small it was.
There were times when I literally only read 1 or 2 paragraphs at a time — not necessarily ideal, but it's all the time I had at that moment and it was better than reading nothing at all.
I also always read at least 1 page before I went to bed. Even if I was dead tired, I figured I could manage at least 1 page.
4. I used any spare time for reading.
I've never been a big TV watcher, but over the past 2 months, I essentially cut out any and all TV and Netflix shows. I also stopped logging into Facebook as much and used any extra free time to read a few more pages.
Obviously, I can't read in every moment of my free time forever, but this little experiment did help me to realize that I actually have a bit more free time than I thought!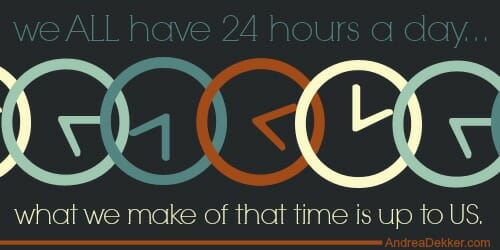 If you think about it, these 4 tips could easily be applied to SO many different areas of our life — exercising, eating healthier, cleaning, organizing, saving, etc.
If we make it convenient to exercise, eat healthier, clean up, get organized, or save more money, we will be much more likely to do these tasks than if it were very difficult, cumbersome, and inconvenient.
And I've already talked about how crucial it is for me to "save first", or "do it now" instead of waiting until later.
Similarly, if we have the main goal of "progress" in mind, we can continue to move forward with our goals, even if that forward progress is very small. Small amounts of forward progress are always better than no progress at all!
And if we use all our little bits of spare time to focus more energy on whatever our goals are, we might just realize we have a whole lot more "free time" than we originally thought!
.
I know it's not always as easy as simply deciding to do something and then effortlessly following through — but this little experiment definitely solidified the fact that we usually have a choice as to how we spend our time.
The next time you're tempted to bemoan the fact that you "don't HAVE enough time for something," I'd like to challenge you to stop and think about another activity you could temporarily give up (or scale back on) to MAKE more time.
What would you like to MAKE more time for?
Want to read more of my thoughts on "having time versus making time"? Here are 2 posts I'd suggest:

Time + Money Management — We Have A Choice