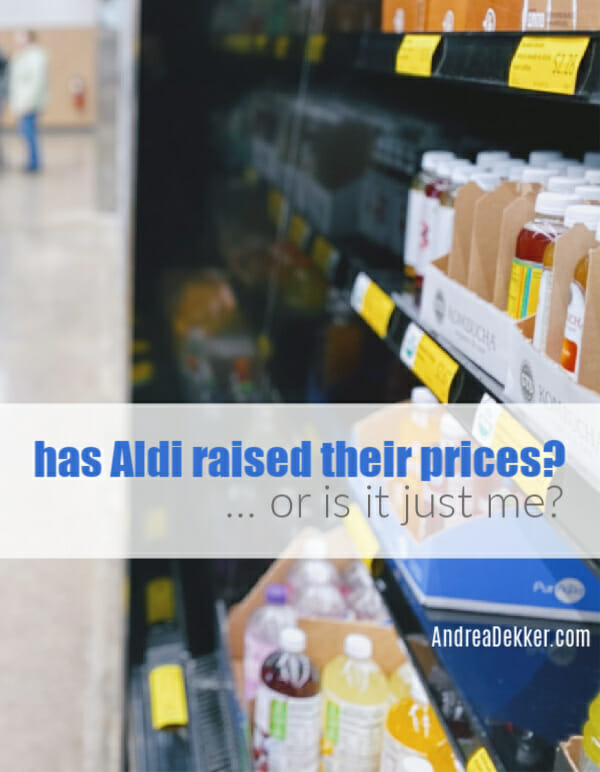 Way back in 2013, I shared more about why I did NOT shop at our local Aldi grocery store — despite the fact that their prices were significantly cheaper.
At the time, the only Aldi store close to us was very small, very dirty, very cramped, and their produce was consistently bad (not cool for someone who buys as much produce as I do!)
However, 4 years later (December of 2017) a brand new, extremely nice, super spacious Aldi store opened up less than 10 miles from us!
I immediately started shopping at that store and began enjoying the savings in both time AND money (read more about my Aldi shopping experiment here!)
Since then, ANOTHER Aldi store popped up even closer to our house… and there's a rumor a 3rd new Aldi store is in the plans for 2020 (less than 2 miles from our house!)
Craziness!!
For the last 2 years, I've done the vast majority of my grocery shopping at Aldi; purchasing only a few "extras" at Meijer and Costco each month.
Honestly, I'm a HUGE Aldi fan!
And that's big for me to say — considering I refused to shop there for a solid 10 years!
I love their brands, I love that they have limited options, I love how small their store is compared to Meijer, I love how fast I can get in and out, and I love that I save money!
My grocery spending actually went DOWN in 2018 and 2019 — even though we added another child to our family, our other children ate more, we entertained more, and we're eating SO MUCH PRODUCE!
HOWEVER… I feel like I've recently noticed a price jump on several Aldi items over the past couple of months.
Anyone else?
Over the past month, I've purchased the majority of my groceries at Meijer because their prices were actually cheaper than Aldi's prices for so many of the things I regularly buy.
strawberries
raspberries
blackberries
peppers
beans
lettuce/spinach
yogurt
cheese
cauliflower rice
and more
I mentioned this to a friend (who does not live near me) and she said she noticed the exact same thing by her.
I took a quick glance at my grocery spending over the past month — and it is, in fact, more than what I spent in previous months (even taking holiday baking/cooking into consideration).
So… I'm wondering if any of you have noticed a price jump at your local Aldi stores?
I did some digging around on the internet but haven't found any conclusive evidence that Aldi is in fact raising prices across the board (at least nothing published online yet — but Aldi tends to be very private with this type of information).
Honestly, I sill love Aldi and I'll definitely still shop there, simply because I like their brands and the fact that it's such an efficient system (I can get in and out in less than 30 minutes with children!)
However, I'm curious to know if others have noticed an Aldi price jump, or if it's just me!?
Also, what are your favorite things about shopping at Aldi?
NOTE: here's a great price comparison between Aldi and Walmart, and here's a comparison between Aldi, Kroger, and Meijer.