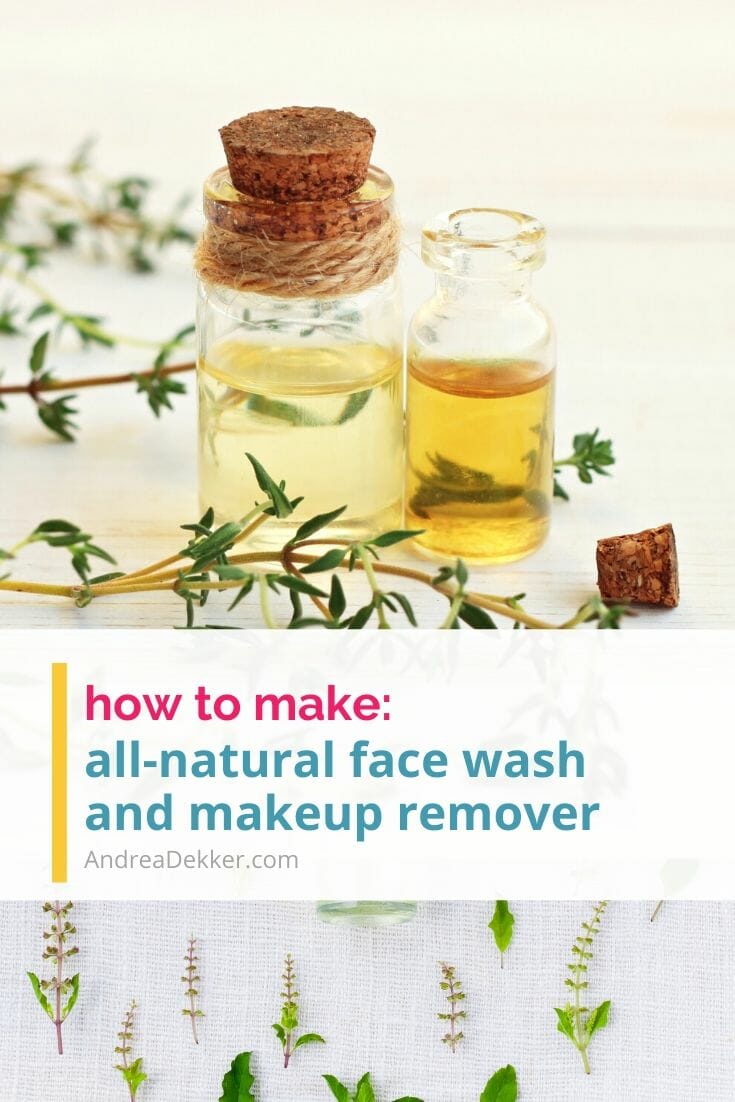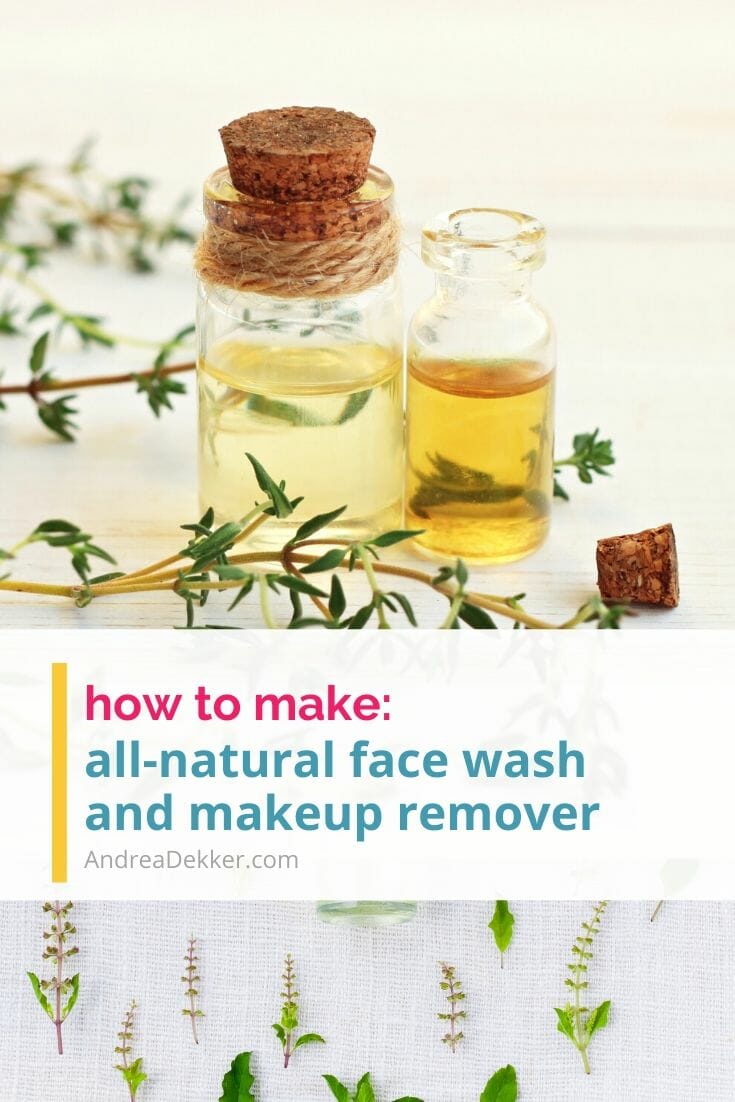 For the last 10 years, Dave and I have used an extremely simple homemade all-natural face wash to wash (or rather "cleanse") our face each night. It doubles as an all-natural makeup remover too — bonus!!
As odd as it might sound, we use The Oil Cleansing Method (yes OIL!)… and our skin looks and feels fantastic!
Way back in 2010, I began researching different DIY skincare routines and all-natural face wash recipes.
My requirements were that any homemade options had to be frugal, extremely simple to make, and use readily available ingredients.
It didn't take me long to stumble across The Oil Cleansing Method as a viable option for our homemade all-natural face wash.
I was skeptical at first… but I knew I needed to give it a try as it met my criteria of frugal and simple. Plus, it required just 2 easy-to-find ingredients… Sunflower Oil and Castor Oil.
Now, a full decade later, I can confidently say this all-natural face wash has been a huge asset to my daily skincare routine!
I no longer struggle with super dry skin, breakouts in the T-zone, large pores, blackheads, or the weird patches of eczema I sometimes got around my mouth.
Dave and I both agree that our skin looks great and feels SO soft — much of which we attribute to using the oil cleansing method as a SUPER simple all-natural face wash!
Watch the video to learn more!
(click here if you can't see the video)
Why The Oil Cleansing Method WORKS!
Traditional facial cleansers strip skin of its natural oils (which we assume is a good thing to prevent oily buildup). However, when our skin is stripped of all its natural oils, it tends to over-compensate and our body naturally creates even more oil.
This leads to a vicious cycle of more oil… which causes breakouts and problem areas… which makes us feel like we need to wash our face even more… which dries out our skin… which signals our body to create more oil… etc. etc.
On the other hand, the oil cleansing method uses castor oil to pull impurities from our pores. The sunflower oil (or olive oil) moisturizes the skin, resulting in soft, glowing skin.
If you don't love the way your skin looks or feels, or if you've thought about trying something new with your skincare regimen, I HIGHLY recommend you give this simple all-natural face wash recipe a try!
How to Make All-Natural Face Wash and Makeup Remover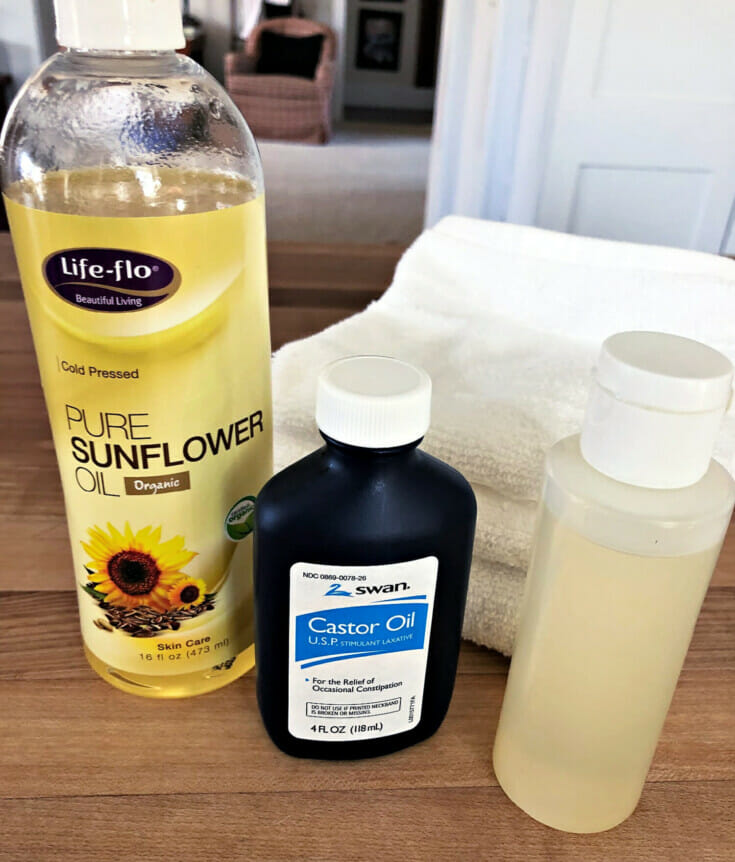 This super simple all-natural face wash uses only 2 easy-to-find, all-natural ingredients and will leave your skin looking radiant and feeling SO soft and clean. It also doubles as a fantastic makeup remover!
Materials
Castor Oil
Sunflower Oil or Olive Oil
Small plastic bottle with a tight-sealing cap
Soft washcloth
Instructions
How to Make All-Natural Face Wash:
Mix equal parts castor oil and sunflower seed oil in a small plastic bottle
Store bottle in the shower and use it nightly before bed.

How to Use All-Natural Face Wash:
Wet your face with warm water.
Pour a quarter-size amount of the oil mixture into your hand.
Gently massage the oil into your skin for about one minute -- focusing on problem areas.
Run a clean washcloth under very warm water.
Lay washcloth over your face and let it sit for another minute -- this is key to "steaming" the impurities out of your pores.
Repeat steamy washcloth routine again.
Rinse the washcloth and gently rub the remaining oil, dirt, make-up, and residue off your face.
Repeat rinsing if necessary.
Enjoy really smooth and moisturized skin without the need for lotion!
Notes
Only use this all-natural face wash ONE time per day -- before bed is ideal.
It works well as a make-up remover -- which is another reason why evening is the perfect time to use the oil cleansing method.
Mix according to the type of skin you have (see guide below).
NORMAL SKIN: Mix one-part castor oil with one-part sunflower oil.
OILY SKIN: Mix two or three-parts castor oil with one-part sunflower oil.
DRY SKIN: Mix one-part castor oil with two or three-parts sunflower oil.
Give it a try for a couple of weeks and then adjust as necessary (adding more castor oil for oily skin and more sunflower oil for dry skin).
Also, keep in mind that your skin MAY actually get "worse " before it gets better while your body rids itself of toxins from your previous cleansers.
Recommended Products
As an Amazon Associate and member of other affiliate programs, I earn from qualifying purchases.
A Few More Reasons You Should Try the Oil Cleansing Method
1. It's really inexpensive. The ingredients to make several bottles of this homemade face wash are right around $10 – $15, depending on what size bottles you buy. You might already have the sunflower seed oil in your pantry!
2. It removes makeup. These oils are a great way to naturally remove makeup, meaning you won't need to buy pricey makeup removers anymore!
3. It's SO moisturizing. As I mentioned above, Dave and I have used the oil cleansing method for over a decade now and our skin feels SO soft!
4. It's a once-a-day routine. I'm always in favor of simple systems, so this once-a-day routine is perfect for me!
5. It's all-natural. Even if you're not a hard-core "green" gal, there's no denying that using all-natural ingredients is so much better for our skin. I love that the oil cleansing method uses edible ingredients!
Two Helpful Tips:
1. Your skin MIGHT get a tiny bit worse before it gets better.
Since I first shared our homemade face wash recipe 10 years ago, I have gotten a handful of readers who complained it made their skin worse. (It's a tiny minority of people, but I want to mention it).
I always encouraged these readers to give it a couple more weeks before making up their minds.
More often than not, they emailed me back a few weeks later raving about how great their skin looked and felt!
So… on the off chance your skin gets a tiny bit "worse" after trying The Oil Cleansing Method, please don't totally give up. Give your skin a few weeks to adjust to a new routine, and then make up your mind!
2. Your washcloths will need to be replaced eventually.
We buy cheapy dollar store packages of white washcloths and replace them every year (or whenever they start to get really gross from the oily buildup.)
If you want to extend the life of your washcloths, I suggest using a tiny bit of shampoo or soap to scrub out the washcloth after cleansing with the oil mixture. Then rinse the washcloth out really well and hang to dry.
Additional Resources:
Related Reading:
I can't even begin to calculate how much money I've saved by using this all-natural face wash and makeup remover over the last decade.
Hundreds and hundreds of dollars, that's for sure! Not to mention all the chemicals I have spared my skin from!
If you're still skeptical, email me (or leave any questions in the comments below).
I have a decade of experience and I'm happy to answer any questions you have!