Fool-Proof Hard 'Boiled' Eggs… in the Oven!
posted by Andrea | 03/18/2015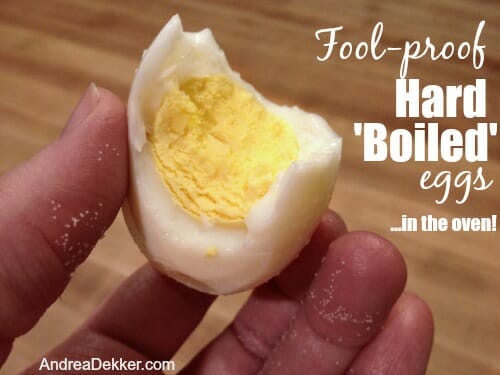 I've always been a HUGE fan of eggs — almost any type of eggs. In general, I guess our family loves most breakfast foods, which is why we have breakfast for dinner about once a week.
In addition to my love of eggs and breakfast foods, I eat a MASSIVE amount of hard boiled eggs — like sometimes more than one per day! Since I love eggs, hard boiled eggs seem to be the perfect snack choice when I'm rushed. They require no prep-work (except peeling them) they are healthy, protein-packed, low/no sugar, and they can easily be prepared ahead of time and stored in the fridge for several days.
Dave does not share my love for hard boiled eggs, but he's fine if I eat them when he's not in the room 🙂
For years, I actually boiled my hard boiled eggs… until I came across this post from my blogging friend Tara of Unsophisticook (and Deal Seeking Mom). She BAKED her hard 'boiled' eggs in the oven and they came out perfectly every single time!
I can remember the day I read that post over 2 years ago, I immediately grabbed my mini muffin tin and a handful of eggs to give it a try. To my amazement, it worked marvelously — and I've been baking my hard boiled eggs ever since.
So with Easter right around the corner and more people looking to hard boil eggs, I thought it would be a perfect time to share this SUPER SIMPLE recipe on my blog — since I've been using it for over 2 years now!
Recipe for Hard 'Boiled' Eggs in the Oven
INGREDIENTS:
eggs (I usually do a dozen at a time — but any number should work)
mini muffin tin
ice water
DIRECTIONS:
preheat oven to 325*F
place eggs in mini muffin tin cups
bake in preheated oven for 30 minutes
while eggs bake, fill a large bowl with ice and cold water
when the eggs are finished, remove them from the oven immediately and quickly transfer them into the ice water (you'll want to use tongs or an Ove Glove
Let the eggs sit in ice water for at least 10 minutes
Put eggs back into carton and label the carton (or the individual eggs) so you know which ones are hard boiled
A Few Helpful Tips:
1. Don't try to bake anything else in the oven with the eggs as then the 30-minute time frame won't be accurate (even if you're using a convection oven — I know from experience!) so you'll be left guessing how long to leave them in. I can almost guarantee that you'll end up under or over-cooking them so it's just not worth it in my opinion!
2. Use eggs that are at least 1-2 weeks "old" as they will be MUCH easier to peel (I promise!) I usually buy a couple dozen eggs each week and save one dozen for hard boiled eggs. I actually write "for hard boiled" on the carton, and then keep them in the back of the fridge for at least a week. Once I boil them, I put them back in that carton and cross out the "for" so it just says "hard boiled".
3. The egg shells will usually have brown spots all over them when they come out of the oven — this is normal and nothing to be concerned about. The spots usually wash right off in the ice bath, but even if they don't, I wouldn't worry too much.
4. Hard boiled eggs can last a while in the fridge. I'm not an expert, but I will tell you that even when I let the eggs sit in the fridge for 1-2 weeks after buying them, I have eaten them as hard boiled eggs almost 2 weeks later and am still living to tell you about it 🙂
5. I wouldn't peel the eggs until you are ready to eat them — you're entire refrigerator will smell like hard boiled eggs otherwise. Plus, the shells will keep the eggs fresher for longer.
This fool-proof oven-baked method is so simple, I can honestly say that I don't think I'll ever actually BOIL a hard boiled egg again!
Oh, and if you're looking for a really yummy way to use up some of your hard boiled eggs, slice them up and put them on this layered lettuce salad.
How do you cook your hard boiled eggs?
Visit my virtual recipe box for more simple, delicious, family friendly recipes!