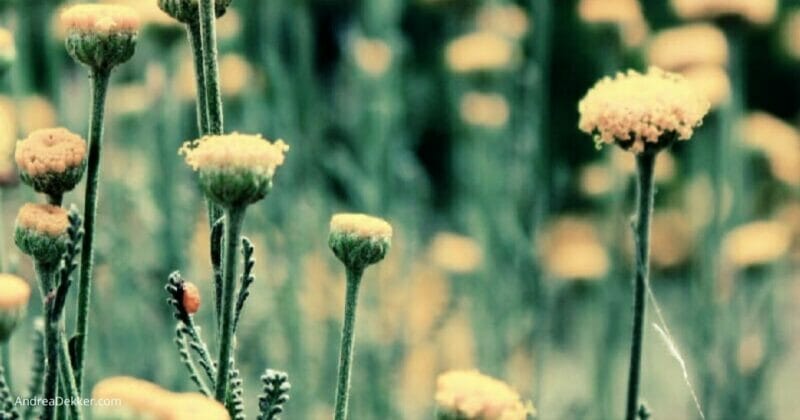 Have you ever bemoaned the fact that you weren't the "best"? Have you ever felt a twinge of guilt, anger, or jealousy for just being "average"?
NEWS FLASH: the majority of people you know and interact with every single day are "average"… and the majority of people are pretty awesome!
In order to function properly, our world and our society depend on millions and millions of average people doing average jobs and living average lives.
Have you ever thought of it that way before?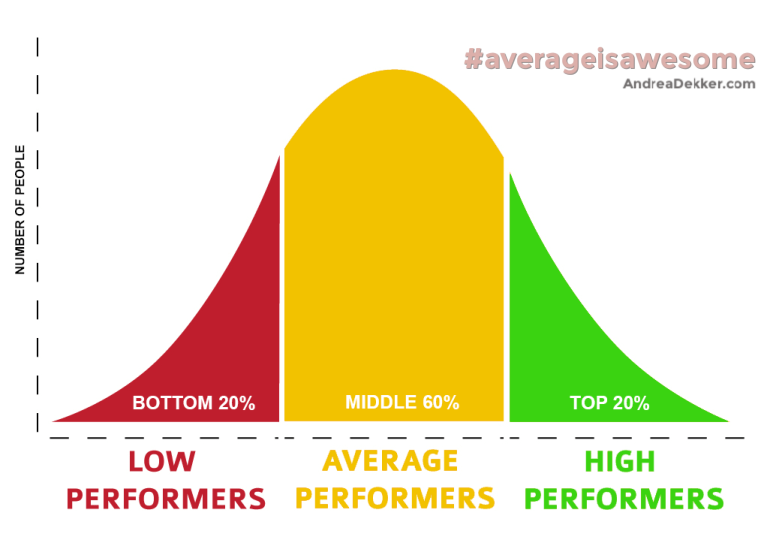 As you can see by the rudimentary graph above, only 20% of people fall into the "high performers" categories — and while it would be fun for all of us to land in that elite group, it's just not possible!
After all, in order for some individuals to be considered "above average" a whole bunch of us need to be parked in the "average" camp.
You know I'm right!
Growing up, my mom affectionately referred to me as a "Jill of All Trades, Master of None" because I was interested and involved in such a wide variety of activities that I never had a chance to get really really good at any of them.
I was just average at a whole bunch of things.
I took her words as a compliment at the time, and I still catch myself smiling whenever I hear someone mention a "Jack Of All Trades" because it reminds me that "average is awesome", and I love having a wide range of interests, hobbies, talents, and skills.
No, I'm not the best at anything.
I'm not an expert in anything.
I'm not a trend-setter, a guru, a master, a specialist, a pro, an icon, a whiz, a brainiac, a superstar, a genius, or anyone famous for anything.
I'm just plain old average… and it's pretty awesome!!
Let me give you a few examples of my averageness…
I took piano lessons for years and still play today. I'm a competent pianist and use my gifts for the Sunday School and Children Choir at church… but I'll never be exceptional or over-the-top amazing because I'm not willing to put that amount of effort into practicing.
I took sewing lessons until I was good enough to alter clothing, follow a pattern, and sew items that made sense for my lifestyle (pillows, blankets, curtains, etc.) I use my sewing machine almost every week, but I'll never be a professional seamstress or do anything more than sew for my own home and family.
I enjoy cooking and baking and trying new recipes. My family and our friends think my food tastes pretty good, but I will never be a master chef, and that's OK
I love writing and I've improved SO much over the last decade, but I'm far from polished or witty and I don't have the patience to even consider writing an actual book, let alone be known as a "great author".
I run a "successful business", in the sense that I love what I do and make enough money to warrant the time I spend, but I am not one of the many bloggers who can brag about their multiple 6-figure incomes. I guess it's more like a money-making hobby.
Yup… being average is awesome and it suits me just fine!
If you're above average at anything, good for you! Seriously — way to go!
We need you 20% above-average, over-achieving, high-performers to look up to and aspire to be like.
However, you really should give all of us average people a teeny-tiny bit of the credit, because our willingness to continue living blissfully as average citizens plays a small role in your ability to become better than average! 🙂
Ok, I'm joking… sort of!
The point I want to make is that average (or even below average) is not bad.
"Average is awesome!"
I often see the quote: "I'm not here to be average. I'm here to be awesome." floating around the internet — usually by individuals who are aspiring to reach a big goal.
I LOVE that kind of drive and determination and at times in my life, I've had it too.
But my question is… Can't we be BOTH?
YES, I think we can!
Just consider how radically different our lives would be if we didn't have a massive amount of average people in them.
Who would bag our groceries?
Who would get our coffee order just right?
Who would greet us with a smile at the front desk of our office building?
Who would help schedule our doctor's appointments or administer our flu shots?
Who would teach, coach, instruct, and babysit our children?
Who would bring a dish to pass and play all the silly games at our holiday parties?
Who would fix our furnace at 6 am on one of the coldest days of the year?
Who would care for our elderly relatives in the local nursing home?
Who would deliver meals after a major surgery, a new baby, or the death of a loved one?
The Answer…
A whole bunch of really awesome average people working average jobs and living average lives.
Celebrate and look up to the overachievers in your life.
Continue learning and trying new things every day.
Get excited about reaching for and achieving new goals.
But in the meantime, make sure you realize all the benefits and joy that come from being average.
Today (and every day) I encourage you to relish in your awesome averageness.
You'll probably never win the lottery or be a multi-millionaire… neither will the vast majority of people.
You'll most likely never be famous for anything… but would you really want that lifestyle anyway?
You might not have huge life goals… but I guarantee you're making a difference within your own spheres every day.
You'll most likely never be the head of a Fortune 500 company… whew, enjoy less stress and busyness.
You might never be a trend-setter or a big-name "influencer"… just think how much time, money, and frustration you'll save by following in others' footsteps instead of paving your own way.
Being average is awesome too… don't let anyone tell you anything different!