What If You Don't Have Big Life Goals?
posted by Andrea | 08/17/2015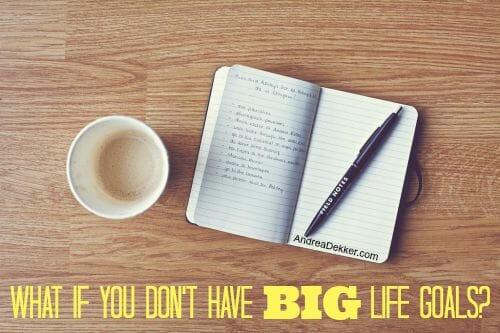 This post has been in my "drafts folder" and in my head for months already. I first started writing it several months ago when I received 2 similar emails in the same week. Both emails were from readers wondering how I went through the process of setting yearly and/or monthly goals for myself, my business, house projects, etc.
They both sheepishly lamented the fact that they felt like they had no "big goals" for their lives. They had no desire to do house projects, they didn't have huge aspirations for what they wanted to do with their lives, they didn't have a "dream job" or a big fancy career they wanted to pursue, they didn't have any huge financial milestones they wanted to work towards. They were simply happy and content with their current lives… but at the same time, they felt like they needed to have some big goals in order to feel like their lives had purpose.
.
As many of you know, I love thinking and talking about goals… so it's probably no huge surprise that I received these emails asking about goals. However, what might be a bit more surprising is that I feel like I can actually relate to these 2 readers!
What?
Aren't I the person who's always working towards a million and one goals? How could I possibly feel like I don't have any big life goals?
Well, the truth is, I'm much more of a small, everyday-goals type of person.
For the last couple of years, I've actually felt a little guilty about the lack of new BIG goals, projects, and ideas I've had for my business, my blog, and my life. It's not that I don't care about my business or my blog, or that I don't do anything fun or exciting in my life. It's just that I'm honestly really REALLY happy and content with how things are right now.
I'm happy with how much (or how little) time I need to devote to my blog to keep it running.
I'm happy with the work/life balance I have at the moment (although I'm sure this will always be work in progress)
I'm happy with the progress we've made with home renovations, and that we'll be taking a break during the school year.
I'm happy with how full (or empty) our family schedule is, and I have no desire to add or remove anything else from my plate.
This definitely does not mean that my life is perfect or that I never want anything to change ever again… it just means that I'm not planning to make any big changes or set any big goals any time soon.
However, I DO still set goals on a regular basis.
Aside from our "bigish" goal to pay off our mortgage early, my goals for this year are pretty basic.
When it comes to setting monthly or weekly goals, my goals are even more simplified. In fact, sometimes I even think of my daily to-do lists as mini goals for my day. I just keep plugging along until I cross all those mini goals off my list (yes, there are days I don't cross everything off).
So what if you currently don't have any big goals?
Maybe you don't have a big goal to lose 20 or 50 or 100 pounds, but instead, just want to eat healthier and have more daily activity.
Maybe you don't have a big goal to pay off your mortgage several years early, but instead, just want to pay an extra $5 or $10 a month.
Maybe you don't have a big goal to move up in your career or land your dream job, but instead, just want to keep doing what you're doing really well.
Maybe you don't have a big goal to renovate your entire home, but instead, just want to swap out a few decorations.
Maybe you don't have a big goal to travel the world or visit every continent, but instead, just want to take a few simple family vacations every now and then.
Maybe you don't have a big goal of reading 200 books in a year or writing every day, but instead, just want to read and write somewhat regularly.
Maybe you don't have a big goal to find a perfect cleaning schedule and meal plan for every single week, but instead, just want to keep up with the laundry and eat at the table more often than not.
I could keep going and going and going with more examples… but I think you get the idea.
The point is that just because you don't have a BIG goal, doesn't mean you still can't set goals for yourself on a regular basis. Your life and your days can still have purpose and meaning without the addition of big goals.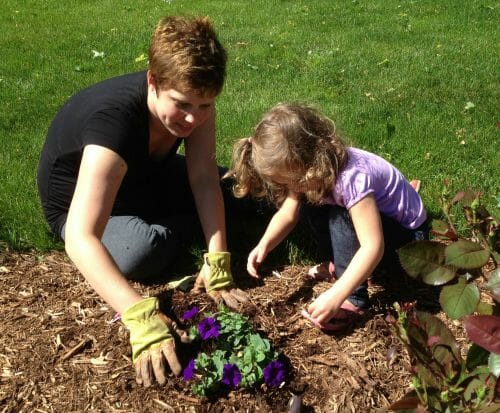 Oh, and just an FYI, if you DO have a few big, huge goals you're working towards, it's not a bad idea to break them down into smaller, more manageable chunks so you don't get totally overwhelmed and give up!
What are some of the small, but important goals on your list?