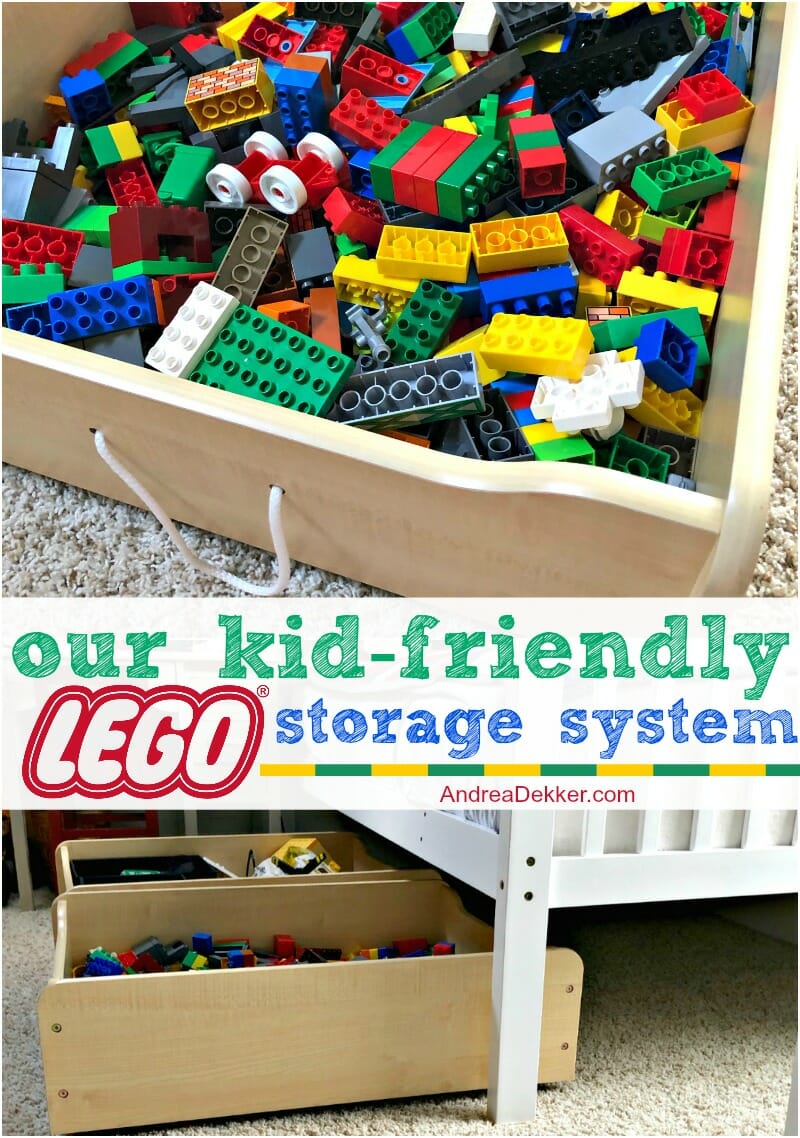 If you have LEGO-loving kids (or husbands) you've probably wondered about the best ways to store and organize LEGOs… right? Well, just about a year ago, I was stuck with those same questions! Our family was given a large assortment of LEGO Duplo blocks (all for free!) and it honestly took me a few months to figure out the best kid-friendly LEGO storage system for our family.
I tried a few different ideas that did NOT work, and now I feel we finally have a really great kid-friendly system to store and organize our LEGO Duplos. The best part is that our kids actually use the system and put their LEGOs away!
Yeah, I know… it's pretty amazing!
This post may contain affiliate links. If you click through and take action, I will receive a small compensation (thanks!) Read my disclosure policy.
.
My "genius" kid-friendly LEGO storage idea began last summer when the older kids requested separate bedrooms (they were previously all sleeping in the same bedroom, per their own request).
Dave and I decided the summer was a great time to switch things around, so we moved the boys into their own bedroom and bought matching beds that sit quite high off the floor.
I was adamant that the beds be up off the floor (with no middle support leg) because I wanted to utilize the area under their beds for toy storage — namely, kid-friendly LEGO and train storage!
The trains are under Simon's bed and the LEGOs are under James' bed (watch the full video tour of their bedroom here).
Our Kid-Friendly LEGO Storage System:
I bought a used train table on Craigslist for $30 (similar to this one). It has 2 large "drawers" on caster wheels that pull out from under the train table surface.
We completely disassembled the train table and slid the train table top under Simon's bed, along with all our other train things.
Then we put the train table drawers under James' bed to hold all our LEGOs.
The drawers were already on large caster wheels that glide well on the carpet and were easy enough for the boys to pull out and push back in.
We put 2 black shoe boxes inside one of the drawers to hold smaller items like people, animals, and odd parts… but the majority of our LEGOs are simply dumped into these drawers and shoved back under the bed.
No cute or fancy organizational system, but the LEGOs are picked up and off the floor at the end of every day!
Yes, I realize this isn't a Pinterest-worthy organizational post.
HOWEVER, if you're looking for a simple, frugal, real-life, kid-friendly storage solution for LEGOs (or other small toys in your home) I highly recommend under-bed storage drawers. And you don't need anything fancy either — just something large enough to hold the toys, small enough that kids can manage it, not so deep that toys get lost at the bottom.
There is no sorting, no color-coordination, no meticulous detail work (none of which my children would actually do right now).
They just dump everything into the drawers and shove them back under the bed… and their room looks clean!
I know our system will need to change as we amass more LEGOs and as we "graduate" to the tiny LEGOs with intricate sets that need to be stored together. However, our current kid-friendly LEGO storage system works for us for now… and I hope it might work for some of you too!
NOTE: We do have some very small LEGOs from Dave's childhood. He has them organized by set and only lets the kids play with them when he's around. 🙂
Do you have a great kid-friendly LEGO storage solution?
I'd love to know how you store them at your house!