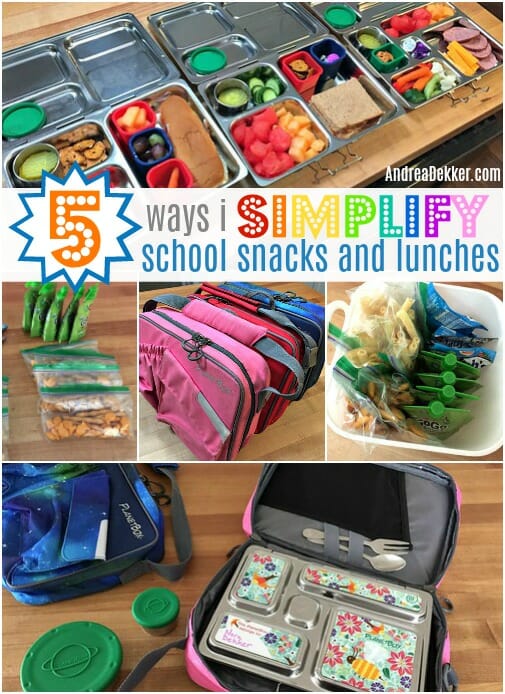 It's the time of year when we excitedly pull out all our school supplies from last year to take stock of what we have and what we still need to buy.
Yes, I realize many of you have already done this, but I just can't bring myself to buy school things until mid August… so that's what we're doing this week.
NOTE: I shove everything I think we might need/use again into their backpacks at the end of the school year and store it on a shelf in the mudroom all summer.

We take it all out again a week or so before school starts, keep anything we need, trash anything we don't, and make a list of things we need to buy.
All of this school planning has got me thinking about school snacks and school lunches again…
Packing lunches was something I hated doing — I actually had Dave do it for a while. However, this task has grown on me over the years and I'm now to the point where I actually enjoy it!
What made the difference for me?
I think the reason I no longer hate packing snacks and lunches is because I finally feel like I have a really good system, routine, and tools — which help to simplify things and makes the process more efficient (yay for efficiency!)
Of course, our routine will continue to morph and change throughout the years, as we add more lunches, as our kids get older, as our daily schedules change, etc. etc. but for now, this is what is working REALLY well for me, for our family, for our schedule, and for our food preferences…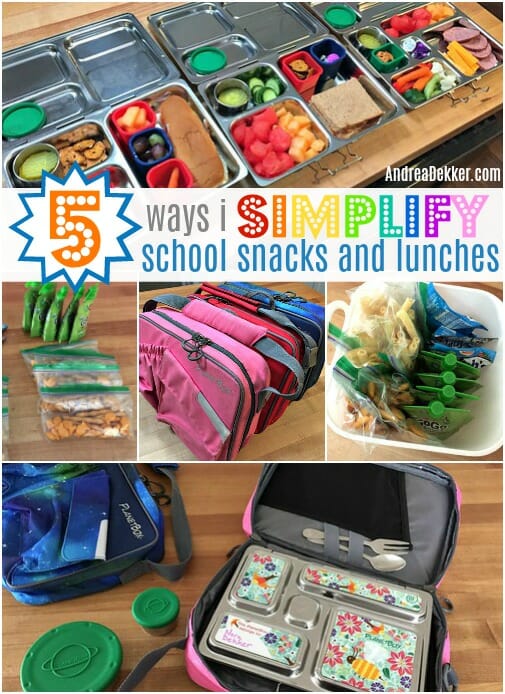 1. I Pack Snacks in Bulk
A couple years ago, Nora's teacher mentioned it would nice if students would keep their snacks in a separate place in their backpacks (not with their lunch) to make it easier to QUICKLY grab a snack without needing to take everything out of their backpack, lunchbox, etc.
This got me thinking… and we decided to pack a whole bunch of snacks at one time and keep them in a bin at the top of her locker (all the students get lockers — even in preschool).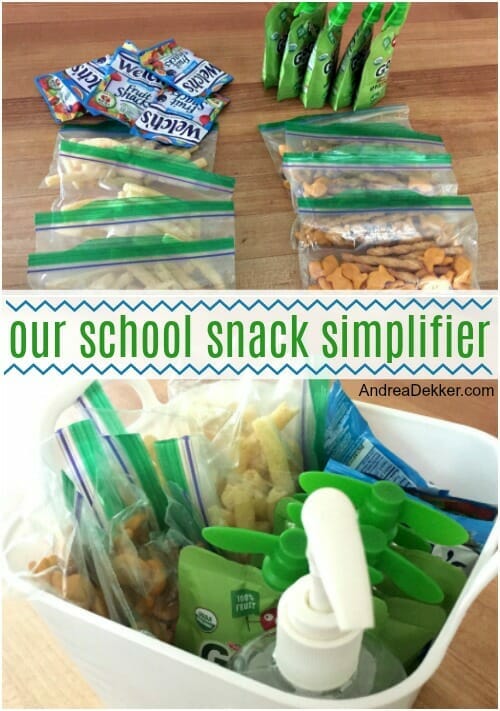 This concept worked MARVELOUSLY!
We ended up packing roughly one month's worth of snacks at a time, and then didn't need to think or worry about or remember snacks again until the next month!
Not only did this drastically simplify our daily lunch/snack packing, it also lets my kids feel like they have a little more control over what THEY CHOOSE for their snack each day. And, it allows them to practice generosity if a friend forgets a snack and they offer to share one of their many snacks.
We did have a little "issue" with Nora's snacks towards the end of last year — students realized she had lots of snacks and were regularly asking her to share with them each day. I simply emailed the teacher and it stopped immediately! 🙂
Read more about how we simplified our school snacks in this post.
.
2. I Pack "Fun Lunches"
I know there's a huge push for "super healthy lunches" — and I think that's great.
HOWEVER, my kids eat a very nutritious, big, hot breakfast every school morning, and a well-balanced hot dinner every evening… so my opinion on lunches is that they can be a bit more "fun" and flexible.
I'd rather have my kids get excited about eating the food in their school lunches (and hopefully eating it quickly) so they are full for the whole afternoon, versus struggling to focus due to not eating the "healthier" foods I packed in their lunch.
So far, they are very good about bringing anything they don't eat home with them, and if I see they bring something home regularly, I stop packing that food for a while.
The kids usually choose some sort of sandwich, meat + cheese, or yogurt + granola as their "main dish", accompanied by their FAVORITE home-canned dill pickles, a variety of fresh fruit, and a few raw veggies. I regularly throw in a sweet treat, chips or crackers, and a piece of candy — which are all big "wins" for me! 🙂
So far, they do a really great job of eating everything (or almost everything) and whatever they don't eat, they often ask to eat as an after-school snack.
NOTE: Here are some of our favorite Easy At-Home Lunches for the non-school age kiddos!
.
3. I Pack Lunches Right After Dinner.
Once the kitchen is clean, it's really hard for me to get excited about packing a bunch of lunches and making a big mess again… so my solution is to pack lunches immediately after dinner — while I'm cleaning up dinner and while the kitchen is still a mess.
The kids are often still in the kitchen area so I can easily ask them what they want, and lots of food is still sitting out so I can quickly grab some fruit, veggies, desserts, etc. to put in their lunches as I'm cleaning up.
Plus, Dave usually likes leftovers for his lunch, so it just makes sense to portion these up for him while I'm cleaning up the rest of the meal.
By the time I start the dishwasher, the lunches are ready to go in the fridge, and my kitchen is all cleaned up!
This might sounds like a small detail, but I'm convinced it's one of the big reasons I no longer hate packing lunches!
.
4. I use PlanetBox Lunch Boxes
I am rarely super "brand loyal" — except when I find a brand that works REALLY well and helps to drastically simplify some aspect of my life.
Well… the PlanetBox lunch boxes and accessories are one of those things that have drastically helped me simplify our school lunches over the years (NO, this is NOT a sponsored post!)
Several years ago, I did get a Planet Box + lots of accessories from the company for review. I instantly fell in love with this lunch packing system as it is SO easy for kids to open, it provides a convenient tray for them to eat from (not on dirty desks), it has several customizable compartments, it can accommodate liquid items, and it washes up super well in the dishwasher.
Oh yeah, and it's good for the environment — but if you want me to be honest, that wasn't even a consideration when I started using these boxes!
Since then, I have purchased 2 more Planet Boxes for the boys, along with various other accessories.
We currently have:
These products ARE expensive, but are also very well made, and significantly nicer than any other brand or type of "bento box" we've tried (I've been given LOTS of different brand over the years.)
We use our PlanetBoxes daily throughout the school year, and even in the summer if we're going on a picnic or if the kids go to a grandparent's house for lunch.
NOTE: they have 25% off sale running through September 15!!
.
5. I pack special surprises on a regular basis!
No, I'm not one to have a theme for each meal or spend exorbitant amounts of time packing cute lunches… but I do try to add at least one fun thing to their lunches each day — maybe a special snack, a piece of candy I know they like, a fun shaped sandwich, or a cute note to surprise them.
It only takes me a few seconds, but gets me more excited about packing their lunches, and I know they enjoy it! 🙂
.
A Note About Hot Lunches:

Dave does not have the option to leave his school for lunch and his school usually only offers a slice of pizza for "hot lunch" a couple times a week. He's not overly thrilled with this option, so he almost always brings a lunch from home.

The kids have a wide variety of hot lunch options available for a reasonable price, but it takes so long for them to walk to the hot lunch line, wait to be served, walk back to their classroom (no cafeteria) that they don't have much time left to actually eat, and they are already SLOW eaters — so they rarely ever get hot lunch.

The kids can get milk for $0.50 and it's delivered to their classrooms at lunch time — so they do this on occasion. Otherwise, they just drink water.
I'm fully aware that these tips and ideas will not work for every child, every family, every school situation, every dietary need, or even every budget — but when I think of the reasons I no longer hate packing school lunches, these are what come to mind.
Packing snacks in bulk, packing "fun lunches", packing lunches right after dinner, packing lunches in PlanetBox containers, and packing something special have helped to simplify this daily to-do for me and for our family!
What are your best school snack / lunch simplifiers?