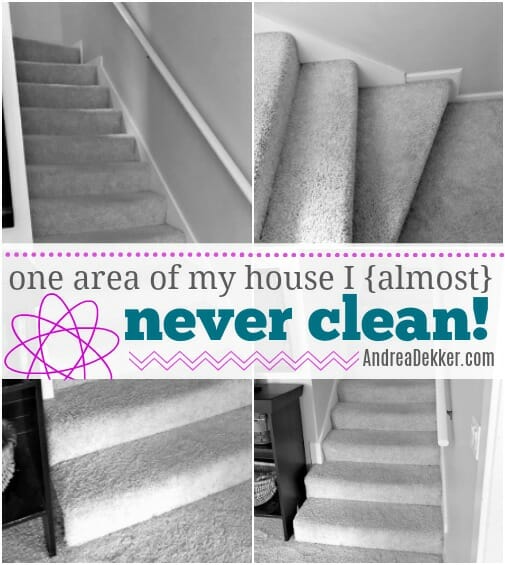 A couple weeks ago, I shared one of my most favorite household chores (sweeping) as well as why I enjoy it so much. I also asked if YOU had a favorite household chore, so it was really fun to read all the comments in that post!
One question I got several times after publishing my favorite chore was if there was one household chore in particular that I hated doing more than most others.
I have mentioned before that I don't necessarily love cleaning out the dishwasher, but that absolutely MUST happen every single day or my kitchen would be over-run with dirty dishes. Thankfully, we have a pretty good system for running and cleaning out the dishwasher — and Dave almost always handles this chore.
Other than the dishwasher, there really isn't any regular household chore I hate.
HOWEVER, there IS one chore I simply almost never do!
I (almost) never vacuum the carpet on the steps upstairs.
We do get them professionally cleaned whenever our carpet cleaning guy comes each year… but other than that, I truly cannot tell you the last time I vacuumed our stairs. Honestly, I tried remembering back so I could give you a rough estimate or an approximate date, but absolutely nothing comes to mind!
This is what the carpet on our steps looks like right now, after MANY months of no vacuuming… not horrible in my opinion!
I'm not exactly sure WHY I don't vacuum our steps — I think one big reason why is that I really don't have a great tool to vacuum them with. I don't have any type of hand-held vacuum anymore (I haven't had one for years) and the vacuum I keep on the main floor does not have any attachments.
I do have another vacuum upstairs with attachments, but I'm honestly not convinced it really sucks that much up from the stair area; and the hose doesn't reach throughout the full stairwell — so I have to vacuum half the stairs from upstairs, then bring the vacuum downstairs to finish the rest.
No, this is not THAT big of a hassle, but… for whatever reason, I just never do it!
Maybe it's like sorting laundry — I don't have a great reason for not doing it, I just don't!
.
The kids went through a short phase a couple years ago where they all wanted to read on the steps… and the boys sometimes run their Hot Wheels track down the stairs, but for the most part, we never actually "play" or "hang out" on the steps — they are simply the 10-second passage way from the main floor to the upstairs.
We do not wear outdoor shoes inside, we don't bring food upstairs ever, we don't have a pet the lays on them or sheds all over them, and we don't have an overly-messy lifestyle that results in lots of dust or debris throughout our home.
.
I know some of you might be wondering about our babies crawling up the stairs… and yes, they all crawled up the stairs at one point in their lives.
I guess I just figured they also crawl outside, in public places that are much dirtier than our home, and even into the bathroom (despite trying to keep the doors closed)… so we simply get in the habit of always washing their hands before we eat, and then try not to worry too much about the dirt they come into contact with!
My kids have all been VERY healthy so far.
Obviously, if we actually spill something on the steps, or make a visible mess, I will clean and vacuum immediately.
And if we're doing any type of constructions around the stair area (or anywhere upstairs that requires many trips up and down the stairs) I will thoroughly vacuum the stairs on a daily basis until the project is finished.
NOTE: this plastic carpet protection film is amazing for messy house projects!
However, for the majority of the year, vacuuming the stairs is one to-do that just doesn't make my list… ever!
If this grosses you out, I'm sorry! It IS a little crazy!
If you come to my house, don't linger on the steps — I promise the rest of the house is cleaned regularly!
Are there any areas of your home you simply DON'T clean… and are willing to admit?
Or am I the only gross one!?