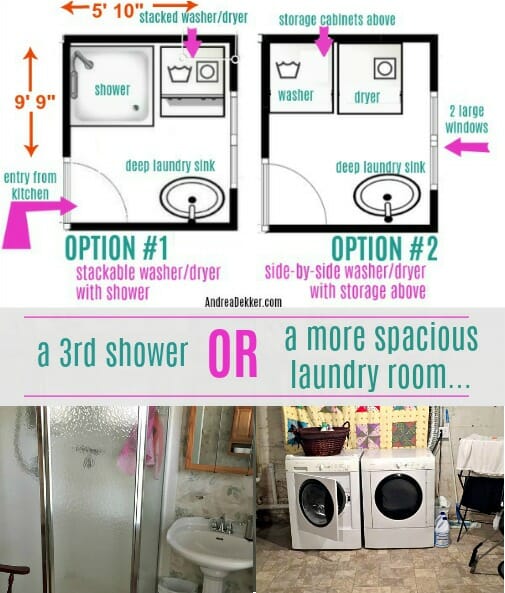 Almost exactly 1 year ago (yes, it's been a full year already!) I came to you all with a question about what we should do with our current laundry room and "kitchen bathroom" (a.k.a. the fairly awkward full-bath off our kitchen).
As expected, you shared so much wisdom… and you helped us decide exactly what we wanted to do (at least with the bathroom part of the project).
If you have no idea what I'm talking about, the posts below will help you get caught up!
Well, I'm back again today with more questions…
This time about "phase 3" of the project (transforming the former full bath into a new main floor laundry room) which we HOPE to start working on in about a month.
Our question is regarding the washer/dryer set up and the a 3rd shower…
Should we keep a shower in this bathroom and stack the washer and dyer?

Or should we nix the shower and put the washer / dryer side-by-side with storage cabinets above?

Or do you have a completely different idea!?!?
Here's a VERY ROUGH (not fully to-scale) bird's-eye view of the 2 options.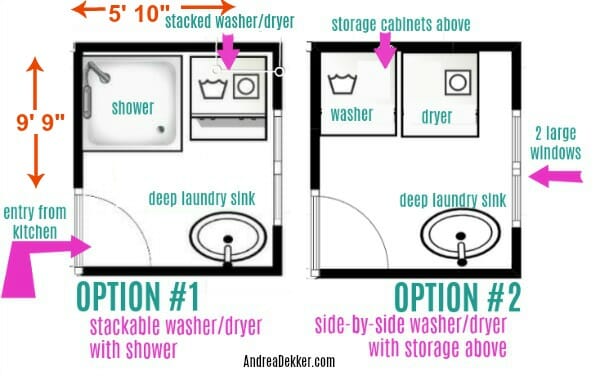 Dave and I have thought about the various options SO much over the past year (and really ever since we moved into this house 8+ years ago).
This was originally the first bathroom we wanted to renovate, but we just couldn't decide with to do with the shower situation… which is where you all come into play!
Here are a few of the pros for each option.
PROS for a 3rd Shower:
A 3rd shower is ideal for a family of 6 — especially once we have 4 teens in the house!
A 3rd shower would alleviate the need for kids to use Dave and my bathroom and keep the upstairs bathroom available for baths (the upstairs bath has our only tub).
A 3rd shower would help our evening routine go faster as the older kids could take showers while the younger kids are in the bath.
A shower right off the mudroom could be nice if kids come in from outside and are really dirty (or all wet and full of chlorine from swimming).
An extra shower would be nice if we had guests stay with us.
PROS for a More Spacious Laundry Room / NO Shower:
I would have lots more space to do laundry.
I could use a side-by-side washer and dryer, which I prefer, versus a stackable unit.
I would have room for a laundry hamper to slide in next to the washer and dryer.
I could put a counter top over the washer and dryer to allow space for folding clothes right in the laundry room.
I would have TONS more storage above the washer and dryer.
I would have one less shower to clean!
My "problem" is that both options sound good!
If we didn't have 4 children, I would almost certainly choose the more spacious laundry room.
However, we DO have 4 children who will all be tweens and teens at the same time (sooner than I care to think!) and I'd like to choose the best option for OUR family, taking into consideration that our children will most likely be involved in sports and other extra curricular activities that might make our evenings busier and require multiple people showering at the same time.
.
A Little More Background Info:
If you're still having trouble getting a feel for our space, the photos below should help.
This is what our laundry room and bathroom looked like BEFORE.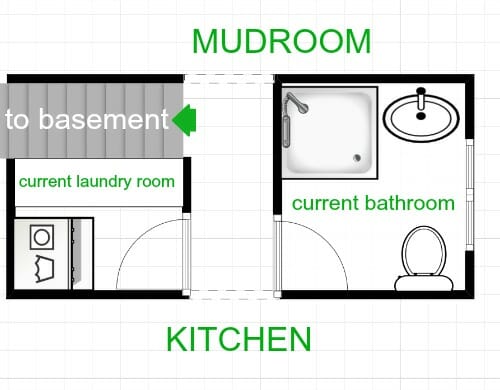 .
As I mentioned above, the first phase of our project was to move our washer and dryer down to the basement and hook them up so we would have a working washer and dryer throughout the entire project (boy am I glad we did this!)
.
The second phase was to transform our TEENY TINY laundry room with no storage into a very spacious half bathroom with TONS of storage.
We are THRILLED with how well this project turned out. The half bath functions so much better than the laundry room ever did, we have a huge increase in storage space, and it looks so much nicer!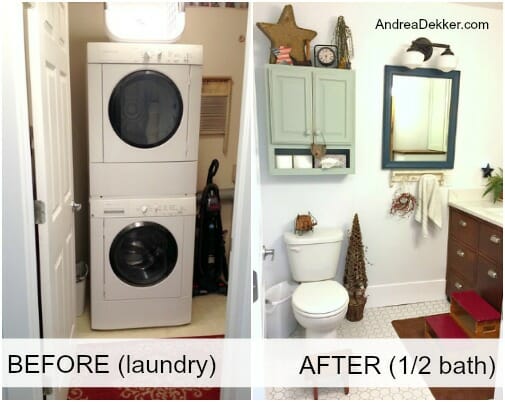 .
Due to the fact that almost every single part of our half bath project was delayed, we did not stick to our 10-week timeline. In fact, we didn't fully finish phase 2, until Dave's first week back at school last fall.
Our goal has always been to keep our home projects between Memorial Day and Labor Day so we aren't living in chaos during the school year — which meant we had to put phase 3 on hold until this spring.
For the last year, I've been doing laundry downstairs and our full bath off the kitchen has looked like this — with various tray tables set up as a space for slow cookers to make beans or broth overnight, and as a place to soak my grains and flours for bread and other baked goods!
The extra "bonus" space has actually been fairly handy!
However, I'm ready for this space to be fully renovated and usable again.
So… if you were me, would you want a 3rd shower or a more spacious laundry room?
Or would you do something totally different?
Extra points if you explain your reasoning!