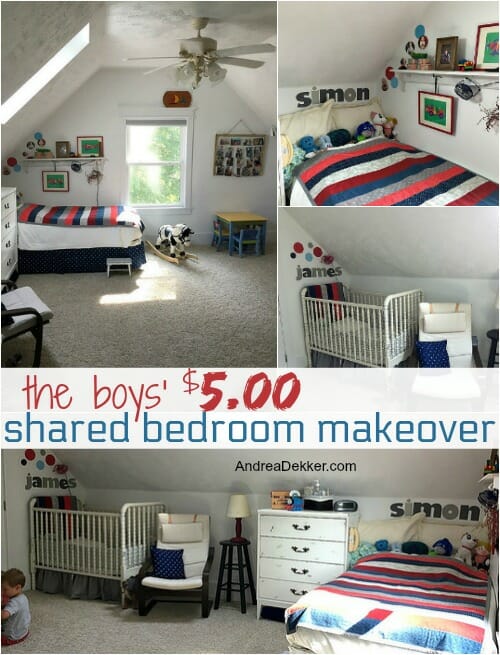 After sharing the full tour of Nora's brand new bedroom a couple weeks ago and getting Simon and James all situated in their "new" bedroom, I figured it was finally time for a blog tour of the boy's room!
Some of you might remember that we did a big renovation of this bedroom right before Simon was born (3.5 year ago already). It was originally Nora's "big girl bedroom" so Simon could move into the nursery on the main floor.
Then, last summer, Simon moved into this room with Nora and they had a super fun boy-girl shared bedroom.
These two Yahoos absolutely LOVED sharing a bedroom together… but since Nora will need to wake up earlier for school this coming year and James needs to move out of the nursery before September, it just seemed to make sense to give Nora the new bedroom to herself and bring James up to share a room with Simon.
It's been about a month since the boys have been sharing a room, and although the first 2 nights were pretty rough, things are going really well now and the boys love sharing a room together.
Before I give you the tour, I need to mention that I spent LESS than $5 on this bedroom makeover!!
Yeah… I'm pretty proud of that fact 🙂
There's a chance we might try to buy some sort of changing table for this room (since I'll most likely be up here with the new baby a lot) but we haven't found one we like enough to buy it… so at this point, our out-of-pocket expenses are less than $5 — not too shabby!
.
Everything in this room was either repainted, repurposed from something we already had in the house, or simply rearranged — and I honestly feel like the room looks and feels so different.
I originally felt a little guilty that Nora's new bedroom was such a massive transformation compared to the boy's room, but when I brought Simon up to show him his "new" room, he was SOOOOOO excited. He immediately started running around the room pointing out every single thing that was different. He loved all the little details, and I loved that $5 (and several hours of work on my part) could make him so happy!
Why Did Nora Get The New Room?
Some of you have asked why we moved Nora to the new bedroom instead of Simon and James, and honestly, it's simply because the boy's bedroom is the biggest room in the house — quite a bit larger than Nora's new room and much larger than either bedroom downstairs. It just makes sense that the 2 people who share a room should get the biggest rom.
Plus, the boys will be home much more than Nora will for the next couple of years, so having a bigger room for them to play in also makes more sense to me.
And finally, Nora's bedroom has TONS more closet space than the boys room — and considering we might eventually have 2 girls in Nora's room, extra closet space will be nice.
.
The Tour…
The is the view as you walk into the room. We rotated Simon's bed 90º so it runs along the far wall instead of the side wall. This gave us more room for a chair and little lamp by James' crib.
Simon said he wanted a "fire truck room" — which I figured would be fairly easy to achieve since half the furniture in my house is red! Also, Dave's mom had already made the boys matching quilts with red, navy, and grey stripes.
However, when I found these 2 framed prints at our local thrift store (for $1.50 each) I knew they would be the perfect addition to the boy's bedroom!
We used the white dresser to sort-of block Simon's view of the crib. Even though he's a very sound sleeper, we figured it wouldn't be bad to have a little extra distance between the boys!
And speaking of the white dresser, it holds the majority of the boys' clothing.
The bottom drawer has all Simon's clothes (so he can reach them on his own). The next drawer holds clothes that are too small for Simon but too big for James. The 2nd drawer holds all of James' clothing. And the top drawer has diapers, wipes, an extra changing pad cover, and an extra crib sheet.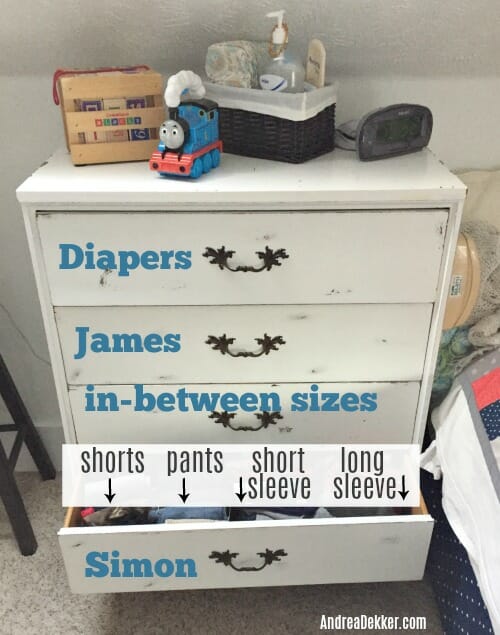 Here's a look at the dresser without all the text.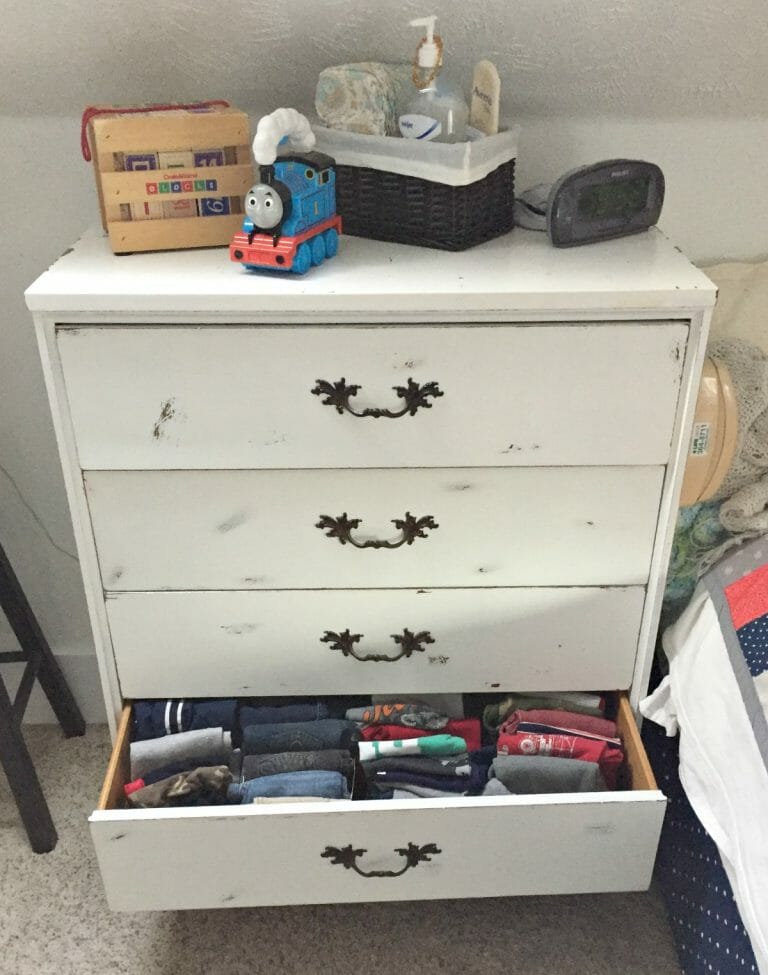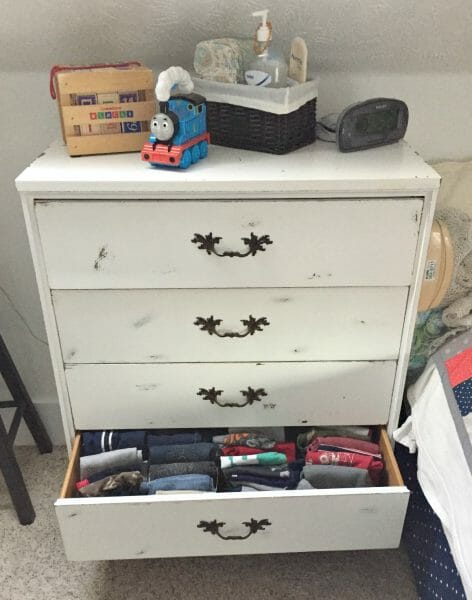 .
James is still in his crib — which I sort of like. He loves his crib and I like that he's confined to one place and can't get up and roam in the middle of the night!
We have 2 cribs, so he may gladly stay in his crib for several more months if he wants. And when the time comes for him to move into a big boy bed, there is plenty of space for that bed right where his current crib is (we'd need to get rid of the chair).
As you rotate around the room and look back at the door, you can see where the closet is in relationship to the rest of the room.
Those 2 framed sketches above the toy cabinet were my other purchase for this room ($0.75 each — and they totally match my color scheme!)
I do have a set of 3 white canvases I want to try to paint for the skinny wall above the tool bench (to the right of the closet) but I've never painted canvas before and I'm not really sure what I want to paint anyway!
The area inside the closet is fairly awkward. It has sloped ceilings and not much useful storage — but plenty for our current needs.
We can eventually install another clothing rod (or more shelves), but for now, I like having the bottom of the closet open for extra toys, or even for the boys to "hide out"!
The wall opposite the beds is where we keep the majority of the toys in their room (because you can't see this area right away when you walk into the room!)
Keep in mind that our entire kitchen set, all our dress-up clothes, and all the dolls are in Nora's bedroom. So the boys mainly just have their cars, a bunch of balls and blocks, musical instruments, all our Little People things, and James' beloved magnet board in their room.
I think my favorite part of both the upstairs bedroom renovations is that we were able to go through ALLLLLLLL our toys, dolls, animals, dress up clothes, etc. and purge several bags of stuff the kids weren't playing with anymore. And considering how much EXTRA storage we created in both bedroom, the play area at the top of the stairs is now 100% empty!
Right now, we're just using the floor space in that room for extra play space, but no toys are actually stored in that area — so at night, it's completely empty. We have some ideas for this space… which I'll share more about in another post!
.
So that's the tour of our boys' bedroom — nothing super fancy or amazing, but definitely a change from before, and definitely on a really great budget! 🙂
A Few Before and After Photos:
The very purple pictures are from the day we moved into the house. Then, there's a picture of what the room looked like when Nora "moved in" 3 years ago, and finally the current "after" photo of the boy's shared room.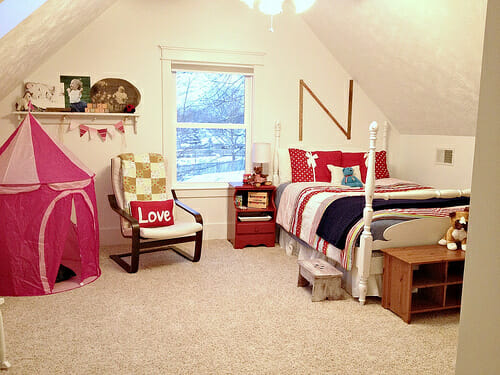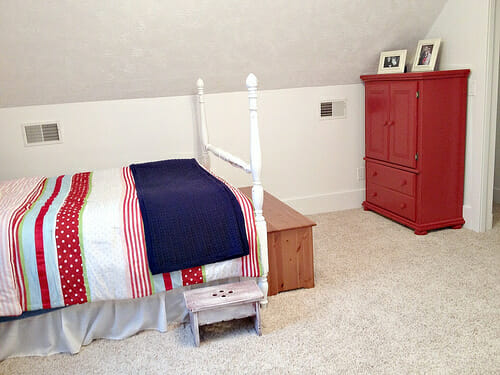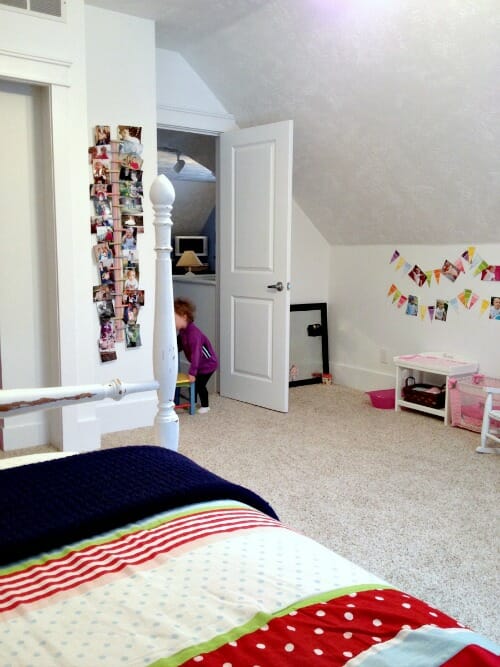 Wow — I'm glad that purple is gone!