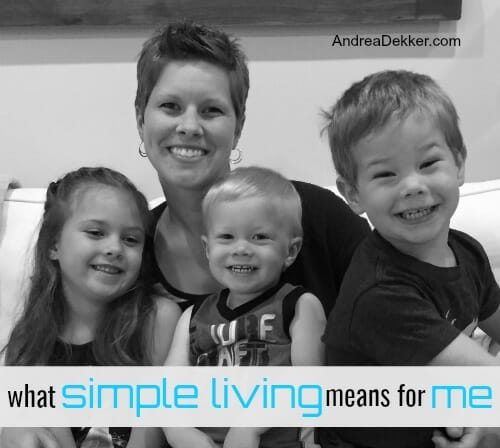 I'm often asked how I would define "Simple Living", what Simple Living means for me, or how I would explain a simplified life… and I'll be honest, that's a really, really difficult request!
I think there are many factors involved in my explanation — and to be perfectly honest, I feel that what Simple Living means to me might be VERY different than what society thinks when they hear the words "Simple Living".
Let me explain…
In my opinion, Simple Living does NOT NECESSARILY mean:
Small
With the growing popularity of tiny homes, it's not a huge surprise that "simple" is often equated with "small". Because of this, I know many people who feel that Simple Living is not in their grasp as they have a large family… or just aren't willing to live in a teeny tiny home.
Well… as many of you know, Dave and I do not live in a tiny home; and at the same time, I would definitely say that we practice (and are continually striving towards) Simple Living.
Our home is a pretty good size, 4 bedrooms, 3 bathrooms, a playroom, a home office, a large unfinished basement, an oversized 2-stall garage plus an extra garage and heated outbuilding. Yes, our house is relatively clutter-free (I even have many empty closets and cabinets) but it's not small!
I don't think there is anything wrong with wanting a very small home, but I also do not feel it is a requirement in order to achieve a simplified life.
RELATED POSTS:
Sparse
Most people think that because I'm neat and organized, that I'm also a minimalist… so it's no surprise that one of the most common statements I hear when people visit our house for the first time is about how many decorative items we have in and around our house.
I don't think our home looks or feels cluttered — and we certainly enjoy all the decorative antiques and old books 🙂 — but I would not consider our home "sparse" or "minimalistic" in any way.
Yes, we do have some empty closets, cabinets, and drawers. Yes, I am very diligent about regular purging and try not to bring anything into our home unless we actually have a need for it. Yes, I keep most of the surfaces clutter-free. However, I also REALLY love decorating my home and living in a space I feel comfortable in. My decorations help make my home feel comfortable for me (and hopefully for my family too).
Also, with little kids around, I want to make sure our home is child-friendly with toys, books, and craft supplies down at their level — so no, my home is not necessarily sparse!
RELATED POST:
Serene
I know what you might be thinking… I thought Simple Living was suppose to be "simple" and relaxing and serene and just plain easy. And you are partially correct!
While there are definitely times when Simple Living IS everything mentioned above, there are plenty of other times when Simple Living means doing load after load of laundry in order to prevent it from getting out of control. Or staying up until midnight washing dishes and packing lunches because you know how much smoother the morning will go if you just do those things now.
I've said it before and I will continue to say it… Simple Living is NOT always 'easy.' However, living a simplified and organized life DOES pay off in the long run (I know from lots of experience). Sometimes it just means more day-to-day busyness in order to achieve a long-term, overall stress-free and simplified life.
That's worth it to me as I've reaped many long-term benefits from some day-to-day busyness!
RELATED POSTS:
Obviously, Simple Living COULD mean small, sparse, and serene (and there are definitely times when Simple Living IS small, sparse, and serene). I just don't think that small, sparse, and serene are requirements to achieve a simplified way of life — and I say this based on years of personal experience striving towards a simpler life.
.
That said, in my opinion, Simple Living DOES mean:
Systems
Not rigid systems with no room for change or error — but systems and plans that streamline various aspects of your home, life, work, etc.
Do you have a system for dealing with clothes clutter and regularly purging + donating items you no longer need, use, want, or love? If so, your closets and dressers will stay clutter-free and your morning routine of getting ready will be streamlined and simplified.
Do you have a system for dealing with junk mail, magazines, school papers, kids' art projects, and other paper clutter? If so, you won't have to work around piles of paper clutter, your filing cabinets will be neat and organized, and you'll be able to find all those important documents at a moment's notice.
Do you have a system for grocery shopping and meal planning? If so, you have most likely realized how much less stressful the whole process is — especially if you deviate from your system for a week. I know when I slack off and skip a meal plan or (very rarely) go to the grocery store without a list, I always forget something, then I need to go back to the store, and dinner time is always a mad rush.
Do you have a system for cleaning and maintaining your home? If so, I'm positive you clean faster and more efficiently than anyone who doesn't have a system. Plus, you know that everything is cleaned eventually — even if you don't have time to do it today or this week.
Systems simplify. Period.
RELATED POSTS:
Schedules
Again, I think the word "schedules" often gets a bad reputation for being rigid and inflexible — but in my opinion, schedules (or even basic routines) play a huge role in Simple Living.
Without a schedule, my business would be toast. There is no way I could keep up with everything I have to do for my blog and business without basic weekly, monthly, quarterly, and yearly schedules. This doesn't mean that every minute of my work life is planned out. It just means that I know what I need to do, when I need to do it, and I rarely feel stressed or frazzled trying to balance my home, work, and family all at the same time.
As I've mentioned before, our amazing bedtime "schedules" and routines have literally saved my sanity as a parent — especially now that we finally have all the kids in bed by 7:00 or 7:30 every night!!
Another schedule/routine that simplifies my life is always writing out my daily to-do list the night before. It only takes me 3-5 minutes to make my list but it saves me boatloads of time the following day and allows me to get right to work before the kids wake up for the day.
As a type-A person, I'm naturally drawn to schedules and routines; however, I know many people who are NOT Type-A and still swear by the simplifying power of schedules.
RELATED POSTS: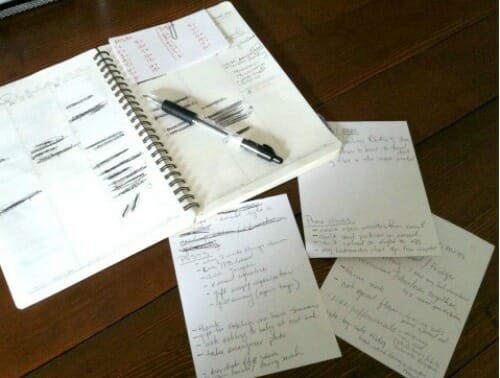 Storage Solutions
I certainly don't want to encourage anyone to hoard massive amounts of stuff in a storage unit, or hang onto things you don't need, use, want, or love… but I do think there are most definitely ways to store the items in our homes so they take up less space and are stored more efficiently.
The ways we hang and fold our clothing can drastically alter the amount of clothing we can fit into a small drawer or a narrow closet space.
How we rearrange our kitchen cabinets plays a huge roll in how efficient our kitchen functions and how much we enjoy working in our kitchens.
Using vertical storage, hidden storage under the beds, storage behind closed doors, and even hanging items from the ceiling are all relatively simple and low-cost ways to maximize the amount of storage in our homes.
You know as well as I do that when everything in your home has a place to be stored, clutter is much less likely to accumulate… and with less visible clutter, our homes and lives instantly feel simpler and more organized!
RELATED POSTS: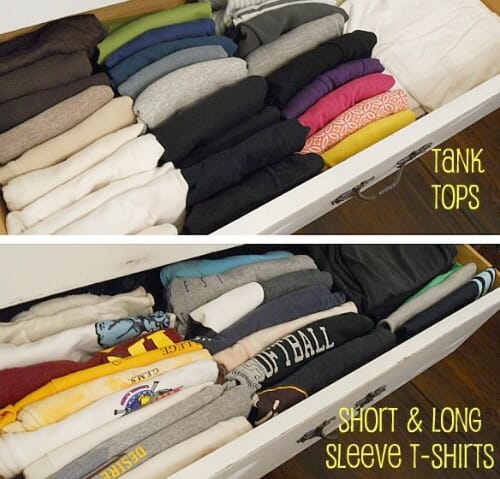 Speaking Up
So often, I encounter someone trying to live a simpler, more organized life — but they just can't get there because they are ALWAYS saying "yes" to every person and opportunity that comes their way.
As someone who LOVES to say "yes" and serve in different ways, I totally and completely understand! It's SO hard to say "no", even if it's something you're not passionate about, not gifted in, or something that will take time away from other, more important people and activities.
I think it's our innate human nature that causes us to want to please others by saying "yes" as often as possible — but by doing this, we are actually complicating and over-stimulating our lives… causing unnecessary stress, which isn't great if you're working to simplify!
Speaking up and learning to say "no" every once in a while is a crucial skill to learn as you strive towards a simpler life.
RELATED POSTS:
Of course, with all systems, schedules, storage solutions, and speaking up, there is never any ONE RIGHT WAY.
There might be one "best way" for right now — but as our lives change, as new babies are born, as kids go off to college, as we age, as jobs changes, as we move into new homes, etc. etc. our systems, schedules, storage solutions, and the ways we choose to spend our time will also change.
That's OK! It doesn't necessarily mean you're doing something wrong!
I think one more key to Simple Living (in addition to everything I mentioned above) is our ability to change, alter, tweak, shift, adapt, and modify to new situations, new phases, and new circumstances.
Even if we find the PERFECT system, schedule, or storage solution for right now, there's a very good chance that in 6 months, or a year, or in 6 years, that same system, schedule, and storage solution won't work nearly as well.
So if we can continually be on the lookout for opportunities to change and adapt, our lives will most likely be less busy, less stressed, and less chaotic.
And THAT is what Simple Living means for me!
What does Simple Living mean for you?