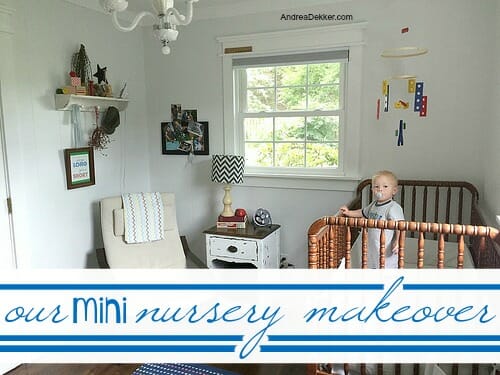 Last week, I shared our COMPLETELY FREE master bedroom mini makeover — and how Dave graciously helped me move every piece of furniture in all 4 bedrooms in about 2 hours time (while all the kids were running around us like we were crazy).
This week, I'm sharing James' mini nursery makeover. Just like our bedroom makeover, it was also completely free, and it made his tiny room feel SO much bigger!
Here are the pictures:
It's nothing too crazy, but as you see by the photos below, removing the extra twin bed and flipping the crib around gave us SO much more room to move around.
I'm not sure if James really understands what happened, but almost immediately after we moved his furniture around, he started a regular tradition of rolling around on the rug in his room after we change his diaper. It's almost like he's saying "yay for extra floor space to play and roll" 🙂
.
Here are Before + After Pictures
The photos below just show the difference between what the nursery looked like when James was born last summer, and when we rearranged the furniture 3 weeks ago. If you'd like to take a peek at what this room looked like back when we first purchased the house — with all of its paint-splattered wallpaper, bright blue carpeting, blue ceiling fan, and mirrored closet doors, you'll definitely want to read this post 🙂
ENTRYWAY:
Obviously, the biggest difference here is that the twin bed is GONE!
That bed served it's purpose well for the first couple months after Simon and James were born (I slept in there at night so I wouldn't wake Dave up), but now that James has been sleeping well for several months, I don't think we need it in the nursery anymore. We moved the bed upstairs and it's waiting for when Simon and James eventually share a bedroom… and for now, we will enjoy extra space in the nursery!
.
THE CRIB CORNER:
With the twin bed gone, we could rotate the crib to the other wall and make more space for the chair and side table. It's also a lot easier to open the blinds on the wall by the side table as we don't need to reach over the crib anymore.
Bonus — my DIY handmade mobile still works — just on the opposite side of the crib 🙂
.
THE CHANGING TABLE WALL:
Again, with the twin bed gone, we had much more room for a larger changing table — which we actually need since James was "outgrowing" the smaller red dresser / changing table we had before.
We pulled the bigger changing table from Simon's room as he will hopefully be potty trained soon and won't need a changing table anymore. In the meantime, we're changing his diaper on a changing pad directly on the floor… and I'm thrilled to have the red dresser in my room now!
I kept the stick-on alphabet letters (from this Etsy shop) — but they aren't as neat-looking anymore because my children climb up on the changing table and pull them off ALL THE TIME!
What do you think?
It seems James likes it 🙂
.
Our nursery has undergone more mini-renovations than I can even count — different arrangements for different babies, different furniture for different needs, etc. etc. etc.
Here are the handful of nursery "makeovers" I've documented — there have been at least 3 or 4 more that never made it on the blog 🙂
This room is by far the smallest room in our home, and since it's only a few steps from our bedroom, it has been the most perfect nursery.
For right now, we like having separate bedrooms for all 3 kids, but eventually, we will most likely put James upstairs with Simon. When that time comes, Dave and I have already talked about making this room into some type of a den or TV space for the kids, a music room, an exercise room, a craft room, or even another office area for Dave.
So many ideas!
For now, we'll let James hang out in the nursery until he's old enough to share a bedroom with Simon — and then we'll have fun rearranging all the furniture again!