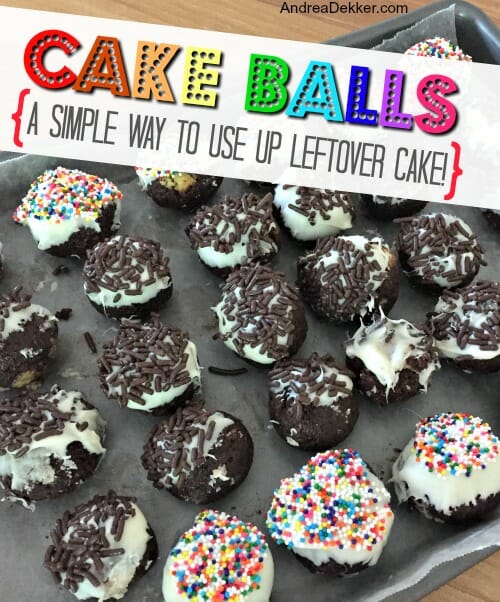 I've never loved traditional birthday cake with frosting… however, since cake is a birthday party must-have (at least according to the rest of my family) I make several birthday cakes every year, complete with a fair amount of frosting!
I don't mind making the cakes (truthfully, I actually enjoy it)!
However, since I use at least 2 cake mixes (sometimes 3 or 4) and we only invite grandparents and aunts/uncles to our birthday parties, we end up with TONS of leftover cake.
Our family doesn't particularly care for leftover cake… and I absolutely HATE wasting food (even junk food!)
My solution = make Cake Balls with any leftover birthday cake!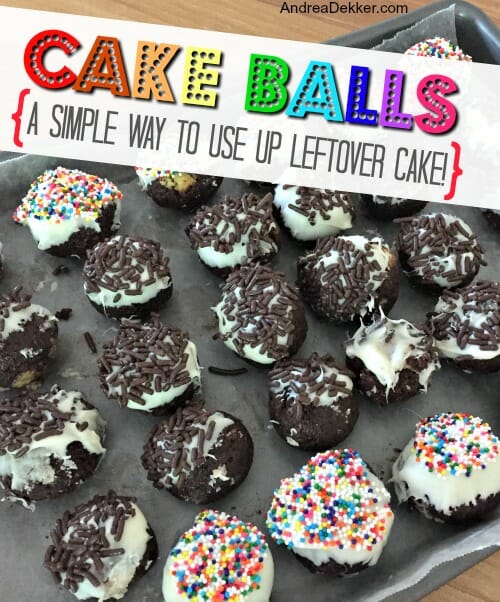 If you're looking for a super simple, super delicious way to use up any amount of extra cake and frosting, I have the perfect recipe!
Recipe for Cake Balls
INGREDIENT:
Any amount of leftover cake and frosting
Any type of meltable chocolate
Any type of sprinkles or decorating goodies
NOTE: If you don't have leftover cake, you could easily just bake a cake, frost it, and continue on with the steps below to make it into cake balls.
DIRECTIONS:
Place chunks of leftover cake (with frosting) in a large mixing bowl
Smash cake + frosting with fork until mixture resembles thick brownies
Roll heaping tablespoons of batter between the palms of your hands to form balls.
Place on cookie sheets lined with wax paper and freeze for 30 minutes.
While balls freeze, melt your favorite chocolate in a microwave-safe bowl (start with 30-second intervals).
Take balls from freezer, carefully dip frozen balls into melted chocolate and then into sprinkles or topping of your choice (I usually only dip half the balls in the chocolate as it's less messy!)
Place balls back on wax paper and refrigerate until chocolate is hardened.
Eat and enjoy!
Refrigerate (or freeze) leftovers.
These cake balls are SO quick and easy to make — and SO delicious. MUCH better than 5-day old birthday cake!
You can use ANY type of cake, ANY type of frosting, ANY type of chocolate coating, and ANY type of sprinkle or topping — the possibilities and flavor combos are endless!!
Some of our favorite chocolate + toppings combinations are:
White chocolate + crushed Oreos
White chocolate + chocolate sprinkles
White chocolate + colored sprinkles
Milk chocolate + white chocolate shavings
Dark chocolate + crushed peanuts
Dark chocolate + peanut butter drizzle
Peanut butter chips + dark chocolate drizzle
The kids LOVE cake balls (Dave and I do too!) just as much as they love birthday cake! So the fact that they get cake balls a couple days after their birthday party is practically like an "after party" for them!
This year, after James' Bob the Builder birthday party, I made his leftover cake into cake balls, put them in the freezer, and used them for James' birthday party with Dave's family one week later. Everyone was thrilled with that version of "cake" for the party, and I didn't have to make a 2nd birthday cake (plus, no wasted food!)
Win-Win-Win!
Vsit my virtual recipe box for more simple, delicious, family friendly recipes!