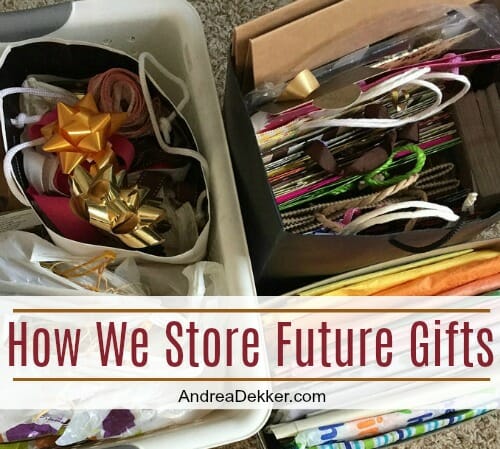 With Clara's upcoming first birthday, James' 3rd birthday a couple weeks ago, and the fact that Christmas is exactly 5 months from today (what!), I thought this might be a good time to share how Dave and I currently handle buying and storing gifts year-round.
But first… a little update on Clara!
Our sweet and smiley Clara Jo is 10 months old today.
WOW! That went fast!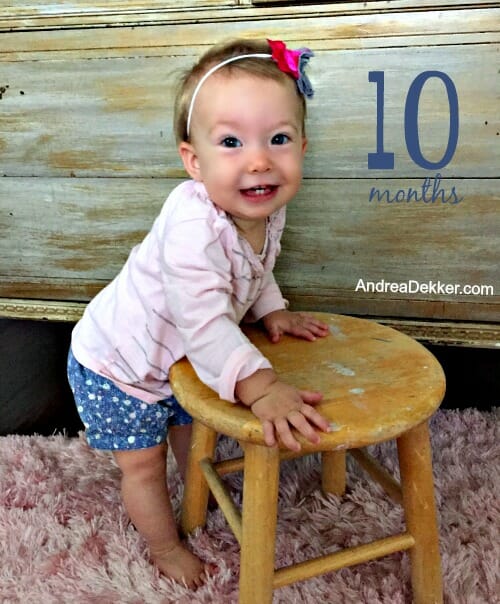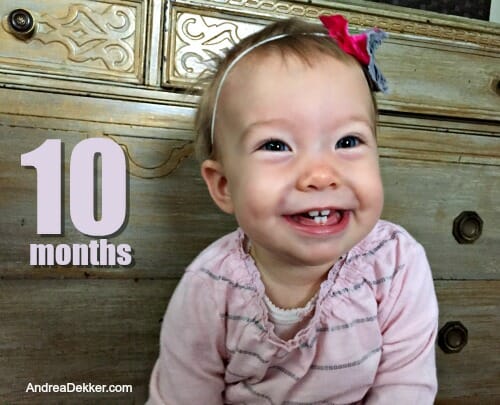 Some of her current favorite things are:
sucking her thumb (or really any finger)
playing in the pool (as long as the water is warm)
smiling
eating
snuggling
playing outside in the pack 'n play
taking baths
getting into everything her siblings don't want her to get into
This past month, Clara spent her first night away from home (a weekend away with Dave's family) and we found out that although she loves playing in her her pack 'n play, she definitely doesn't love sleeping in one!
She also got her first smooch from a boy (her cousin) and I thoroughly enjoyed the fact that she has now officially been 'out' longer than she was 'in'!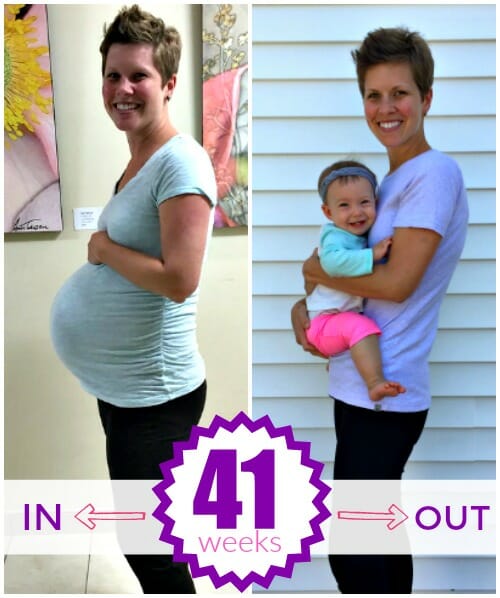 She still army-crawls everywhere (and she's really fast!). She can also pull herself up on chairs and to the side of our couch, and anything on the floor becomes an obstacle for her to climb over!
She's getting 2 more teeth so she's been a bit fussier lately, and her sleep schedule has been thrown off a bit by Dave's family weekend, late nights due to various birthday parties and other activities, and a road trip to visit my sister for a day. At least we packed all the off-schedule craziness into 2 weeks… now our goal is to get her "back on schedule"! We'll see how that goes!
It's always amazing how frustrating it is for me when our kids get off their schedule. Even if the kids aren't super grumpy or fussy, I AM GRUMPY because I miss out on my glorious kid-free quiet time in the evenings… which then causes me to stay up really late to get a few things done, which makes it harder for me to wake up on time the next day, which means I don't start my day well either, which means I have less patience with everyone the next day, which is basically a recipe for disaster after more than a couple of days!
It's a vicious cycle for my Type A personality!
Thankfully, it's summer and Dave is home, so being "off schedule" isn't really that big of a deal. As long as we get back on track before school starts up again. 🙂
And since we're talking about school starting up again… we might as well look a little further into the future and acknowledge the fact that Christmas is 5 months from today!
For those of you who like to plan ahead and do a little Christmas-in-July shopping, I thought it might be fun to share how we handle buying gifts ahead of time and where we store them.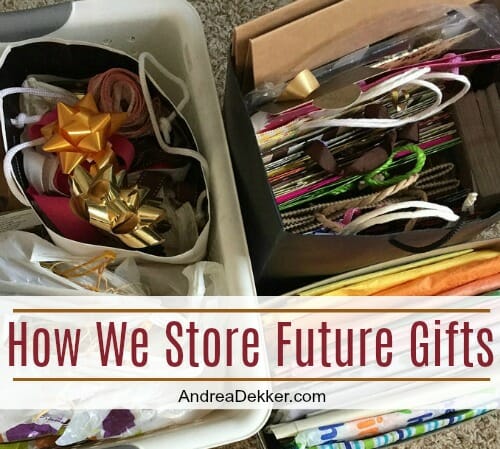 How We Store Gifts Year-Round
I honestly never thought I'd be the type of person to stockpile gifts so far in advance, but with all our kids birthdays spread out throughout the year (March, July, September, November) I somehow got in the habit of picking up a few things here and there, and stashing them away for "later".
Eventually, that turned into a small box of goodies in our bedroom closet… and now, the top shelf of our closet has mostly been taken over with piles of future birthday and Christmas gifts!
Some of them are things I get for free (or almost free) thanks to a good deal, a coupon, or a company who wants to send me free stuff in hopes that I will promote it. Most of the other items are things I find at thrift stores that I know the kids will love… I have to snatch them up right away, before someone else buys them.
There are also a few items I have purchased brand new (in bulk) that we pull from whenever we're invited to a friend's birthday party or other last-minute gift-giving event.
Here's a list of what I have in our future gift stash right now:
Tool set from the thrift store
A huge supply of thread and a loom for making bracelets (Nora's birthday gift this fall)
Several coloring and activity books
A variety of markers, crayons, "click pens", and other art supplies
LOTS of stickers!
A handful of matchbox cars and plastic animal figurines
Koosh balls (I think all kids love these!)
Chalk and bubbles (always good additions to kid gifts)
A couple kid's watches I picked up for almost nothing
A handful of ring pop suckers and candy necklaces
Two KiwiCrate craft kits (these will probably be Christmas gifts)
A selection of books, DVDs, and VHS tapes (good rainy day surprises to pull out)
3 puzzles
Keychain flashlight and lasers (always a hit to include with gifts!)
A handful of pacifiers, clips, burp cloths, and teethers to add to a pack of diapers and wipes for last-minute baby gifts
I should mention that if we have larger items (like a bike, scooter, large buckets, etc.) we keep those in the basement. Currently, we have a little wooden bike/scooter in our basement for Clara's birthday. It's similar to this one, but I found mine for $2 from a thrift store!
Our gift stash is always changing (it's actually fairly low right now), but it's usually geared towards children and babies. We rarely have adults to buy gifts for, and I often prefer giving gift cards or something handmade when we do.
I think our older kids know we have gifts in our closet, but they can't see them, they certainly can't reach them, and they rarely ever ask about them… so we're safe for now!
Eventually, as the kids get older, I have a feeling we'll try to do more money, gift cards, or experience gifts to let them decide what to buy or how to spend their money — which means we won't need as much space to store future gifts.
But for now, the top shelf in our closet (which was essentially unused space before) is the perfect spot for the gifts we buy ahead of time.
It allows me to pick up extra amazing deals year-round so I never have to start from scratch for any of my birthday or holiday shopping. Plus, I always have a fall-back supply of gift items for last-minute birthday party invitations, baby gifts, a longer car trip, or even just a fun rainy day surprise.
Do you buy gifts ahead? If so, how and where do you store them?