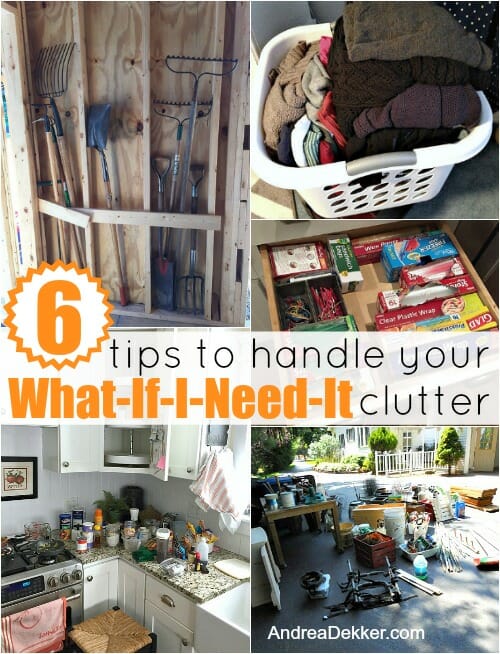 I've always joked that there are basically 2 types of clutter:
Sentimental / Emotional clutter (photos, memorabilia, kids' artwork, gifts, etc.)
What-If-I-Need-It clutter (clothing you hope to fit into eventually, items that still have value but no real use to you now, baby items for potential future babies or grandbabies, etc).
Obviously, those 2 categories alone cannot categorize every piece of clutter — but if you really stop and think about it, the majority of clutter in our homes and lives often falls under one of these 2 categories!
I've shared some about sentimental and emotional clutter over the years… but that's not what I want to focus on today.
Today I want to focus on your What-If-I-Need-It clutter (I know you have some — we all do!) If you have trouble purging your What-If-I-Need-It clutter, I hope today's post will help you let go of a few things!
.
For starters, I'd like to take somewhat of a "devil's advocate" approach and ask the obvious question…
But what if you WON'T need it again someday?
Is it worth hanging onto just in case? Or would you be better off purging it now? I suppose that's the "million-dollar question" for all your What-If-I-Need-It clutter!
Whenever I'm faced with the task of sorting through What-If-I-Need-It clutter items, I ask myself the questions below to help logically decide whether to purge or keep.
1. Would it be expensive to replace the item?
IF you actually do need the item again someday, would it really put a cramp in your budget to just go out and buy it again?
If not, my choice is to purge it now and enjoy the extra space!
2. Would it be difficult to replace the item?
Is this item a one-of-a-kind treasure? Or could you easily find another one?
Could you borrow it from a friend? Could you rent it for a day from a local store? Could you potentially find it at a local secondhand or thrift store fairly quickly and easily?
If it's easily replaceable, that's another good indication you can most likely purge now without much regret later!
3. Do you have space to store the item?
This question is sort of a no-brainer for me because if I don't have the space to store something, the chances of me hanging onto it are very slim.
This question is especially helpful when I'm dealing with toys, books, and kitchen items. I don't like things sitting out on counters or on the floor — so if I can't fit the item into the designated storage space, that's usually a good enough reason to purge it!
NOTE: I don't buy the jumbo size boxes of aluminum foil, sandwich bags, or cling wrap because they don't fit as nicely in my drawer. I pay a little extra in the long-run, but enjoy a nicely organized drawer every day!
4. Can you purge something else to make space?
If I don't have space to store the item but feel I really want to hang on to the item, I then question whether there is something else I could purge instead.
If so, I keep the item for a bit longer — if not, I usually force myself to purge the What-If-I-Need-It item now!
I use this method a lot with clothing. I only "allow" myself a specific number of hangers, and if the hangers are full, something MUST go before I add a new item in!
5. Do you have an easy substitute item?
There are SO many times in my own life when I easily make do with a similar item. Especially when it comes to trivial kitchen gadgets, various accessories, certain clothing items, and even yard tools.
Sometimes, I even realize a better, more efficient way to do something because I had to improvise with a different item!
6. What's the worst-case scenario if I regret a purge?
This is another one of my favorite questions because it really forces me to stop and think… and it's just so rational.
For example, if I regret purging a garden tool, the worst-case scenario is that I'd have to do without it for a bit and then go buy a new one (or ask a neighbor to borrow it.)
This is not a horrible scenario in my opinion… so I'd be more willing to purge.
These are the main ones I ask myself when I'm debating what to do with my What-If-I-Need-It clutter.
.
Of course, I realize there are many factors that affect the amount of What-If-I-Need-It clutter you choose to keep and purge. Truly, there's no one-size-fits-all approach to this matter.
A Few Examples:
If you don't live close to family and friends or you don't have many connections in your area, it will be harder for you to find an item to buy used or borrow if you do actually need it again.
If you are on a VERY tight budget and have no wiggle room for extra purchases, it could be risky to purge too much, as you might not have the funds to repurchase the items at a later date.
If you have a large amount of storage space and are fairly organized with that storage space, it might make sense to hold on to more What-If-I-Need-It clutter until you're sure you won't need it.
However, if you have lots of friends and relatives you could potentially borrow from in the future, if you have a little extra wiggle room in your budget, and/or if you are short on storage space, I strongly encourage you to think twice (maybe even 3 or 4 times) about what you choose to keep in your home "just in case you might need it again someday".
In my personal experience, and after years of helping others to declutter, there have only been a select few times when I've needed or wanted an item again. Needless to say, my initial reaction is almost always to purge.
If you need a little extra motivation to purge more What-If-I-Need-It clutter, try logically thinking through some of these questions (and be honest with your answers)!
Then read this follow-up post with 5 tips to purge YOUR what-if-I-need-it clutter!
What type of What-If-I-Need-It clutter do you struggle with most?
.