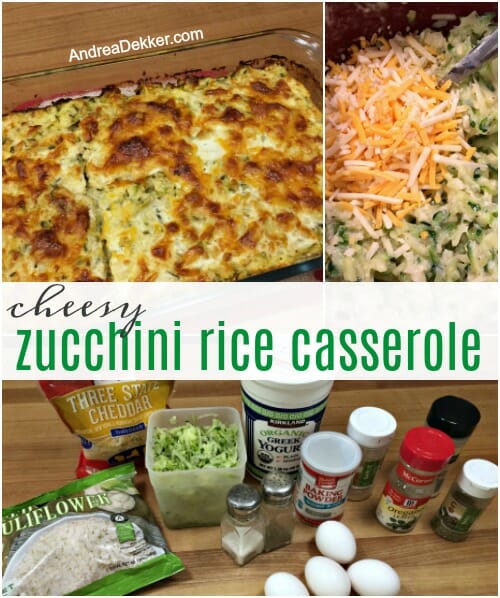 Several weeks ago, I promised I'd have at least ONE MORE zucchini recipe to share… and even though it's verging on mid-October, we are STILL getting zucchini, spaghetti squash, cucumbers and more from our meager vegetable garden… so I'm STILL making lots and lots of zucchini recipes (and putting some zucchini in the freezer for later!)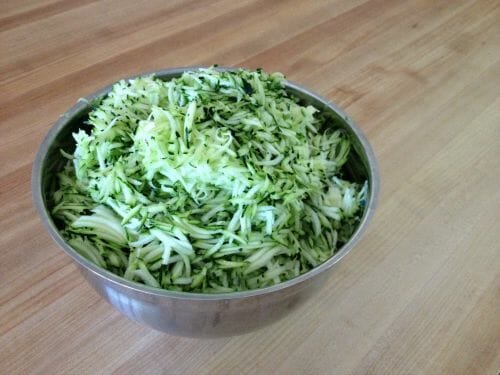 I'm frequently asked for more "side dish" recipes — and today's recipe has been a favorite side dish of ours all summer long. The kids eat it really well, which is impressive considering it's basically all vegetables as I swap out the rice for cauliflower rice.
I guess if there's enough cheese, kids will eat anything! 🙂
There's a little bit of time put into shredding the zucchini and squeezing the moisture out, but I usually do all of that ahead of time — so when it comes time to make this side dish, I can have it in the oven in less than 10 minutes.
It's a great make-ahead side dish that pairs well with almost any type of meat, and is quite a bit "lighter" than potatoes, bread, or other starchy sides. Plus… cheese!
Recipe for Cheesy Zucchini "Rice" Casserole:
Serves 8-10 as a side dish
INGREDIENTS:
4 c. shredded zucchini with most of the water squeezed out (you'll need to start with 6 to 8 cups before squeezing!)
1 t. salt
1/2 c. plain Greek yogurt or sour cream
1/2 t. baking powder
1/2 t. garlic powder
1 t. minced onion
1/2 t. basil
1/2 t. oregano
4 eggs
2 c. cauliflower rice (or any variety pre-cooked rice)
1 c. shredded cheese (we like using cheddar or sharp cheddar)
salt and pepper to taste
additional Greek yogurt and shredded cheese for topping (optional)
NOTE: You could add in some cooked ground sausage to make this more of a main dish meal (or even a breakfast).
DIRECTIONS:
Place shredded zucchini and 1 t. salt in colander over the sink. Let sit for 5-10 minutes, then squeeze as much of the moisture out as you can.
Preheat oven to 375ºF
Grease a 9″ x 13″ baking dish and set aside
In a large bowl, mix Greek yogurt (or sour cream), baking powder, garlic, onion, and any other seasonings you'd like (I like Italian flavors with this dish, but you can mix it up).
Mix in eggs. Stir well to combine.
Add in "rice", cheese, and shredded zucchini.
Scoop mixture into prepared baking dish and (optionally) top with a thin layer of yogurt/sour cream and shredded cheese
Bake in preheated oven for 40-50 minutes, or until middle is set.
Let cool for 10 minutes.
Eat and enjoy!
As you can see by the pictures, the top gets really golden and crispy with the addition of extra cheese on top. It's SO tasty!
We eat this casserole as a delicious side dish with steak, chicken, pulled pork, smoked sausage, tilapia, salmon, and more. Thanks to all the eggs, I've even reheated it as part of my breakfast the next morning with fantastic results!
It has been a a fantastic way to use up SO many of our garden zucchini… especially since our kids continue to ask for second helpings!
Veggies + cheese for the win!!
Want more zucchini recipes? Here are 16 of our favorites!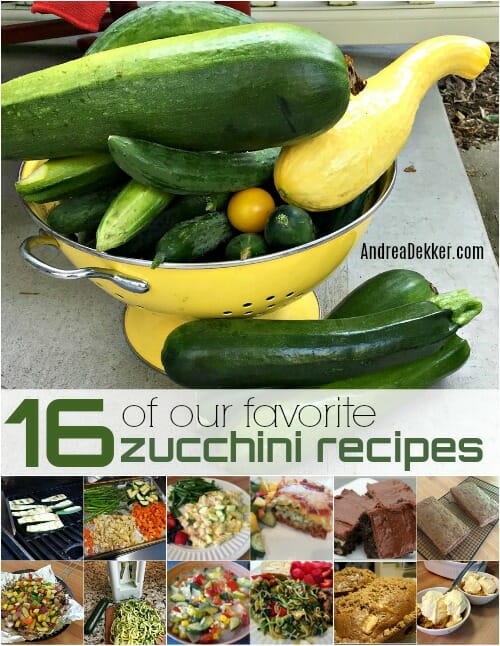 If you have another favorite zucchini recipe… leave it in the comments!
Visit my virtual recipe box for more simple, delicious, family friendly recipes!