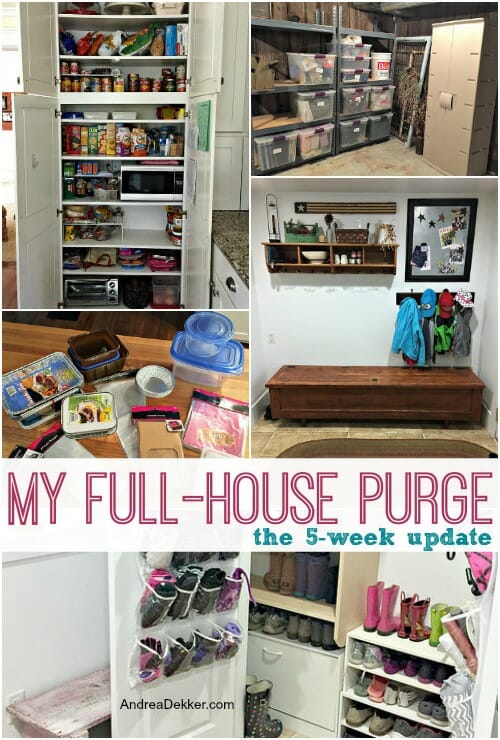 Just over 5 weeks ago, I shared my plan to complete a full-house purge BEFORE the New Year!
Post Summary: focus on one room per week, every week until the New Year (16 weeks at the time) and purge up to 16 rooms before the New Year (most homes have 16 or fewer rooms).
Since then, I've completed 5 rooms in our house, and I'm here today to share my progress, as well as offer more motivation and encouragement for those of you who are following along with my one-room-per-week plan.
If you didn't see my first post, or if you just didn't get started 5 weeks ago, there is still PLENTY of time before the New Year (roughly 11 weeks yet). Go back and read my first post and get started with one room in your house this weekend.
Even if you don't completely finish your full-house purge before the New Year, you'll still accomplish more than if you did nothing at all!!!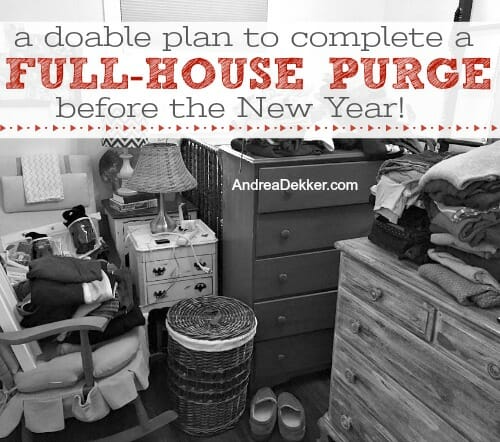 As you'll read below, I divided my home up into 3 groups of 5 rooms each. This worked well for the layout of our house, and it will hopefully be a convenient way to share a few updates on the blog without sharing somewhat monotonous posts every single week. 🙂
I'll share more of what I purged in the first group of 5 rooms at the end of the post.
First Group of 5 Rooms:
Dining Room
Half Bathroom (bathroom and laundry room are flip-flopped on the blueprint below)
I wanted to tackle these areas first because they are all in constant use every day. Also, as you can see by the blueprint photos below, these rooms are located in close proximity to each other on one side of the main floor (the basement is obviously it's own area, but it's right off the mudroom).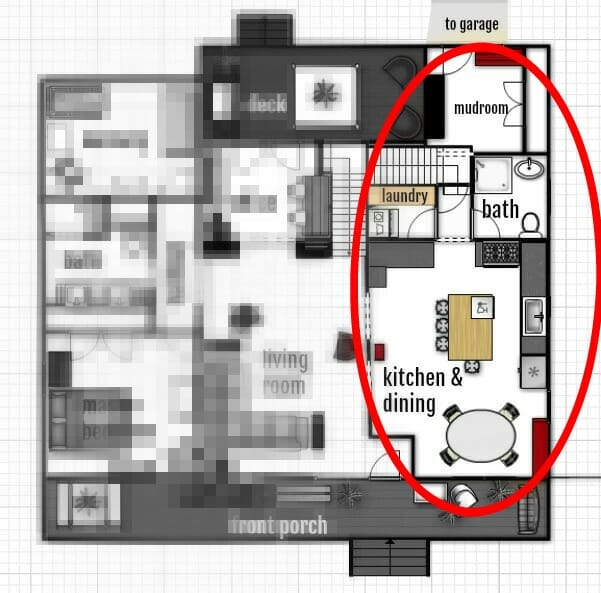 We store very few things in our basement — only in the "tool room" and the "potential future family room" — so although it seems like a big space to tackle, it only took me about 1 hour to "clean", purge, and better organize the basement. This was good timing for me too as I purged a bunch of holiday decorations I know we won't use — which will hopefully make the decorating process go even quicker this year!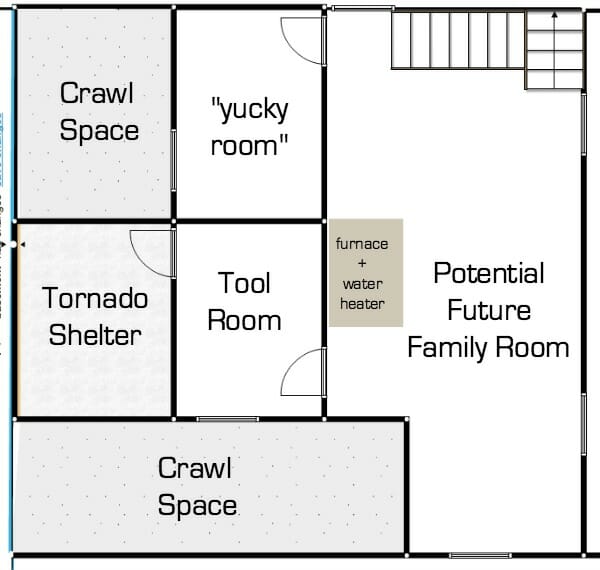 .
Next Group of 5 Rooms:
Living room
Master Bedroom + Closet
These 5 spaces make up the rest of our main floor — I'll start working on these rooms this weekend and be back in 5 weeks with an update on what I purged!
By starting with these 10 rooms, I'll have the entire main floor (and basement) completely decluttered the week BEFORE Thanksgiving — which was my goal when starting this challenge. Then we can host holiday parties with less STUFF around!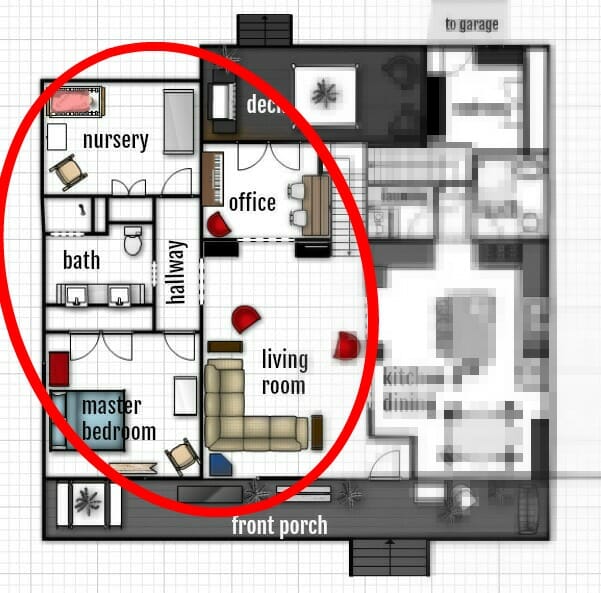 .
Last Group of 5 Rooms:
Kids' Bedroom + Closet (listed as "Nora's bedroom" on the image below)
Play Room (listed as "boys' bedroom" in the image below)
Upstairs Storage Area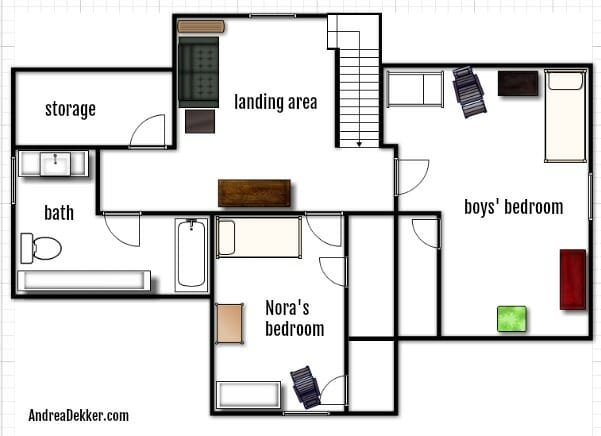 From Thanksgiving week through the New Year, I'll tackle the entire upstairs — which is mainly "kid things". I saved this for last as I know it will be MUCH easier for my children to purge knowing Nora's birthday and Christmas are just around the corner.
They will be more willing to part with their beloved treasures and out-grown clothing if they know there's a chance they will get new items in just a few weeks! Plus, Dave will be home over Thanksgiving break and Christmas break — which means he can occupy them downstairs (if need be) while I finish purging upstairs!
I hope to share my progress upstairs right around the New Year!
.
An Update on the First 5 Rooms:
My plan for the 5-week purging updates is to share a brief summary and a photo or two of each space.

Feel free to ask more specific questions in the comments (or shoot me an email). However, I'm purposely not getting into too much of the nitty-gritty details in my post — otherwise we might be here all day!
1. MUDROOM:
The mudroom was probably the most time-consuming room in this group — simply because I used this time to swap out all our summer things for winter things. I spent about 1.5 hours working on this space, spread out over a couple different afternoons.
I put all swim suits, towels, goggles, life jackets, swimmies, and other pool/beach items away in our large storage bench.
I got out our winter gear and had the kids try everything on.
I organized the items into the closet and made a list of things we need to purchase for this winter.
I donated several out-grown items and tossed a handful of worn flip-flops, broken goggles, deflated rafts, etc.
.
2. HALF BATHROOM:
The half bathroom was super quick and easy since we JUST renovated this space! It took me roughly 10 minutes to do a once-over of this room. I actually didn't purge anything, but I did better organize a few of the cleaning supplies.
I'm still LOVING all my empty shelves — I obviously haven't decided what to store here yet!
.
3. KITCHEN:
Some of you might remember my massive kitchen purge back at the beginning of the year… I got rid of SO much stuff.
Because of that purge, this kitchen purge wasn't nearly as intimidating as it could have been!
I'm still glad I took the time to go through EVERY cabinet and drawer in the kitchen though. I was able to use up several pantry items I had forgotten about, restock my baking supplies in time for the holiday season, and make better use out of a couple cabinets I was previously using for baby items (no need for those anymore!!!!!!!!)
The whole process took me about 1 hour — spread out over an afternoon with many breaks while I got new activities or crafts out for the boys, read them a couple books, turned on a show, got them a snack, and prepped some stuff for dinner.
Here's a look at our pantry area before — sort of all jumbled up and disorganized.
I realize the "after photo" doesn't look much different — but I made more room for snacks and canned good, consolidated half-bags of things, made a point to use up several items, and just straightened things up a bit. Nothing major, but it looks nicer now!
Another cabinet that got a mini transformations was the one to the left of our sink. I previously kept lots of baby items in this cabinet — formula, bottles, squeeze pouches, rice cereal, snacks, baby food, pumping supplies, etc.
Since I don't need those things anymore, I emptied out the top 2 shelves and now use them for my growing supply of decorative bags and disposable containers I use to give food gifts.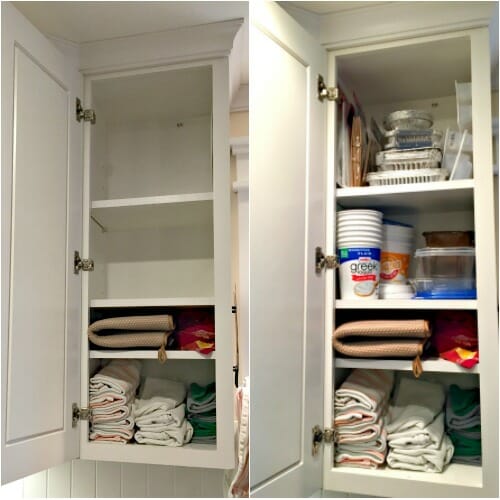 .
4. DINING ROOM:
We really don't "store" anything in our dining room except some craft supplies — so this was another very easy room to tackle.
I spent about 15 minutes quickly going through our craft supplies, and that was it. I purged broken crayons, dried up paint and markers, ripped or crumbled papers, sticker sheets that were almost empty, etc. etc.
I also removed all the old pictures and drawings from my magnet board on the side of the fridge and updated them with more recent creations.
.
5. BASEMENT:
As I mentioned above, we don't store much in our basement, so my time down there was spent better organizing our pantry and freezer (I didn't defrost it, just rearranged it) and purging some holiday decorations.
I also used a broom to get a few cobwebs down, swept the floors well, and threw out a handful of boxes we had been saving in case we needed them for organizational purposes.
All in all, the basement was about a 1-hour project, tackled in a couple 20-minute chunks of time.
.
So that's it for my first 5 rooms.
If you did the math, it took less than 4 hours of time for me to purge these 5 areas of our home — not bad at all! HOWEVER, there's not a day in my life when I have 4 hours of uninterrupted, focused time to tackle 5 full areas of our house… that would have seemed so overwhelming to me (yes, even me)!
By spreading it out over several weeks and focusing on one room per week, it was much less overwhelming – which means I was less likely to procrastinate!
Who can relate to that!?!?!
If you've been following along with my challenge, I'd love to know what type of progress you're making as well!
Happy Purging!