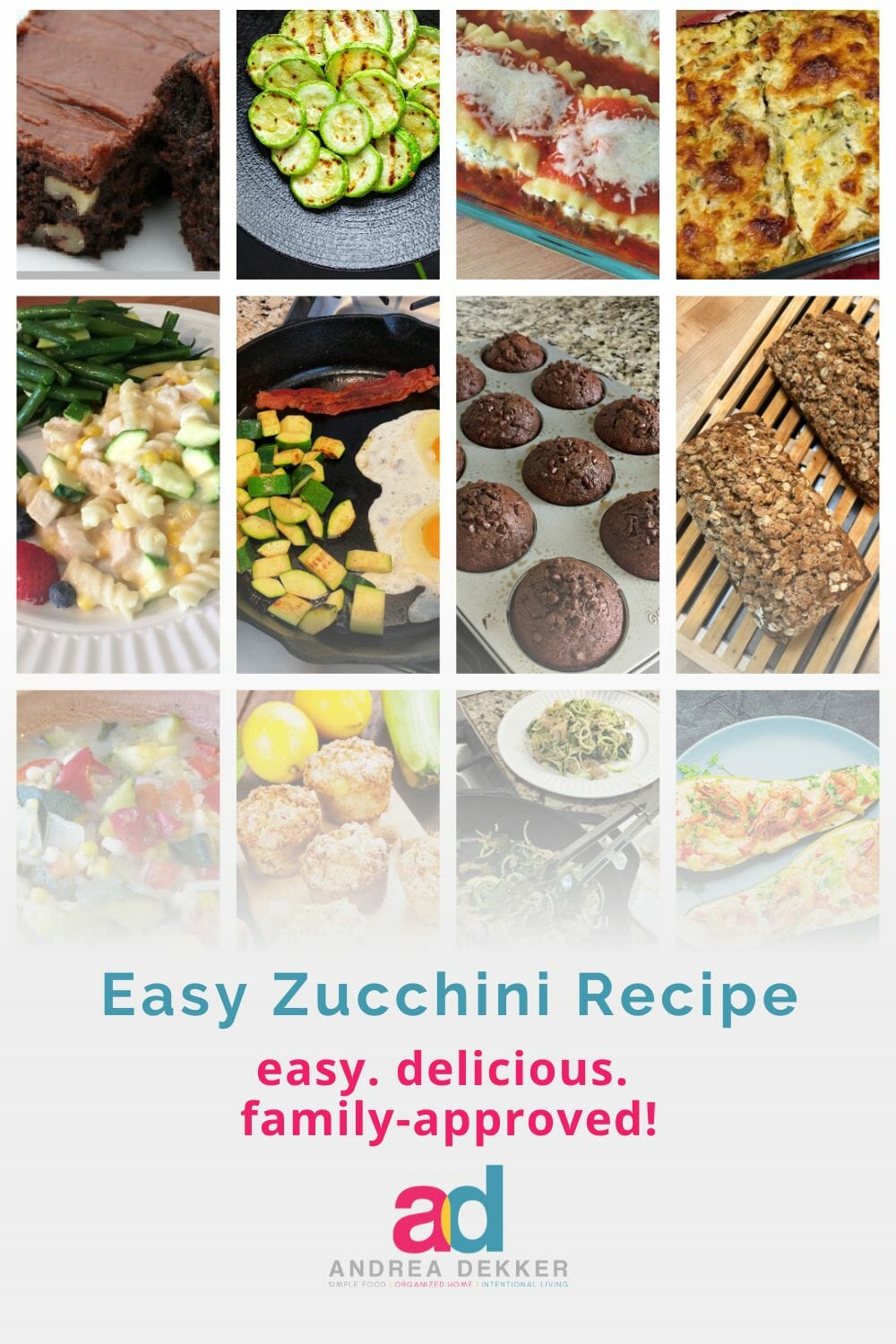 Need a few fresh ideas for zucchini? I'm sharing 10 of our family's favorite recipes, along with a few cooking techniques that bring out new flavors and textures.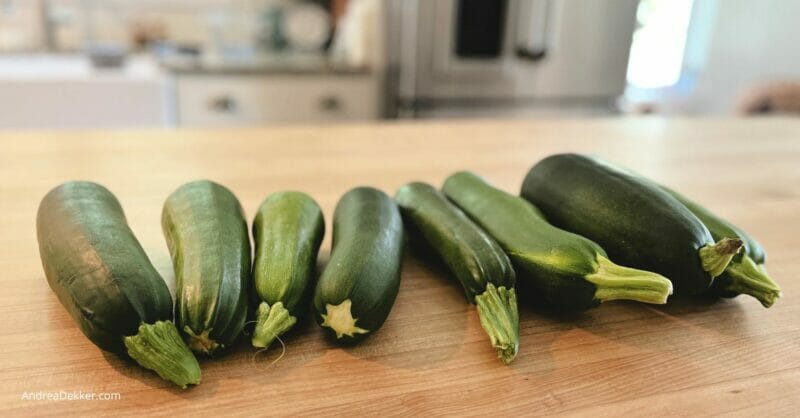 For our family, the month of July means a few very specific things:
Fun 4th of July and birthday festivities.
"Dekkerfest" with Dave's family.
School supplies!
Brown grass (no matter how much we water).
Zucchini, zucchini, and more zucchini.
Even though I only plant 2 zucchini plants each spring, we always end up with significantly more squash than we can ever eat or bake with come summer and fall.
Of course, we give some of our garden goodies to friends and neighbors, and I shred a bunch for the freezer; but I also get creative with different ways to work zucchini into many of our meals and baked goods.
Most of the time, my family doesn't even realize I put 2 or 3 heaping cups of zucchini into their favorite brownies, cakes, muffins, pasta dishes, or casseroles — win-win!!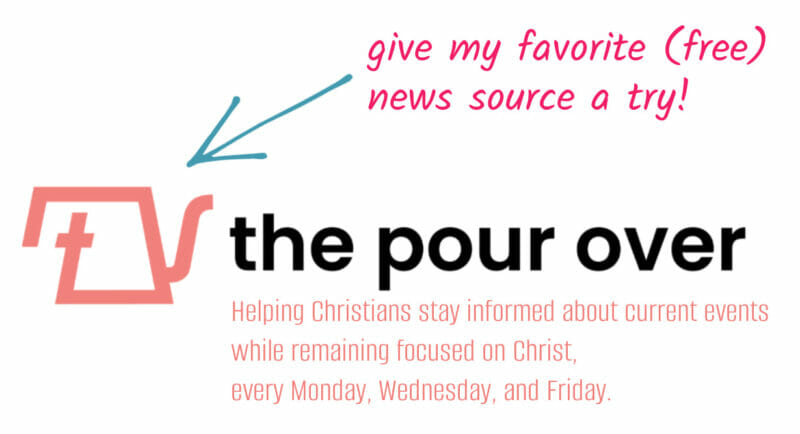 If you'd like a few EASY, family-friendly recipes to use up some of your garden (or farmer's market) haul, I've got you covered!
Keep reading for some of our family's favorite sweet, savory, salty, and scrumptious ways to eat zucchini.
5 Simple Methods to Cook Zucchini
When I'm short on time, my go-to method to cook up a bunch of zucchini is to quarter them lengthwise, cut out the seeds, and sauté them in my cast iron pans with a healthy amount of butter, garlic, and salt/pepper.
Sautéd zucchini is the perfect seasonal side dish for almost any meal. In fact, I often eat it for breakfast or lunch — topped with feta cheese, fried eggs, and bacon. Yum!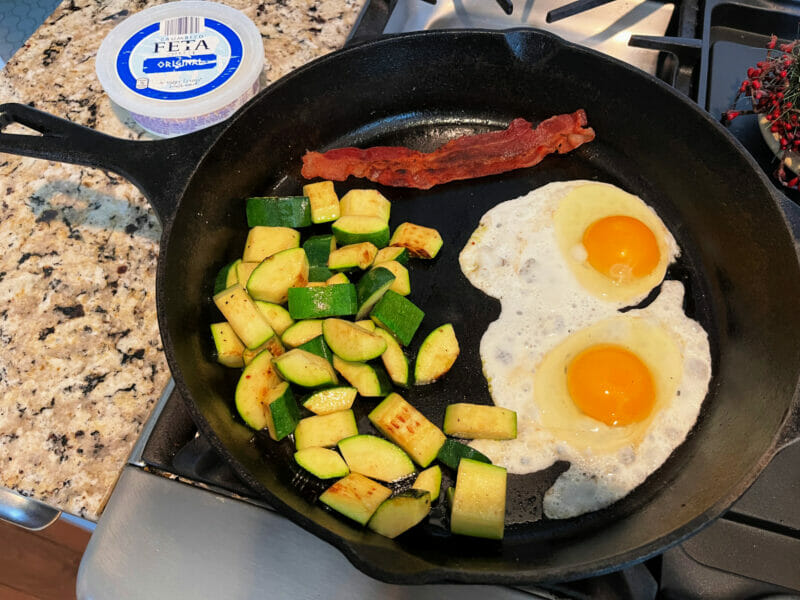 Here are a few more simple methods we regularly use to prepare zucchini.
(Click on the links below for full recipes and tutorials.)
Sautéd in a frying pan (as detailed above)
Grilled (in long strips or sliced rounds placed directly onto grill grates)
Grilled (in a grill pan with other veggies)
Oven-roasted (with a little olive oil, salt, and pepper)
Zoodles (zucchini noodles — made with a spiralizer)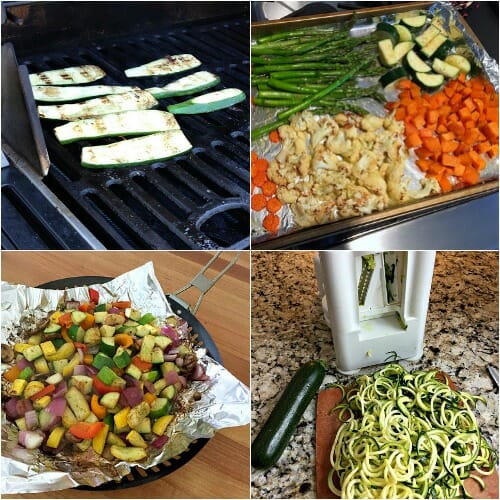 And now, for a variety of VERY simple, easy-to-make, family-friendly recipes that have been staples in our summer menu plans for years…
5 Easy Main Dish Zucchini Recipes:
If you're looking for a few ways to sneak extra veggies into your next family dinner, these recipes will do the trick — your kids might not even realize it!
5 Easy Baked Good Zucchini Recipes
Looking for a sweet treat that is slightly more nutritious? Try adding 1 to 2 cups of shredded zucchini to your next batch of brownies or your next cake — no one will know, and you'll be amazed at how moist it is!
There you go — 10 of our family's favorite zucchini recipes that are simple enough for busy weeknights and delicious enough for company too.
I hope this list gives you a few new ways to use up all that delicious summer zucchini!
And don't forget to shred a bunch and freeze it for later this winter.
What are your favorite ways to cook or bake with zucchini?