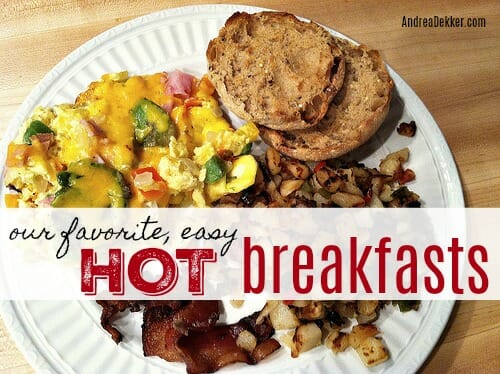 Last month, I shared our favorite EASY at-home lunch ideas, in preparation for all the kiddos being home from school this summer. Soon after I published that post, I started getting requests to share our favorite (easy) at-home breakfasts… so that is what's on today's agenda!
Much to my dismay, my children will not eat cereal (yes, I know it's not super nutritious, but it IS easy!) So, for the most part, we have a hot breakfast every day of the week. I'm not sure how this will work once Nora starts Kindergarten next fall and has to get on the bus pretty early — but we'll cross that bridge when we get there!
I realize a HOT breakfast might not sound super easy… but we basically rotate between the same 3 or 4 options every day so I truly do not spend large amounts of time or energy to get a hearty breakfast on the table each morning.
If you're looking for a few new HOT breakfast ideas, here are some of our favorite, relatively easy, recipes.
Pancakes:
My kids could eat these every single day without complaining!
I usually make up a double batch of this recipe at night, and it will last us for 2 or 3 mornings. I just keep it in a food storage container in the fridge and make 5-6 pancakes every morning.
If you want to mix things up (and if you have time to preheat your oven) these puff pancakes are amazing as well!
Waffles:
This is Dave's favorite breakfast food — and thanks to our Belgian Waffle Maker, he can easily make one waffle for himself when he wakes up, and I can make more for myself and the kids once we're ready for breakfast.
Again, I always mix up the waffle batter the night before as it's one less thing to do in the morning.
Here's one of our favorite waffle recipes, and here's another.
Eggs:
We eat eggs every single day — basically, no matter what we're having for breakfast, it always comes with eggs. They are so frugal, fast, easy, and my kids LOOOOOOVE them.
We almost always have scrambled eggs with cottage cheese mixed in — they are SO good!
Also, if you have time to bake in the morning, this make-ahead egg casserole is AMAZING! It can be assembled the night before and simply popped in the oven first thing in the morning!
Breakfast burritos:
I started making breakfast burritos 6 or 7 years ago, and it's still one of those super simple meals Dave and I both love.
I can make 20 or 30 of them at one time, pop them in the freezer, and enjoy a yummy breakfast or hearty snack after roughly 30 seconds in the microwave.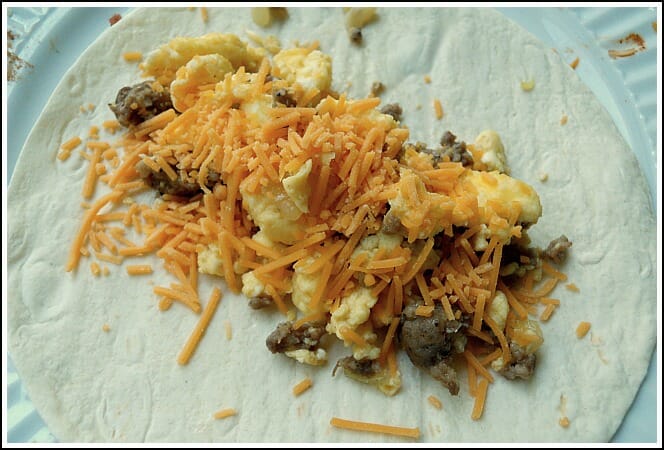 Oatmeal:
Simon is the only one in our family who doesn't care for oatmeal (no matter how much brown sugar I put on it!) but the rest of the family really likes hot oatmeal for breakfast on occasion.
I usually make it once a week and serve it with a variety of toppings.
Also, here's a fun recipe for homemade instant oatmeal packets.
Meat:
We don't always have meat for breakfast, but often times we have either bacon or sausage ready to go. I usually cook 2 pounds of bacon and/or sausage at a time and just keep it in the fridge.
I can simply warm it up in the microwave, toss it in with the scrambled eggs, or reheat it on the griddle as I'm cooking the pancakes.
Cinnamon rolls:
We almost always have cinnamon rolls on Sunday morning for breakfast — either homemade the night before or the refrigerated packages from the store.
Both are HUGE hits with our kids (and SO easy!)
FRUIT:
OK, I know this isn't a "hot" item, but we pretty much have some sort of fruit with every breakfast meal — usually strawberries, oranges, and/or grapes… or whatever else is in season and on sale!
So our weekly breakfast menu might look something like this:
MONDAY = pancakes, eggs, sausage, fruit
TUESDAY = waffles, eggs, sausage, fruit
WEDNESDAY = breakfast burritos, fruit
THURSDAY = pancakes, eggs, bacon, fruit (using the leftover pancake batter)
FRIDAY = waffles, eggs, bacon, fruit (using the leftover waffle batter)
SATURDAY = egg casserole, fruit
SUNDAY = cinnamon rolls, yogurt, fruit
.
I realize this might still sound like a lot of work, but once you get into the routine and memorize the recipes (I've literally made the same pancake and waffle recipes HUNDREDS of times!) it really does go quite smoothly.
I can have pancakes, eggs, bacon, and fruit on the table in about 10 minutes since the pancake batter is ready to go, the bacon is already cooked, and the fruit is already washed and cut up in the fridge.
Although I would love for my kids to eat cereal a couple days a week, I do really enjoy a hot breakfast and by rotating a few really simple recipes, I can quickly and easily get a hot breakfast on the table without too much effort.
What are your favorite easy HOT breakfasts?