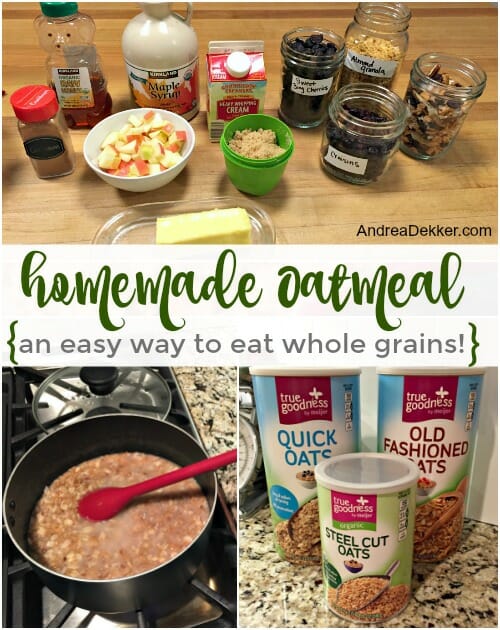 Earlier this month, I shared my new "healthier habit" of cooking, baking, eating, and grinding my own whole grains every day.
I received SO much positive feedback from that post — honestly, I'm shocked at how many of you are also grinding your own grains to make delicious breads and baked goods!
YAY!!
That said, I know from my own personal experience that if you are not the type to get excited about cooking or baking, or if you really couldn't care less about grinding grain, that post probably seemed WAY over-the-top and not very doable for the average family.
Honestly, if I had read about someone grinding grain 3 years ago, I would have immediately clicked away thinking the whole grain lifestyle was not for me or my "normal" family.
HOWEVER, eating whole grains does NOT have to be complicated, confusing, time-consuming, or stressful… today's recipe for homemade oatmeal proves I'm right!
Did you know oats are a "whole grain"?
Yup, they are — and a really nutritious one at that.
Oats are fairly low-calorie, packed with protein, fiber, and healthy fats, and they've been shown to lower LDL cholesterol (the "bad" cholesterol).
Oats themselves are gluten-free; however, if you're very sensitive to gluten, you'll need to make sure your oats are labeled as "gluten-free" as they are often processed in factories with wheat.
Oats are also extremely frugal and readily available at any grocery store.
Our family enjoys an "oatmeal buffet" with lots of yummy toppings roughly once a week — usually served with smoothies, fresh fruit, and muffins or quick bread.
Since oatmeal is a whole grain, you're not losing any of the nutrients; and as a result, you'll most likely feel full until lunch!
This "recipe" is so ridiculously simple, I almost feel silly sharing it as a full-length blog post. However, since my goal is to cook, bake, and consume whole grains every day, I couldn't resist the chance to share one of the easiest ways I've found to eat more whole grains!
If you're looking for a super simple, super frugal, hearty whole-grain breakfast, try your hand at homemade oatmeal.
Oh, and feel free to double or triple the recipe to feed a crowd!
Recipe for Homemade Oatmeal
Serves 6
INGREDIENTS:
5 c. water or milk
1/4 t. salt
3 c. oats (I use old fashioned)
NOTE: If you want to get really adventurous, try using a 7 Grain Cereal Mix in place of the oats. It's the same simple "recipe" just with more whole grains!
Optional Toppings:
Butter
Milk or cream
Brown sugar, Honey, or Maple Syrup
Cinnamon, Cardamom, or Coriander (seriously, try some of these!)
Applesauce
Raisins, Craisins, or other dried fruit
Chopped apples, pears, or bananas
Fresh berries or jam
Frozen blueberries or cherries (great to cool it down)
Chopped pecans or walnuts
Shredded coconut (toasted is great too)
Granola
DIRECTIONS:
In a medium sauce pan, bring water and salt to a boil.
Add oats, reduce heat to medium-low, and simmer for 5 minutes, stirring regularly.
Remove from heat, cover, and let steam for an additional 2-3 minutes.
Scoop into bowls, add optional toppings, and enjoy.
NOTE: Quick Oats will obviously cook faster. Steel Cut Oats will take longer — both are great substitutions for Old Fashioned Oats. Just follow the instructions on the back of the containers for altered cooking times.
I love that I can make ONE meal and allow everyone to customize it to their tastes with a variety of toppings.
If we have any leftovers, one of the kids will usually request it reheated the next morning (with a little extra milk and sugar) — otherwise I'll toss it into a bread recipe (I have one that calls for 1/2 c. to 1 c. cooked oats!)
Want to eat MORE oats?
Seriously, who knew eating "whole grains" could be this easy (or this delicious!)
What are your favorite oatmeal toppings?
Visit my virtual recipe box for more simple, delicious, family friendly recipes!