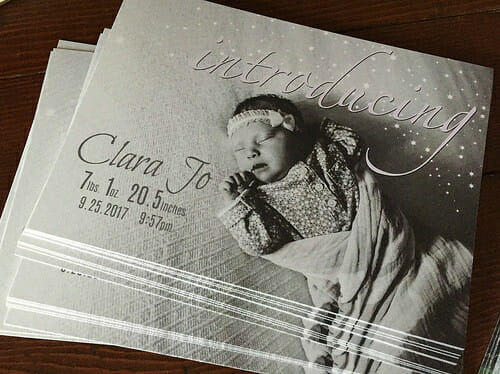 In the age of social media, I definitely don't think it's necessary to send out an official birth announcement — however, since I always pay for newborn photos, and since many of Dave's and my aunts, uncles, and grandparents don't use social media, I have always sent birth announcements to a handful of family and friends.
In true "Andrea Dekker style", I want the announcements to look and feel nice, with a unique design, and be fairly frugal!
I think I've achieved that with all 4 of our kids' birth announcements since I designed them all myself and simply uploaded the already-designed product to VistaPrint. They are printed on nice, heavy cardstock with great color and clarity, and an even better price!
As I mentioned last week, I print them as "postcards" so they are extremely frugal. I paid just over $20 for 50 5″ x 7″ cards with FULL color on both sides. I ended up paying $5 extra so the cards would be matte instead of glossy; otherwise the final price would have been closer to $15 — not bad!
I used PicMonkey to "design" the announcements — and believe me when I say that I'm not extremely creative or design-savvy. There are SO many features in PicMonkey that I have no idea how to use.
Thankfully, the basic features are super user-friendly so it only took me a few minutes to add text to one of my favorite newborn pictures of Clara.
I always like to include a family picture on the back… and this time I added a cute picture of the 4 kids as well.
The whole "design" took me minutes, and once I uploaded it to VistaPrint, it was simply a matter of searching for a discount coupon and clicking "order".
The cards arrived at my house in just a few days and I had them addressed, stamped, and in the mail the next day — one more thing to cross of my list! 🙂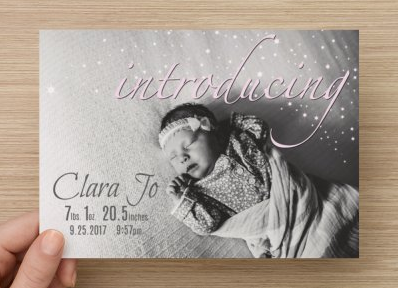 I've also done this same idea and left the backside blank to use as a thank you postcard.
Aww, look how little Nora was!
I'm really happy with how these announcements turned out — and that I didn't need to spend a fortune to mail them out.
Now… onto Christmas cards! 🙂