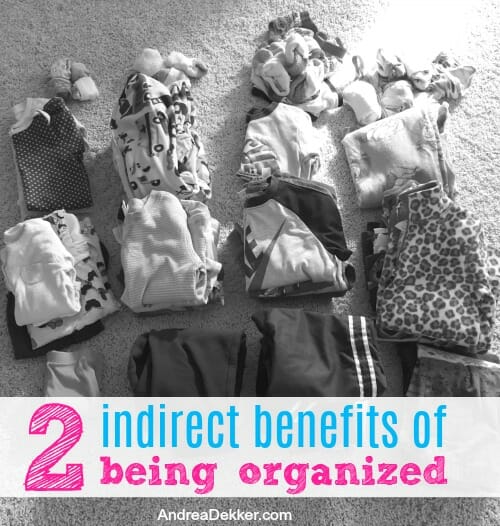 Over the course of my life, I have reaped many DIRECT benefits from my organized nature.
I can quickly find the things I need
I rarely lose things
I rarely forget things
I save money by using things I have instead of buying new because I can't find what I need.
I'm rarely late without a really good excuse
I rarely miss out on important events
I have less stress because I plan ahead
However, over the past few years, I have noticed a couple really fantastic INDIRECT benefits of being organized.
They are both things I never really considered to be "benefits" until I realized just how helpful they were in my daily life.
.
1. Another adult can more-easily take over my house and childcare responsibilities.
Since I usually take care of all the cooking, meal planning, grocery shopping, laundry, interior cleaning, and "family scheduling", Dave is definitely at a disadvantage when I'm not around to do this all for him.
However, since I'm usually quite organized and able to plan ahead, I make it possible for Dave (or any other capable adult) to more easily take care of our home and our children with minimal effort or stress.
For example, if I want to run a bunch of errands without kids, I'll have supper in the slow cooker (or ready to go in the oven), have the table set, have my van ready to go, and I'll wait to leave until Dave is home from school. He gladly plays with the kids and follows my simple dinner instructions while I get an hour away with no distractions.
Another example — when I was recently in the hospital for Clara's birth. I had freezer meals ready to go, I cooked up a bunch of breakfast foods ahead of time, I had everything ready for Nora to go to school, and had instructions printed out for each day. Not only did this give me peace of mind, it also made it possible for Dave and a couple of our relatives to effortlessly "take over" for the 2 days I wasn't around. Maybe things weren't done exactly as I would have done them, but everything important was taken care of without any stress or worry on my end.
One more example — I created an Important Information Binder several years ago and I updated it at least once every year. This binder has ALL the important information, passwords, account numbers, contact information, etc. that any other adult would need to "take over" in the event of an emergency. Everything is there, easy for them to find, and — although I hope no one will ever need to use this binder–, it gives me peace of mind to know it's there just in case.
I realize we don't always have the luxury of planning ahead for times when we can't take care of our home or our families, but in general, I'm confident that being more organized makes it much easier for someone else to step in if need be.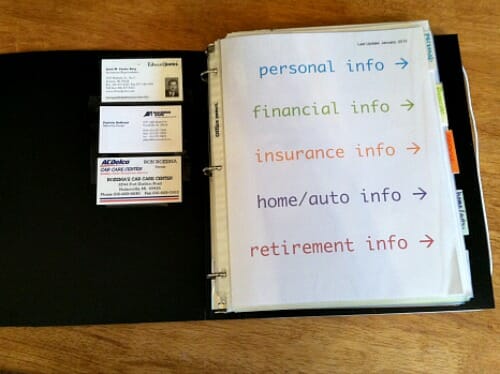 .
2. My kids can do more for themselves.
Since we have a fairly regular "daily routine" and are quite diligent about picking up and putting things away around the house, it's amazing how much my kids can do all by themselves.
Granted, they might not always listen the first time (or the 2nd!), but when push comes to shove, they all know where every book, toy, game, movie, or piece of clothing goes in their bedrooms or elsewhere in our home.
They know where the snacks are and what the "approved" list of snacks are.
Simon and Nora know how to refill their own water bottles from the spout on our refrigerator.
They know how to work the TV, pull up the correct App on the iPad, and connect it with ChromeCast.
They can all access the craft/coloring supplies on their own.
They know to take their shoes off in the mudroom and where to hang their coats and put their gloves and hats.
They can play outside without adult supervision for extended periods of time as they know what they can and can't do outside.
They all immediately wash their hands (without help) after coming inside or before we eat a meal.
They know where the dirty clothes go, and even James knows to put his socks in the separate garment bag hanging from the laundry basket!
Honestly, if I leave my kids with another adult for any reason, I hardly even need to give the adult instructions because my kids practically tell the adult what to do (especially Nora!)
I PROMISE, we don't have a super strict household — Dave and I are simply very organized and our kids really don't know any different. We've always lived with somewhat of a regular routine, we've always picked up and put things away, and we've always personally modeled that for our kids.
Of course, there are several things our kids still cannot do, but I'm sure I don't need to elaborate on how their competence allows me SO much more freedom during the day — especially now that I'm taking care of a fussy newborn again!
By keeping our house fairly neat and organized, and by following some sort of general routine, our kids can do more themselves — yahoo!
.
I'm not naturally the type to delegate my responsibilities out to others, but as our family grows and as my list of responsibilities continues to grow, I've found that by being more organized, I have the ability to lighten my load and allow other around me to more-easily help when I need it.
It feels great!
Dave and I had a good laugh about this last week when I left him home alone with all FOUR kids so I could go pick up a few things from the grocery store.
5 years ago, I would have been so stressed out to leave him home alone with just Nora — and now, here I am, leaving the house worry-free because I know he can handle the 3 older kids PLUS a newborn PLUS following my instructions to finish getting dinner ready by the time I get home.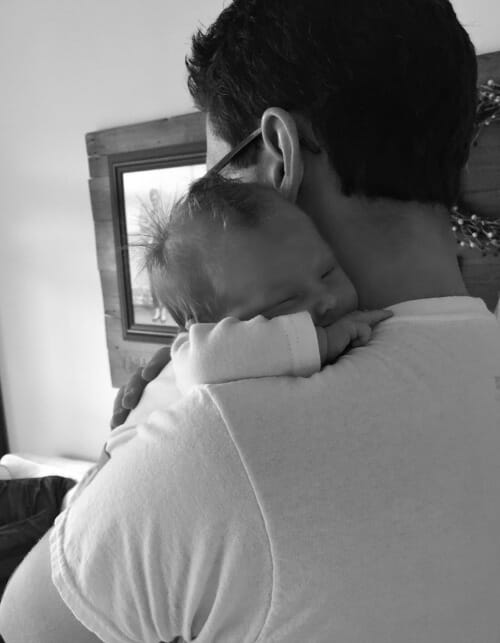 I realize being organized doesn't always mean everything will work out perfectly, but it sure does help — especially when I'm not around to do things for everyone!
Have you noticed any indirect benefits of being organized?