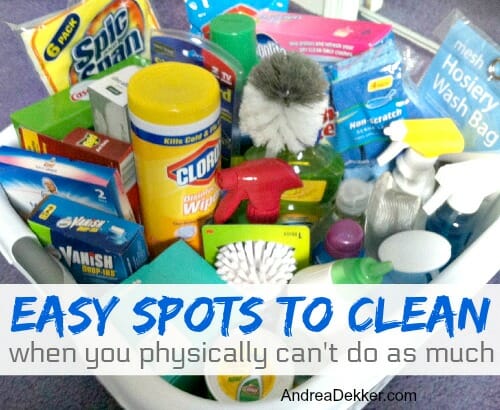 For the last 3 weeks since Clara was born (crazy that she's 3 weeks old already!), I've forced myself to take it easy as much as possible.
In general, it's not my natural tendency to "relax" or "take it easy" — especially when I know there are things to be done around the house. And even though I actually felt pretty good after her delivery, I didn't want to push myself too hard or over-do it to the point where I caused more pain or did something dumb I would regret later!
Over the years, I've gotten several emails from readers asking what I do in terms of cleaning and keeping my home and life organized even when I don't feel 100% — either due to illness, lack of sleep, sick children, bedrest, a fussy baby who needs to be held all day long, extra hours at work, etc. etc. so I thought it might be fitting to write about that now, since I'm currently in that situation.
Of course, there are many times when we simply have to "suck it up" and push through the pain in order to keep our home, our life, and our family running… and then there are other times when devastation hits, EVERYTHING comes to a screeching halt, and life spirals out of control for a bit.
What I'm talking about today are the situations in-between… when we might not be feeling 100% physically, we don't necessarily have to push ourselves to the max, but at the same time, we don't want to completely give up and let our homes and lives turn into chaotic messes.
Each task I've listed below is relatively easy, requires minimal energy, movement and/or bending, and many of them can be accomplished with only 1 hand (something that's key for me right now!)
1. Wipe down light switch plates and door knobs.
I keep a container of Seventh Generation sanitizing wipes in each bathroom, the laundry room, the mudroom, and the kitchen. I use them throughout the day to wipe up spills, pee on the toilet, or whatever other germy messes might enter my home.
I also use these wipes to periodically wipe down light switch plates and door knobs — which is a perfect "job" for me as I wander around the house bouncing a fussy or sleeping Clara in my other arm!
I can do one or two at a time, or I can tackle the whole house if I'm really walking around a lot.
2. Clear off and wipe down counters.
This is another fairly easy one-handed task that requires very little effort, but it can make a big difference in the look and feel of your home.
I'm not suggesting a huge organizing project if your counters are completely covered with piles of junk. However, you could put all the papers in a basket, stack dirty dishes in the sink, and at least wipe down the majority of the flat surfaces for a much cleaner look.
The goal is not to have perfectly clear counters 100% of the time — but rather, to simply make your space look and feel cleaner and less cluttered (both of which are very important for me to feel comfortable in my own home).
3. Dust.
I guess this is similar to wiping down the counters, but in my opinion, it's very easy to walk around the house with a microfiber cloth and dust the flat surfaces (or at least the flat surfaces that are easily reachable.)
I definitely haven't been getting down on my hands and knees to dust baseboards or climbing on ladders to get the tops of door frames, but I have been able to keep up with arm-level flat surfaces.
4. Mirrors.
As I've mentioned before, I've used this mirror cleaning cloth (similar to the ones from Norwex) for years and years to clean all my windows and mirrors. It takes such little effort to wet the cloth and wipe down all the sticky finger prints, toothpaste splatters, and other grime on our bathroom mirrors — and it really seems to make a huge difference in the look and feel of our bathrooms.
I also try to wipe down the bathroom counters and sinks (usually just with the sanitizing wipes I mentioned above) a couple times a week so things don't get too gross and messy!
5. Fold laundry.
One of my favorite "treats" is to watch a Netflix show while folding laundry in the living room (generally after the kids are in bed).
I find that laundry is one of the easiest household chores to get "backed up" if I don't stay on top of it — and if it gets backed up, it immediately feels so much more overwhelming.
Thankfully, Dave is very willing to help with laundry… and folding laundry is not very physically strenuous. I can easily do it while sitting on the living room floor or the couch, enjoying a Netflix show.
6. Swiffer hard floors.
I very rarely mop my hard floors (even when I'm not physically laid up) but I do try to sweep, vacuum, or at least Swiffer them on a daily basis.
However, I know that vacuuming and sweeping aren't always do-able if you're physically limited in any way (especially with back or core issues — like having a baby!)
That said, gently pushing a Swiffer around my hard floors takes almost zero effort — honestly, my kids even do it for me at times!
I hate looking at (and stepping on) crumbs, dust bunnies, or any other junk on my hard floors, so taking a few minutes to Swiffer them each day makes a world of difference for me.
7. Clean up your purse, wallet, diaper bag, work bag, etc.
Another task I actually really enjoy and look forward to is cleaning out (and restocking) our diaper bag. I don't do this on a daily basis, but periodically, I'll take everything out, lay it in piles on the living room floor, throw trash away, restock anything that needs to be restocked, wash anything that needs to be washed, and reorganize all the pockets and compartments.
Of course, I do it while enjoying a show on Netflix — and sometimes a snack 🙂
The same concept could be applied to any purse, bag, wallet, etc. you use on a regular basis — it requires very minimal effort but can make a big difference in your daily life.
8. File papers.
Paper clutter is often one of the most overwhelming types of clutter for so many people I know.
It always feels like this HUGE project that will require hours and hours and weeks and months of work to finish — and while it MIGHT take a bit of time to go through your papers initially, I really don't think it has to be a HUGE project… and certainly not a physically strenuous project.
Simply start by taking a few piles of paper to a comfy chair or couch. Put papers to file on one side of you, papers to shred or recycle on the other side, and anything you're not sure about (if there is anything) in a 3rd pile.
Once you finish those papers, put the recycle pile in the recycling, file the papers to file, and put the "undecided" paperwork in a designated spot to deal with later.
Then grab more papers. Honestly, it could even be relaxing if you don't let yourself get too stressed out!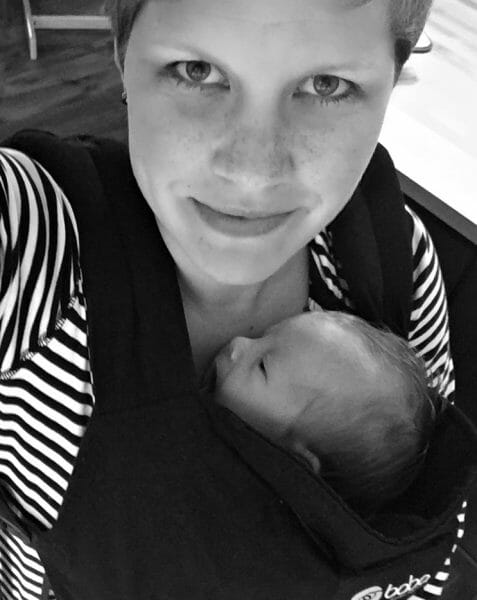 More Cleaning Posts:
Since I'm currently not blogging daily yet, I thought I'd share a few links to other posts I've written about cleaning… to give you something to read in-between my new blog posts!
8 Tips to Speed Up Your Weekly Cleaning
My "Quantity over Quality" Quick Cleaning Tips
My Daily, Weekly, Monthly, and Yearly Cleaning Routines
Save Time (and your sanity) By Determining Your Bare Minimum
I'd love to have lots more ideas listed in the comments — especially since I'm sure there are so many I'm forgetting.
What household tasks do you tackle, even when you physically can't do as much?