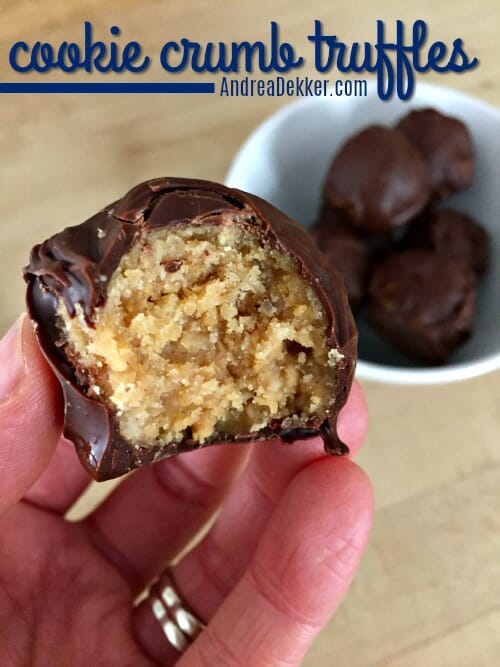 Last fall, during my eat-from-the-pantry challenge, I realized we had a large assortment of store-bought cookies and crackers we weren't eating because we preferred homemade.
In an effort to use them up without buying anything else, I crushed them up, mixed them with cream cheese, and covered them with chocolate.
Not surprising, everyone decided they did in fact like various store bought cookies and crackers in truffle form!
Since then, I have used up SOOOOOO many different pantry items to make variations of these truffles, and we haven't found one we don't love yet!
Here are some examples:
Nutter Butter cookies with semi-sweet chocolate & a little peanut butter mixed in.
Oreos with white chocolate
Animal crackers with milk chocolate
Cinnamon Toast Crunch cereal with semi-sweet chocolate
Any type of chocolate brownie with white chocolate
Oatmeal cookies with milk chocolate
Pretzels with milk chocolate and peanut butter
Easy layer bars with white chocolate
Truly, the possibilities are endless… and they are SO fun for kids to "help" with too!
If you have leftover and/or stale baked goods (or store-bought goodies) you want to use up, this recipe is a must-try!
Recipe for Cookie Crumb Truffles:
INGREDIENTS:
any amount of cookies, brownies, crackers, pretzels, sugary cereal, etc. you want to use up
cream cheese (I use roughly 4 ounces for 15-20 cookies)
melted chocolate, white chocolate, butterscotch, peanut butter, etc. (I use roughly 1 cup for 15-20 cookies)
I realize this basic ingredient list might scare some of you because it's not super specific, but as I explained above, this recipe is EXTREMELY forgiving.

If the mixture is dry, add a little more cream cheese… and if you add "too much" cream cheese, the truffles will be extra creamy and delicious.

If you don't have enough melted chocolate, melt more… if you end up with extra melted chocolate, spread it on graham crackers, pretzel sticks, bananas, etc. and let it harden up.

There is no "right" or "wrong" way to make these truffles. They are chocolate, cookies, and cream cheese. You just CANNOT go wrong!
DIRECTIONS:
In a large zip-top bag, crush whatever cookie/cracker/bar/brownie you plan to use for the truffles.
Dump crumbs into a medium bowl, add cream cheese, and mix well.
Use a cookie scoop or spoon to scoop balls of mixture onto a parchment-lined cookie sheet.
Use hands to roll balls into more tightly-compact balls.
Place cookie sheet in freezer for 15 minutes.
While truffles are in the freezer, melt chocolate in small bowl (microwave in intervals of 30 seconds, stirring after each time).
When chocolate is melted, dip semi-frozen balls into chocolate and place back on parchment paper.
When all balls are coated in chocolate, place tray back in the freezer (or refrigerator) to harden.
When chocolate is hard, transfer balls into an airtight food storage container or bag and keep refrigerated (or frozen).
As I mentioned above, I don't have exact measurements listed because it's really hard to list specific measurements for this type of recipe.
If you use bigger cookies or bars, you'll need more cream cheese and chocolate. If you use chewy brownies, you'll need less cream cheese than if you use dryer, crunchier crackers or cookies.
If you make bigger balls, you'll get fewer than if you make smaller balls.
Etc. etc.
That said, these truffles are ridiculously easy — and even if they don't LOOK fantastic, I'm positive they will still taste really yummy! After all, you can't really go wrong with cookie crumbs, cream cheese, and chocolate!
Oh, and you can make a similar treat with leftover cake, frosting, and chocolate! Find my super simple recipe for cake balls in this post!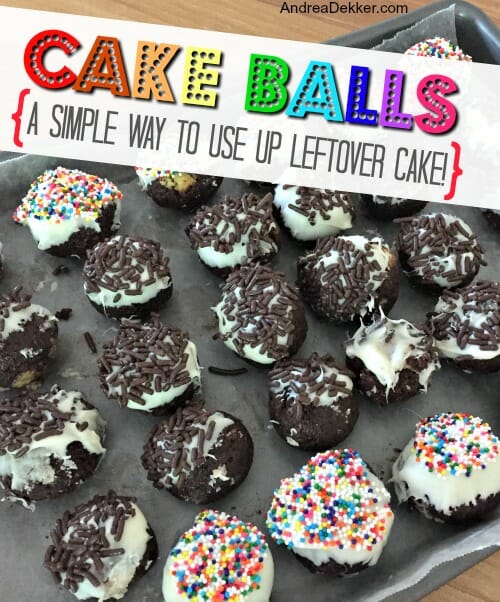 What stale goodies will you use up first!?
Visit my virtual recipe box for more simple, delicious, family friendly recipes!