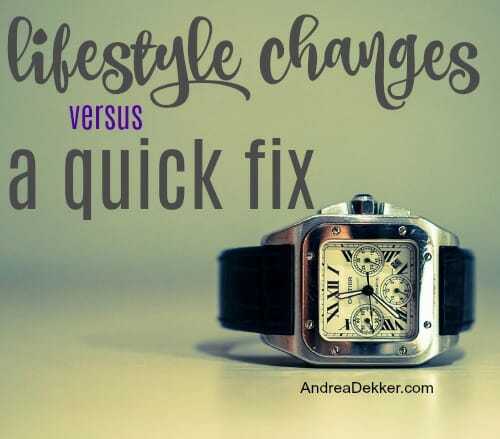 Exactly one month ago, we had to unexpectedly rush Simon to the Emergency Room for stitches in his forehead — not at all what we wanted to do at 10:30pm on our weekend vacation with Dave's family!
However, Dave's sister (a nurse) assured us that simply using a butterfly bandage as a "quick fix" really wouldn't be sufficient, and would probably leave a pretty nasty scar later on (not to mention risk an infection).
In order to make sure the wound was properly cleaned and carefully "mended", we had to inconvenience ourselves, spend considerably more time and effort than we wanted to, and fork out a bunch of money… but it was worth it for us to know the situation would be handled professionally, with the best care, and with the best long-term results.
Now, one month later, there is almost no indication of where that gaping hole was, and Simon enjoys bragging about "that time he smashed his head open and went to the ER!"
I'm so thankful we didn't opt for the "quick fix" in exchange for a little more short-term convenience!
Similarly, when we tackle various house and yard projects, Dave and I have had SO many instances where we could save a considerable amount of time (and money) by taking a shortcut, cutting a few corners, opting for cheaper materials, or rushing through the process to finish faster (I know some of you DIYers can relate!)
Most of the time, we catch ourselves before falling for a money-saving, low-quality short-cut. However, the few times we have gone ahead with a cheaper, faster option, we have regretted it later on.
We're getting smarter (at least when it comes to home renos!) and we're much more willing to take our time, spend a little extra money, and patiently wait until we can get it exactly the way we want it.
Yes, our bathroom renovation is taking FOREVER (seriously, I don't even want to talk about it) but that's because we're waiting on our most favorite tile guy who is currently booked. I really want tile floors and I really don't want to do them myself… so we're waiting… and waiting!
At least I decided on a fun color for the cabinets (and it's not even white!)
In general, I feel it's safe to say that most 'quick fixes' really don't stick for the long-term — and yes, I do think this theory can be applied to so many aspects of life.
For example:
finances and budgeting (taking out a loan to pay a different debt but not changing your spending habits)
dieting and exercising (binge dieting to lose 10 pounds but then reverting back to your normal eating habits)
cleaning and organization (shoving things in drawers or closets so the spaces look clean, but never purging or organizing things within the storage spaces)
physical, mental, and emotional health (ignoring health issues or assuming they will fix themselves over time)
relationships with others (buying a gift or splurging on a special treat as a bribe or to "apologize" instead of actually getting to the root of the issue and trying to change for the better)
.
Of course, there will ALWAYS be exceptions to this rule and situations when quick fixes or cutting a few corners really won't harm anything. However, if you feel like you're currently not meeting your goals, or maybe even moving backwards, it might be because a lifestyle change is needed instead of just a quick fix.
For example:
finances and budgeting (changing your lifestyle in order to save more, spend less, and work your way out of debt)
dieting and exercising (changing your lifestyle to include healthier food options, less eating out, more movement and exercise, and more nutritious food choices)
cleaning and organization (changing your lifestyle to stop buying so much, purging more regularly, and creating homes for everything you have so it's not sitting out all the time. )
physical, mental and emotional health (changing your lifestyle to include healthier habits, visiting the doctor, and looking into different ways to improve your physical, mental, and emotional health for the long-haul)
relationships with others (changing your lifestyle to address uncomfortable issues instead of just ignoring them or trying to cover them up.)
.
As many of you probably already know, lifestyle changes are SO MUCH MORE WORK and usually take significantly longer to implement and enjoy the benefits. However, if you're looking for long-term results that are actually maintainable, lifestyle changes are definitley the way to go!
I wouldn't recommend trying to make too many lifestyle changes all at once though.
Choose one area to focus on, decide what types of changes will be necessary to achieve the results you'd like, and then SLOWLY start implementing a few of those changes.
.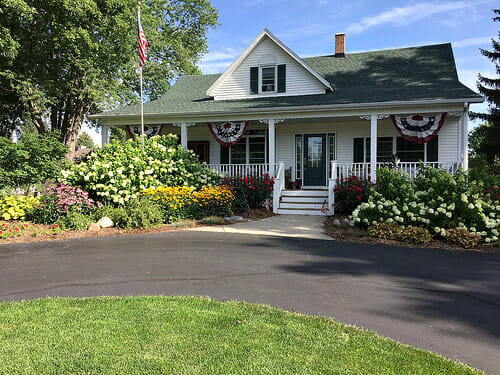 Dave and I have been SLOWLY working to renovate our home and yard for 8 years now… and we're almost finished (at least for now)! We just took one project at a time and kept plugging away.
Similarly, we began implementing a few small healthier habits into our lifestyle 6-7 years ago, and little by little, we have completely transformed the way we cook and what we eat.
It's still amazing to me how much different my grocery cart looks now than it did 6-8 years ago. I could have never made all of these changes at once, but slowly, over time, we have made several lifestyle changes when it comes to what we eat — and they've stuck!
I realize your lifestyle changes might look much different than mine — but if you find that you aren't making progress towards your goals, or you feel like you're taking 2 steps forward and 1 or 2 steps backward again, it might be because the changes you're trying to make aren't sustainable for the long-term.
What are some lifestyle changes you've made (or are making right now)?