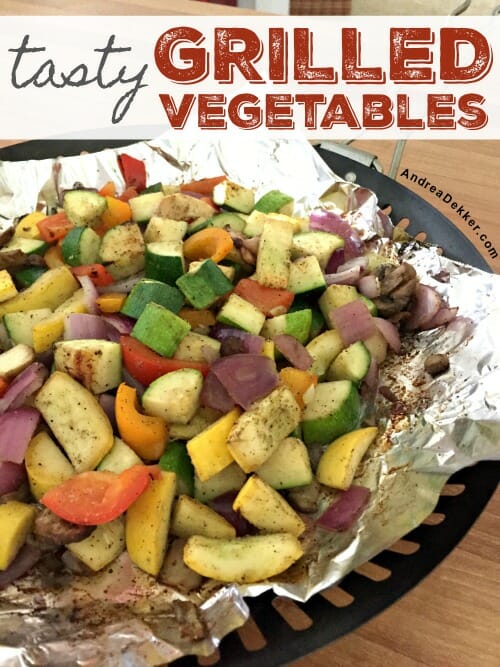 Earlier this year, I shared a few tips for making yummy roasted vegetables — a fairly simple, easily customizable side dish that could pair with almost any meal (even breakfast!)
Roasted veggies are definitely my go-to side dish for most of our meals… in fact, I usually roast 2 to 3 pans of veggies every few days to assure we always have a variety in the fridge. Then all I have to do at meal time is reheat the veggies for that meal and everyone gets to choose the variety they prefer.
NOTE: I almost always reheat them in my larger cast iron skillet over medium-low heat. I usually don't even use any oil or butter and they are nice and crispy-tender within minutes.
Throughout the summer grilling months, GRILLED veggies are another huge hit with our hungry family!
They are just as easy to prepare as roasted veggies (wash, slice and dice, season, grill) but have a much different flavor. They are smoky with a bit of a "charred" flavor (in a good way) and if you grill them along side meat, they will pick up a subtle meat flavor as well — yes, that means yummy steak-flavored veggies!
If you like roasted veggies… or if you're just looking for a slightly different way to prepare your favorite garden bounty, I'd highly recommend grilled veggies!
You can mix and match any of your favorite veggies and they will most likely taste pretty good. Dave and my current favorite veggie combination is green and yellow zucchini, red peppers, sliced mushrooms, and red onion (left in really big chunks). I've tried a variety of different seasonings on this veggie combination and we ALWAYS love it!
For those of you who aren't as adventurous and want a detailed recipe to follow, here you go!
Recipe for Grilled Veggies
Serves 2-4 (Dave and I often eat this all for one meal!)
INGREDIENTS:
1 small zucchini
1 small yellow zucchini or summer squash
1 c. sliced mushrooms
1/2 red pepper
1 red onion
2 T. oil or melted butter
1/2 t. garlic powder
1/2 t. basil
1/2 t. oregano
1/4 t. ground thyme
salt and pepper to taste
**Note: You could substitute 1-2 teaspoons of Italian Seasoning for the garlic, basil, oregano, and thyme.
.
DIRECTIONS:
Chop all veggies to roughly the same size (do NOT agonize over this, it doesn't need to be perfect).
Place veggies into a large bowl or a large zip-top bag.
Drizzle with oil/butter and sprinkle with seasonings. Mix well to coat.
Dump mixture onto prepared grill basket or into an aluminum foil packet (I line our grill basket with aluminum foil so veggies don't fall through the cracks)
Place grill basket in preheated grill and cook for roughly 12-15 minutes (checking veggies for doneness throughout).
Serve hot with extra salt and pepper and optional balsamic vinegar to drizzle over top.
As I mentioned above, almost any type of vegetable will work on the grill as long as they can cook in relatively the same amount of time.
For example, sweet potatoes, carrots, beats, parsnips, turnips, and other root vegetables will take longer to grill then zucchini, peppers, mushrooms, and onions — so don't mix those together as they won't finish grilling at the same time.
Also, feel free to mix up the seasonings depending on whatever else you are eating. If you put a specific seasoning on your chicken or steak, sprinkle a little of the same seasoning over the veggies too. You could even try marinading your vegetables in balsamic vinegar or Italian dressing for an hour or so before grilling (just make sure to drain the veggies well so your grill doesn't flare up on you!)
Unlike roasted vegetables that taste good a few days later (in my opinion), grilled veggies are definitley best fresh from the grill. However, Dave and I will gladly eat them in an omelet or egg casserole the next morning for breakfast (so don't throw them out!)
Our Grill Basket:
This is similar to the grill basket we have — I got it for $3 on clearance at the end of the season many years ago and it has served us well, although Dave is not a fan of the long handle that folds in. He says it's awkward to close the grill cover and hard to hold when it's super hot.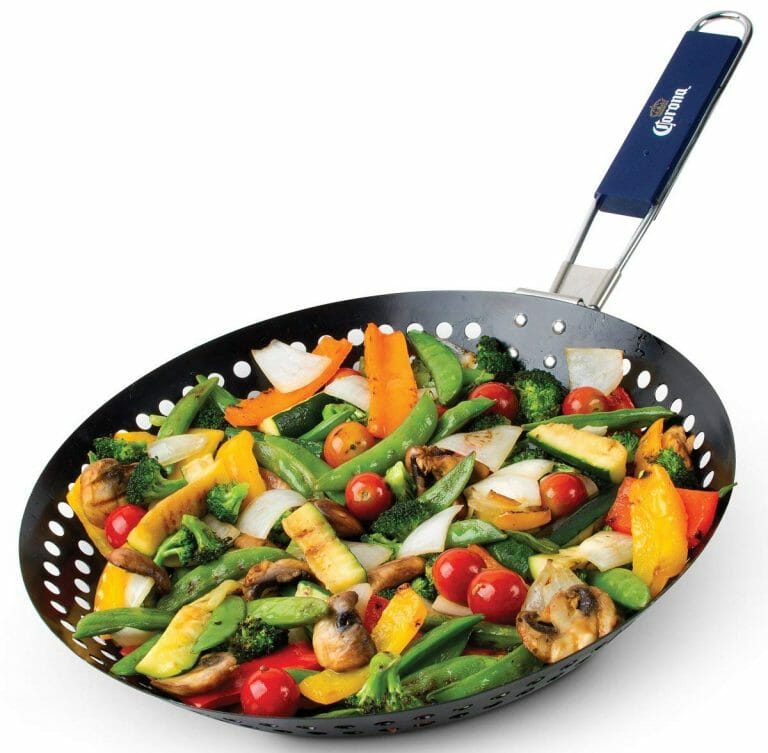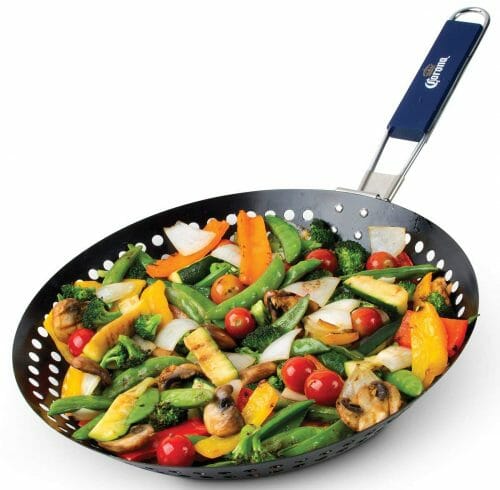 If I were to buy one now, I would get something like the one pictured below.
Not only is it much bigger, but the handles are easier to hold onto and the grill lid can close over the basket (it's very awkward to close the grill lid with our basket's long handle). Plus, the mesh holes are much smaller than the slots on our basket, so veggies won't fall through the cracks!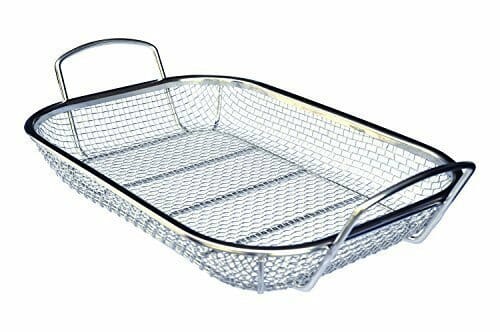 Of course, you can still grill veggies even if you don't have a grill basket. Just pack your veggies into aluminum foil, and lay it on the grill. You'll definitley want to use heavy-duty aluminum foil so it doesn't rip or tear (and drop all your veggies into the grill!) and you'll probably want to bring some sort of sheet pan out to the grill so you can transfer the aluminum foil pouch directly to the sheet pan for stability.
A Few More Grilled Veggie Ideas: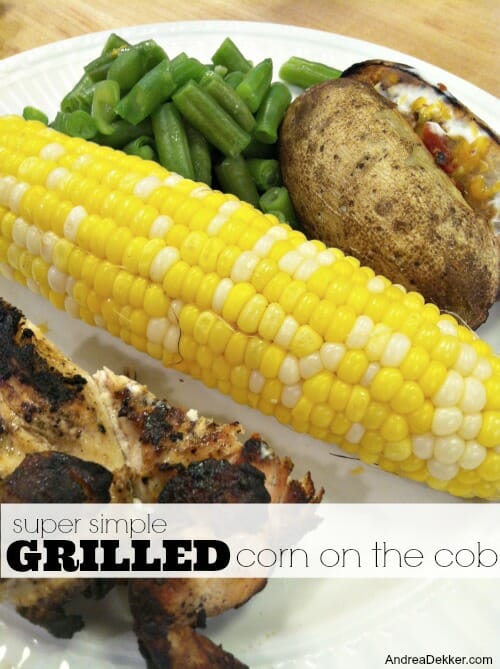 There is still plenty of warm weather for you to test out some grilled veggies… not only do they look really pretty on your plate, they also taste amazing.
Who knows, you might even get your kids to eat a few more veggies (James now claims he "loves grilled peppers, mushrooms, and onions"!)
What's your favorite way to eat vegetables?
Visit my virtual recipe box for more simple, delicious, family friendly recipes!