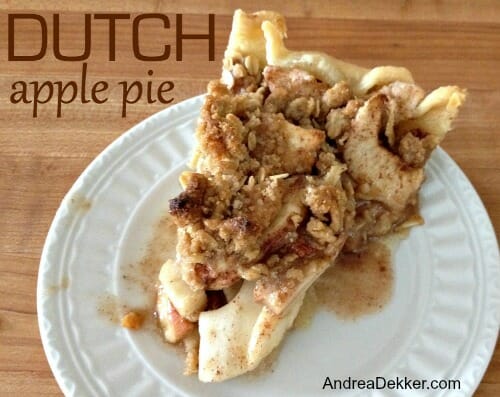 As I've mentioned before, apples have been my favorite fruit for as long as I can remember — and I think apple juice or apple cider will be my prefered breakfast beverages of choice for many years to come!
Last month, I shared my "apple-less apple crisp" recipe… and since there technically isn't any apples in that recipe, I thought it was only right to share my favorite apple pie recipe before the fall apple craze is over.
.
Plus, Nora got a new book about making apple pie so she wanted to make a pie.
I know people often shy away from making pie because they assume it's too difficult or complicated; but in my opinion, fruit pies are one of the easier desserts to make (especially if you buy refrigerated crusts like I do).
Just put the bottom crust in the pan, add fruit + sugar + seasonings, then top with another crust or a crumb topping. As long as you bake it correctly so the bottom crust isn't too soggy, you should have very little trouble with fruit pies.
They are also great recipes for kids to help out with — which is why I'm sharing this pie recipe as one of my Kids In The Kitchen posts.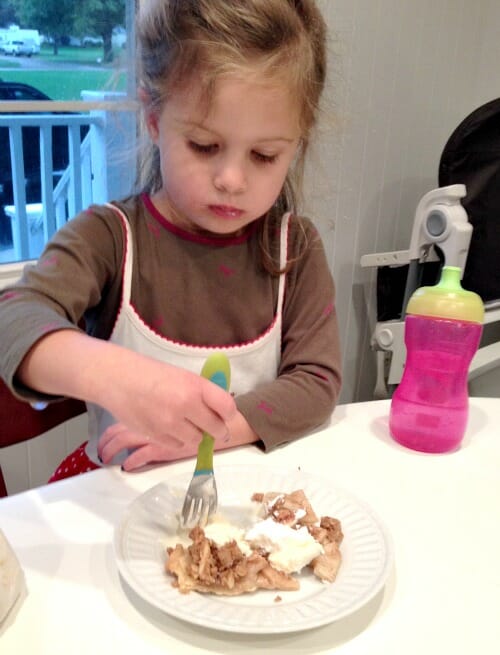 Since our family doesn't necessarily love lots of extra crust, I usually make Dutch Apple Pie — which has a streusel or crumb topping instead of a second crust (at least the version I grew up with).
A traditional "Dutch Apple Pie" was actually a very thick pie, usually with raisins mixed in with the apples, and a lattice crust on top (here's a more traditional Dutch Apple Pie recipe). However, what I've read is that when the Dutch immigrated to the United States, they didn't have access to the same ingredients, so they started using a crumb or streusel topping (I believe the Pennsylvania Dutch started this).
Now there are countless varieties of Dutch Apple pie, usually depending upon what region of the country you're from, and I'm sure they are all delicious!
The recipe I'm sharing today is one of our family favorites — especially with a little whipped cream or vanilla ice cream.
Oh, and if you're interested in a little more history about pie in America, you might find this article quite interesting 🙂
Recipe for Dutch Apple Pie
Serves 8
FILLING INGREDIENTS:
1 pie crust (I use Pillsbury refrigerated crusts. They are amazing!)
5 cups apples; peeled, cored and sliced
2 T. all-purpose flour
1/2 c. white sugar
1 t. apple pie spice
2 T. butter
TOPPING INGREDIENTS:
1/2 c. all-purpose flour
1/2 c. brown sugar
1/2 c. rolled oats
1 t. cinnamon
6T. cold butter
DIRECTIONS:
Preheat oven to 425*F.
Press pie crust into pan.
For the filling: Put cut apples in a large bowl. Sprinkle with flour, white sugar, and spices. Toss until apples are evenly coated and pour into pie crust. Dot the tops of apples with 2 T. of butter.
For the crumb topping: mix flour, cinnamon, brown sugar, and oats in a medium bowl. Cut in remaining 6 T. of butter until mixture is crumbly (I use my hands for this.) Spoon mixture on top of apples.
Bake in preheated oven for 10 minutes. Then reduce heat to 375*F and bake an additional 30 to 35 minutes — until topping is browned and apples are tender (cover with foil if it looks too brown.)
The hardest part about this pie is slicing up all the apples — but I use my apple slicer, peeler, corer for that! It only takes me about a minute to thinly slice enough apples for this pie, and they are all extremely uniform in size which improves the end results (at least in my opinion).
As you enjoy the Fall apple harvest, make sure you save a few apples out for a yummy pie… I promise, it will be easier than you might think!
Do you have a favorite apple pie recipe?
Visit my virtual recipe box for more simple, delicious, family friendly recipes!
Oh, and if you're looking for more apple recipes, here's one for apple crisp, a recipe for apple cake, and of course, applesauce!