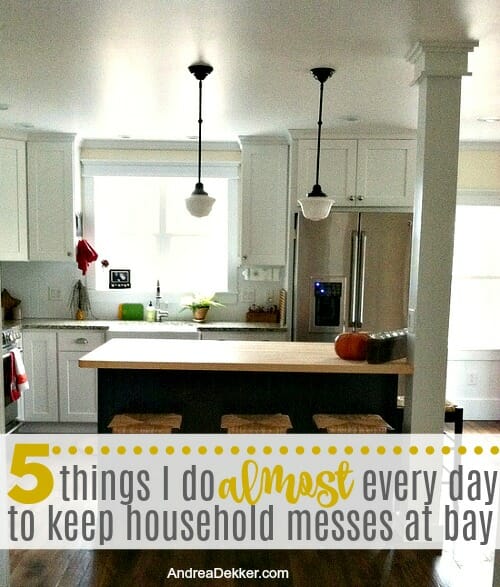 When it comes to the cleanliness of my home, I certainly wouldn't win any awards. I don't dust nearly as often as I should, the windows always have smudges, and my toilets will forever have little dribbles of pee on the seats, no matter how many times I wipe them each day.
Sigh…
That said, when it comes to how neat and organized my home is, I think I do a pretty darn good job of keep our home neat and orderly most of the time — thanks in large part to the 5 things I'm sharing in today's posts.
As many of you know, I am very routine oriented — so when I say I do something "every day" there's a VERY good chance I literally never skip a day. However, for the purpose of this post, I'm saying "almost every day", simply because there are always a few exceptions — and I don't want to be a liar.
If you'd like a few more of my "secrets" to keeping my home fairly neat and organized without a ton of effort, today's post is a good place to start!
1. I make the beds.
Always… always… always!
For as long as I can remember, I have made my bed every single day of my life. The only times I don't fully make my bed in the morning is when I'm on vacation and housekeeping will do it — but even then, I still straighten the sheets and pull all the covers up over the bed so it doesn't look as messy.
I make my bed immediately after waking up, and I make all the kids' beds too. Nora makes her own bed on the weekends, but since she shares a bedroom with the boys and they are both still sleeping when she gets up for school, she has a free pass not to make her bed (and she's not upset about that!)
The difference between a room with unmade beds and made beds is astonishing to me — and the fact it takes me roughly 3 minutes to make our bed with extra pillows and tucking in the sheets is most definitely worth my while.
.
2. I do laundry from start to finish.
I only do laundry 2 days a week (Tuesday mornings and Friday evening) but when I do it, I do it from start to finish in a relatively short time-frame.
I absolutely hate baskets of clean laundry sitting around my house… waiting for my kids to dump them out and probably get them dirty again!
I use the quick cycle for washing so the washer and dryer finish at almost exactly the same time, and then I immediately swap out loads, put another load in the washer, and start folding the clothes that just came out of the dryer.
And then… I PUT THE CLOTHES AWAY!
I don't leave the clean, folded clothing in the clothes baskets, on the couch, or on the table for someone to knock over and ruin my progress. I simply take 10 minutes and put everything away again.
I return the empty clothes baskets to the laundry room and go on with my day without baskets of clean, dirty, and who-knows-if-it's-clean-or-dirty laundry laying around.
In my opinion, this makes a huge difference in how messy and cluttered my home looks and feels. Plus, I love just the feeling of being "finished" with the laundry for a couple days.
NOTE: When I do laundry on Friday night, I put everything away except the kid's clothing, which I do after they wake up on Saturday morning.
.
3. I keep the floors clean.
Although it often feels like a losing battle these days, I try really hard to keep the floors clean (swept, vacuumed, and picked up) as much as possible.
We don't wear shoes in the house, so the vast majority of the dirt stays in the mudroom (which I sweep daily). I also sweep our kitchen and dining room floors every night after dinner — and wipe spills or sticky spots with a damp cloth as necessary.
I regularly vacuum our carpeted areas and shake out rugs several times per week.
With little kids laying on the floors and crawling around all day long, I like knowing my floors are relatively clean. Plus, I hate walking on crumbs!
ADDED BONUS: one added bonus of keeping my floors relatively crumb and dirt-free is that it forces me to pick up too. I can't sweep or vacuum if there are toys, books, games, clothing, crafts, etc. all over the floor.
.
4. I put almost everything in the dishwasher.
Dishes have long been one of my least favorite household chores — so washing the dishes and cleaning out the dishwasher are 2 tasks I happily pass over to Dave if he's available! 🙂
About a year ago, I finally got smart and started running the dishwasher every single night, right after dinner. That way, we could clean out the dishwasher before we went to bed and wake up to a clean kitchen and empty dishwasher every morning.
Since we run the dishwasher so regularly, and since I'm a master dishwasher filler (seriously, I can fit A LOT of stuff into our dishwasher!) we almost always have plenty of room for bakeware, cookware, pots and pans too — which means I never have piles of dishes waiting to be washed, or stacks of clean dishes waiting to be put away again. Everything just goes into the dishwasher and is completely out of sight!
I know it might sound like a small thing, but the fact that my counters and sink are almost always void of dirty (or clean) dishes makes a huge difference for me as I try to prepare food throughout the day.
Plus, since our kitchen is the first things I see when I walk in the back door, I want it to look nice. If all the dishes are in the dishwasher, it looks much nicer!
.
5. I pick up as I go.
Whether it's a big cooking or baking day, a craft project, yard work, sewing, folding laundry (see #2 above), or just playing with my kids, I try really hard to consistantly pick up as I go along.
This means wiping down the counters and putting dirty dishes in the dishwasher as I'm baking. It means picking up and putting away ALL craft or sewing supplies when we're finished using them. It means taking 5 minutes to round up my yard tools and put them away before moving on to the next thing. It means taking a quick break from playing to pick up before we get the next toy, game, or activity out.
I realize it might sound like unnecessary busywork, but taking a few minutes throughout the day to KEEP things neat and clean prevents the need for a full weekend of cleaning and reorganizing.
Picking up as I go is second nature to me now so I do it with little to no thought about the few extra minutes it takes. My kids are even used to it and sometimes start picking up on their own before moving onto the next activity.
This obviously helps our home to stay neat and orderly most of the time, but it also ensures our house is "company ready" within just a few minutes since we pick up as we go and usually only have one messy space at a time.
.
I know there are lots of other little (and big) things I do each day to keep my home running smoothly, but as I thought about the few that REALLY seem to make the biggest visual difference, these 5 came to mind first.
And honestly, I do think it's really important to consider the visual appearance of your home — even if it's just for your own sake. If your home LOOKS cleaner and more orderly, you'll be much less likely to contribute more mess (dump your papers on the desk to deal with later, throw your clothing on the bed to deal with later, leave dishes on the counter for later, etc.)
It WILL seem like work in the beginning as you re-train your brain to "do it now" versus leaving it until later, but over time, I'm very confident you can change (as long as you really want to change and are willing to put in the effort).
What would make your list of "things you do every day"?
.