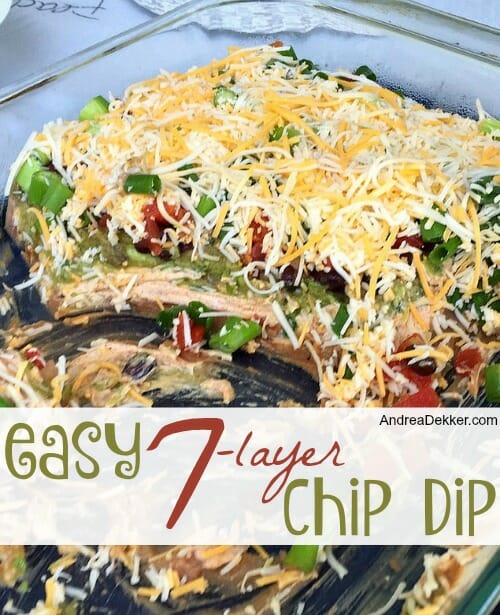 One of my most favorite "Mexican-ish" snacks (or side dishes) is this yummy 7-layer chip dip.
It's SO quick and easy to make and it tastes absolutely delicious with tortilla chips, corn chips, or even just by the spoonful (shhh)! Plus, it's a great make-ahead recipe that is the perfect addition to any Mexican feast, group potluck, or almost any type of backyard BBQ party.
I've already made this dip twice for 2 different summer gatherings (one with taco salad, the other with burgers on the grill). Both times the dish was scraped clean!
There are 101 ways you could mix up this recipe based on your own taste preferences and what you have in the house — and of course, you could easily omit ingredients to make a 4 or 5 layer dip, or add ingredients to make an 8 or 9 layer tip.
The possibilities are endless!
If you're looking for a ridiculously easy, make-ahead cold side dish for an upcoming summer gathering, this layer dip should do the trick!
Recipe for 7-Layer Chip Dip
serves 24
INGREDIENTS:
1 can (16 oz) refried beans (or make your own)
8 oz. sour cream
1 packet (1 oz.) taco seasoning (or make your own)
4 small avocados; pitted and peeled
2 T. lime juice
1/4 c. salsa
1/4 c. fresh cilantro; chopped
1/2 t. garlic powder
salt and pepper to taste
1 can (16 oz.) black beans; rinsed and drained
1 can (16 oz.) diced tomatoes; drained (or 3-4 fresh roma tomatoes)
1 bunch green onions; chopped
2 c. shredded cheese
DIRECTIONS:
Spread refried beans over the bottom of a 9″ x 13″ baking dish (or 2 9″ pie plates)
In a small bowl, mix sour cream and taco seasoning. Spread over beans.
In the same bowl, mash avocados. Stir in lime juice, salsa, cilantro, garlic, salt, and pepper, and spread over sour cream mixture. NOTE: You can also use already prepared guacamole in place of these ingredients (use about 2 cups)
Sprinkle black beans, tomatoes, green onions, and shredded cheese over guacamole mixture.
Cover and refrigerate until ready to serve.
I like to let this dip sit in the refrigerator for at least an hour before serving (because it's best nice and cold) but since I prefer to make my food well in advance of any party or gathering, I usually make it the night before and keep it tightly covered in the fridge until we're ready to eat.
The longest any leftovers have lasted in our refrigerator is 2 days — but that's only because we always eat it so quickly (not because it goes bad)!
I have gotten SO many compliments on this super simple dish over the years — everyone always wants the recipe.
Add in the fact that many of the ingredients are easy to keep on hand in the pantry AND that it can easily be made ahead of time, and it's no wonder this yummy 7-layer dip quickly became one of my go-to dishes to bring to parties or make for entertaining at home!
What's your favorite dip recipe?
Visit my virtual recipe box for more simple, delicious, family friendly recipes!