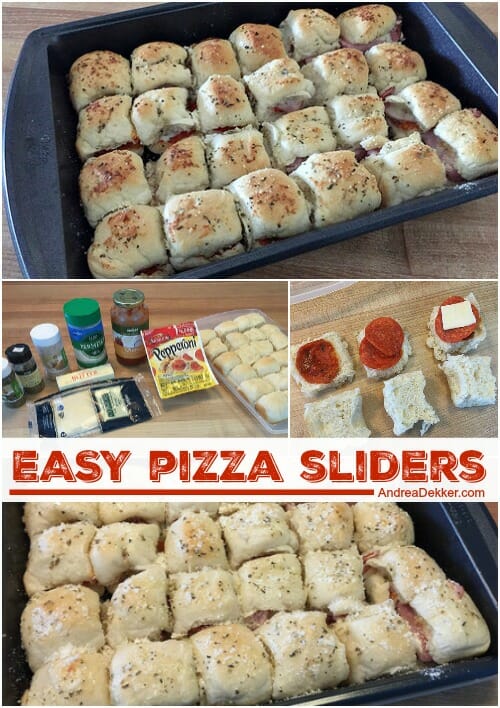 Today's recipe is a family favorite, and I'm asked for the recipe almost every time I've ever made these pizza sliders. They are absolutely delicious, super frugal, and so ridiculously simple to make… thankfully, my family doesn't get tired of me making them over and over again 🙂
Our favorite varieties are pepperoni pizza sliders and ham pizza sliders — but I can attest that sausage and bacon are yummy too!
Believe it or not, I usually make the full 2-dozen sliders for our small family, and we happily eat the leftovers for lunches throughout the next couple of days (yes, they are THAT good!)
Often I'll make half pepperoni and half ham so we can each have a little variety. I serve them with fresh or canned fruit, chips, and a salad or raw veggies — so hardly any work with the side dishes either.
In general, this is a winning recipe all the way around!
Recipe for Easy Pizza Sliders
makes 24 mini sliders
INGREDIENTS:
mini slider buns (I make my own using frozen bread dough, but you can buy them. I make 24 really small buns, but any size will work)
pasta or pizza sauce
pizza meat (pepperoni, ham, sausage, bacon, salami, etc)
Mozzarella cheese (sliced or shredded)
4 T. butter
1/2 t. basil
1/2 t. oregano
1/2 t. garlic powder
pinch of salt
2 T. Parmesan cheese (I prefer the powdered cheese over the nicer shredded cheese, but either will work)
DIRECTIONS:
If you're making your own buns, I would suggest defrosting ONE 1-pound loaf of frozen bread dough and cutting into 24 equal chunks. Let it rise and bake for about 17-20 minutes (don't over-bake them).
Once you have your rolls, slice them all in half and place the bottoms in a greased 9″ x 13″ baking dish
Spread bottoms of buns with a small amount of pasta or pizza sauce and top with meat, cheese, and top bun.
In a small bowl, melt butter in the microwave (it only takes a 10-15 seconds)
Mix basil, oregano, garlic, salt, and Parmesan into the melted butter and pour over sliders.
Sprinkle with additional Parmesan cheese if desired and bake for 15 minutes at 325ºF or until cheese is melty and gooey.
Serve, eat, and enjoy!
I can easily eat 3 or 4 of these ooey, gooey sliders (along with additional sides), and my kids almost always have 2 full sliders.
I regularly make these for potlucks and other parties — sometimes 4-6 dozen at a time (and I rarely ever have any left over!)
Also, I could see these being a requested "after school snack" once my kids are a little older — probably a better choice than a cookie or a bag of chips too!
If you're looking for a quick weeknight dinner, a snack for your kids and their friends, or a simple meal to bring to an upcoming potluck, give these sliders a try. I hope you love them as much as we do!
Do you have a favorite slider or baked sandwich recipe?
Visit my virtual recipe box for more simple, delicious, family friendly recipes!