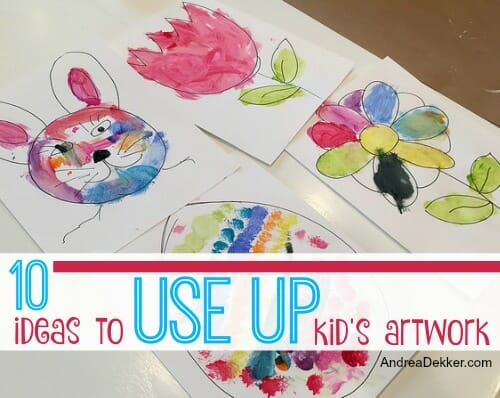 The number of questions I get about kids artwork is truly insane — apparently every parent and grandparent everywhere is looking for a way to reduce the amount of paper from their children and grandchildren's art projects, paintings, drawings, crafts, and other special projects. 🙂
Although we are just in the beginning stages of dealing with kids art, I do feel like we have lots of simple systems in place to not only enjoy the artwork from our 3 budding artists, it but also USE IT UP (you know, so we don't have to keep it forever and ever!)
If you're looking for a few ways to USE UP your child's or grandchild's artwork, I hope some of our ideas work for you too!
1. Take a picture and toss the actual art.
If you have a good system for taking, sorting, organizing, and managing your digital photos, this might be the fastest, simplest, and easiest method to quickly reduce the amount of paper in your home.
Right now, I have a flickr photo album for "Nora's artwork" and I just created an album for "Simon's artwork". I don't remember all the time, but MOST of the time, I quickly snap a photo of them with their art work, painting, drawing, picture, craft project, etc. and put it into this album.
Then, when I make their yearly photo albums, I include several pictures of them with their artwork.
I realize it's not the same as the "originals" but considering the photos take up absolutely NO space in my house, I'm OK with replicas 🙂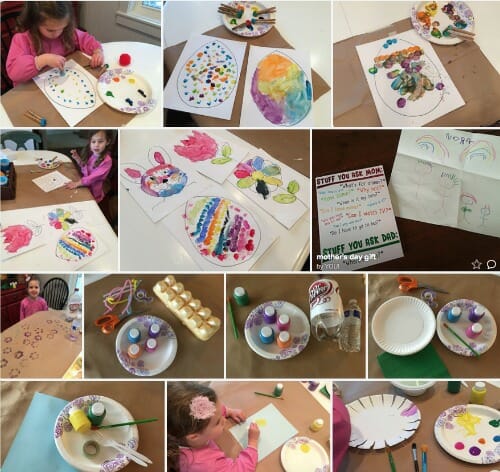 2. Mail or give it to others.
Nora LOVES giving gifts to others, so every week, we mail (or give) some of her artwork to someone — grandparents, cousins, aunts, uncles, a friend who went off to college, neighbors, elderly people from church, teachers, etc.
I often write a note to go along with the picture (especially if it's someone we don't know that well) explaining how Nora loves to color and draw and that we like to send out her artwork to bless others.
I cannot tell you how many phone calls, emails, and return cards we've gotten thanking Nora for her "beautiful artwork" and thoughtfulness. The older folks and shut-ins at church especially love getting her pictures… and Nora thinks it's so great to give her things away.
I even ordered her 2 sets of the free return address labels from Shutterfly and have them wrapped up as one of her Christmas gifts (along with her own stationery). This way, she can use her own paper and envelopes for mailing future cards!
3. Make envelopes and stationery.
Speaking of stationery… we often use actual artwork to fold up and make into our own envelopes and stationery. We'll write notes on the back of a drawing (I'll write it in pencil and Nora will trace it in marker) and then we'll fold up another piece of artwork to make an envelope. This means we use up TWO papers in one swoop!
We usually don't put these envelopes in the US mail, but we use them when giving things to people at church, grandparents, or neighbors.
We also use fun craft scissors to cut various finger paintings into gift tags. Nora loves to "practice cutting" especially if she can use fun scissors, so this is always a great way to use up some artwork!
4. Make countdown chains.
I believe I've mentioned our love of countdown chains before — basically, my kids are obsessed with them 🙂
We make countdown chains for birthdays, holidays, vacations, the start of something special, someone coming to visit, or just because… and we often use recycled artwork to make the links for the chains.
We use a small craft paper cutter (similar to this one) and Nora knows how to use it to cut small strips of paper for our chains. Both Simon and Nora can usually manage to glue the links together on their own — and then we slowly toss the artwork little by little as they tear the link each morning.
They don't realize they're throwing away their own artwork because they are so excited about removing another link.
5. Make wrapping paper or gift tags.
We have 2 big rolls of white craft paper and we regularly roll it out on the floor and let the kids color to their heart's content. Then we roll it back up until the next time.
As we need wrapping paper throughout the year, we'll cut off a couple feet of our roll and use the kid's hand-made drawings as wrapping paper (mainly for grandparents, teachers, or the kids' friends).
And as I mentioned above, we also cut chunks of artwork into gift tags.
If we have a special occasion (recently, Dave's Dad's 60th birthday) we color specific things just for that occasion. The kids LOVE this and think it's so fun to color on the floor. I love that it never sticks around my own house!
6. Make a calendar.
This might require a bit more planning, but we've done some fun calendars (both for ourselves and for grandparents) over the years.
Sometimes I've done a special project (like last year's hand-print / foot-print calendar) and other years I've just uploaded pictures of the kids with pictures of their artwork.
Either way, I always wait until I get a free calendar (or BOGO) coupon from Shutterfly, Snapfish, or Minted, and then order my calendar. The shipping is only a few bucks so I often give the kids their own calendar to hang in their office under our stairs. They love flipping over to the new month, looking back at their own pictures and artwork, and coloring in the different boxes throughout the month.
7. Create a book for the child.
I've seen people make digital photo books for their children with JUST pictures of craft projects and artwork — but even if you don't want to go the digital route, you could easily make a small paper "book" out of your kids artwork with very little time or effort.
I did this for Nora's 3-school papers last year. We only saved select items and put them in a binder with some pictures of her class, friends, mommy and me night, etc. We also included special Thanksgiving, Christmas, and Valentine's things she made, along with her "report card".
She still loves looking through this book and laughing at how silly her pictures were (since she is so much better at coloring these days!)
8. Display it.
If you want to actually frame your kid's artwork, they sell these really cool frames that allow you to easily swap in new drawings. I don't use them yet (my kids really aren't old enough for framed artwork) but these frames are on my "to buy someday" list for when our kids are a couple years older.
For now, we just hang their art in their "play office closet", in their dress-up closet upstairs, or on the wall next to the refrigerator (our refrigerator is not magnetic).
I've seen cool display walls in garages, laundry rooms, mudrooms, etc… and I always have these ideas in the back of my mind… someday 🙂
One more thought about displaying kid's artwork…
I always make it clear that even though we're displaying this artwork NOW, it doesn't mean we will display it forever. If Nora or Simon want to add more artwork to a space that's already full, they know they need to first choose a few things to trash and then we'll hang the new stuff.
For example, I keep one drawing from each of them posted next to my desk. If they want to hang a different drawing next to my desk, it means I'm going to toss the old drawing. They usually put up a little stink, but give in rather quickly! Sometimes they even remove the old artwork before asking to put new things up!
9. Save it for seasonal decorations.
We have a handful of holiday artwork items that we put away with our holiday decorations and break out the following year. Nora also made a cute Nativity book at school last year and we store that with the Christmas decorations and read it after dinner during Advent.
It might not be gone for good, but it's at least out of sight for most of the year!
10. PITCH IT!
Seriously, there are only so many uses for kid's artwork — and if your kids paint and color and draw as many pictures every single day as my kids do, there is no way you can possibly use it up fast enough.
We keep a small paper-size basket on the top of our craft cabinet (see red cabinet below) and I put all their papers for the week in there. By the end of the week it is always overflowing (even after we've given several items away).
On Saturday night, after they go to bed, I quickly go through that basket and pitch at least 60% – 80% of whatever is in there. I keep a few items we might want to display or give away… but everything else is tossed out.
After a couple years of doing this every week, Nora has only ever asked me for ONE thing I threw out (and she remembers everything).
I realize this might not work for older children who are more possessive of their things — but in my opinion, most children would keep EVERYTHING if we let them. So I reserve the right to make executive decisions about my kids' artwork.
Yes, I'll let them pick what items they want to display. Yes, I'll let them give specific items away to others. But if they haven't asked about it in a week, I'm probably going to pitch it (especially if it's just scribbles or something they didn't put much time or effort into).
.
I'm sure there so many other fabulous ways to USE UP your child's artwork — but these 10 ideas have worked well for us over the past 5 years.
Our kids have so much fun coloring and painting to their little heart's content… and we have very little (if any) kids "paper clutter" in our house as all the artwork is being used in some way — win-win!
If you have other ideas, please share them in the comments!
Also, as of last week, Nora no longer makes her "R's" like a big round ball with 2 legs — so sad 🙁
She said she's old enough to "write like a grownup now" so she needs to make her "R's" the right way. Dang school — why do they have to teach her all these uncute things!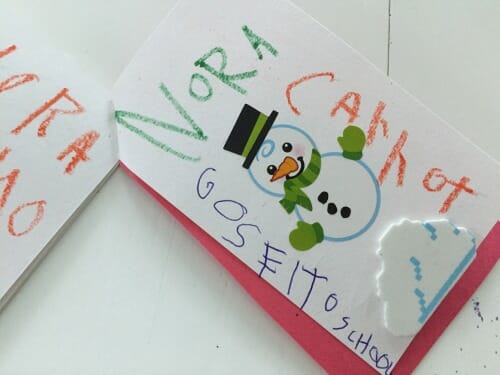 "Carrot goes to school."
In case you're wondering what she wrote in addition to her name… Carrot is the name of her snowman!