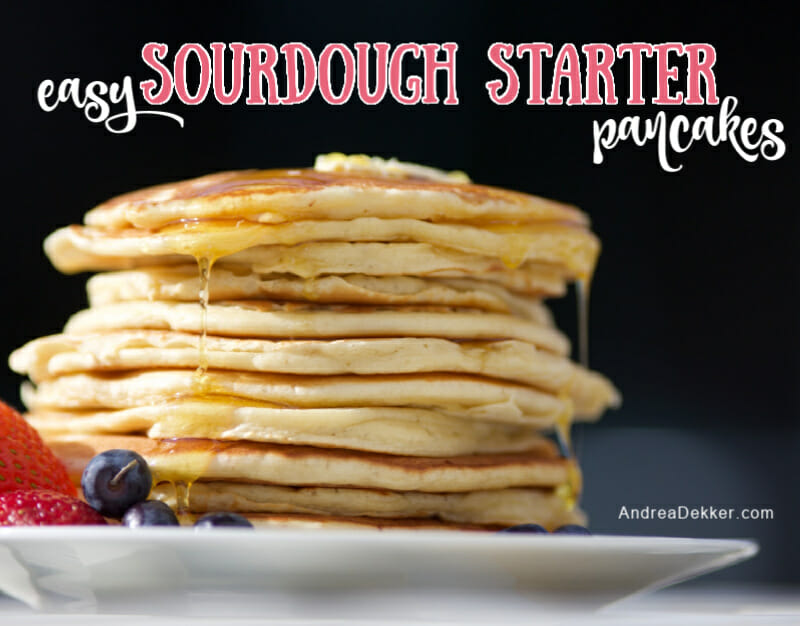 I've been diligently feeding, growing, nurturing, and baking with one or more sourdough starters since May of 2019 (oh my word, it feels like 100 years though!) and I'm always looking for new uses for my starter (which is why I love today's sourdough starter pancake recipe so much!)
I'll admit… at this point in my life, I'm not hugely excited about sourdough bread.
I've given it a valiant effort over the past 5-6 months (seriously, it feels like SO much longer than that) but the whole process of making sourdough bread just feels "too much" for me right now — especially since my kids don't even like it!
Can you believe they didn't even like my sourdough cinnamon rolls?? (They were GOOD, in my opinion!)
I've given up (at least for now) on the idea of sourdough bread…
However, my stubborn and strong-willed self just cannot let my starters die because I know how much effort went into "growing" them in the first place!
I currently have 2 starters — a whole-grain Kamut starter and an all-purpose starter — alive and well in my refrigerator. Of course, in order to keep them alive and well, I need to do something with them every week… and since I'm not making bread, I had to come up with another use for the starter.
That's where my SUPER SIMPLE recipe for Sourdough Starter Pancakes comes into play!
As stated, this recipe is specifically for the STARTER — and you can pull the starter straight from the refrigerator if you want. It's one of the best uses for sourdough starter I've found since I started my sourdough journey… and I've tried a lot!
I use a full 3 cups of starter to make a big batch of pancake batter that lasts our family 2 mornings. If you don't have that much starter or don't need that many pancakes, the recipe measurements are extremely easy to cut in half or into thirds.
And if you don't have a sourdough starter but still want to give this recipe a try, I've included options for you too!
Whatever the case, our kids LOVE these sourdough pancakes!
This post may contain affiliate links. Please read my disclosure.
Yield: 20 pancakes
Easy Sourdough Starter Pancakes
If you need a way to use up a bunch of sourdough starter, these pancakes are a deliciously simple option! Our kids LOVE them; I hope yours will too!
Ingredients
3 c. sourdough starter (can be taken directly from the fridge or used at room temperature)
3 eggs
3 T. melted butter or oil
3 T. maple syrup, honey, or sugar
1/2 Tbl. baking soda
1/2 tsp. salt
Instructions
Measure sourdough starter into a large bowl
Add remaining ingredients and mix well
Drop batter onto hot griddle or frying pan
Add optional chocolate chips or blueberries
Flip when batter is bubbly and fry until both sides are done
Enjoy with butter and maple syrup
Notes
If you don't have sourdough starter, simply substitute with 2 c. flour and 2 c. water or milk. Then replace the baking soda with 1 t. baking powder and 1 t. baking soda.
Nutrition Information
Yield
10
Serving Size
2 pancakes
Amount Per Serving
Calories

217
Total Fat

7g
Saturated Fat

3g
Trans Fat

0g
Unsaturated Fat

3g
Cholesterol

65mg
Sodium

189mg
Carbohydrates

34g
Fiber

2g
Sugar

6g
Protein

6g
Nutritional information is approximate and does not account for additional ingredients or added toppings.
I believe I've made this exact recipe once a week for the last 3 to 4 months, and the pancakes are devoured every time!
They have just the right hint of sourdough taste without being too overpowering for the kids' preferences.
NOTE: this is the fabulous 8-cup " batter bowl" I use to mix up most of my pancake batters. It's super convenient because it has measurements on the sides and it has a tight-fitting lid too.
When it comes to baking fresh, whole grain bread, I'll stick with my tried-and-true recipe and use my sourdough starters for pancakes!
More Pancake Recipes:

If you're not into sourdough but love pancakes, you should definitely try my Whole Grain Oat pancakes, my Baked Puff Pancakes, or my original recipe for "Perfect Pancakes"!
What are your favorite ways to use up sourdough starter?
Visit my virtual recipe box for more simple, delicious, family-friendly recipes!