Finding Your "Good Enough"
posted by Andrea | 10/27/2016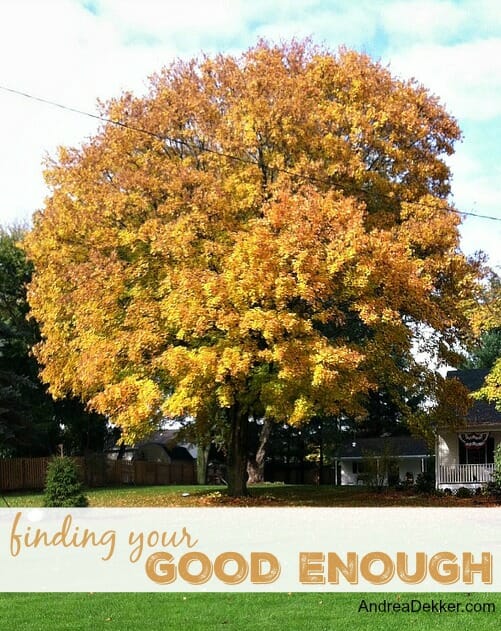 As a self-proclaimed "do more at less than 100%" person (a.k.a. not a perfectionist in any way) I have become an expert at determining my own "good enough" standards and doing just enough to meet those standards.
This does not mean I'm lazy (at least not in my opinion); it simply means that I strive to be as efficient and as productive as I can be — doing as much as I can possibly do, as well as I can do it, in the amount of time I have to do it — without hemming and hawing over every nit-picky detail or spending hours and hours stuck in the rut of perfectionism.
I move quickly, I don't waste time, and I'm almost always very satisfied with the good-enough-results of my efforts.
That said, I will be the first to admit that my good-enough-standards have been lowered a notch or two over the past few years — namely because we've added 3 more people to our family, and those people require A LOT of my time and energy 🙂
While I'm not one to blame my children for a messy home (for the most part, our house truly isn't "messy"), I have shifted my priorities around quite a bit these past 5 years, and my housekeeping has taken somewhat of a backseat to other areas of my life.
By no means do we live in a filthy pigsty… but ideally I would spend more time dusting, clean the bathrooms more regularly, and do more thorough deep cleaning. Instead, I've created a "good enough" cleaning routine that keeps our house clean enough for me to feel comfortable living here and inviting guests inside, but not so clean that it requires crazy amounts of my time and energy.
I would also love to have more decorations throughout my home — both seasonal and everyday country farmhouse decor — but for the time being, I decorate with kid-friendly items, or keep my decorations where little hands cannot reach them.
Eventually, I will be able to keep my house as clean and decorated as I want… but for now it's good enough. 
House projects and landscaping are other areas Dave and I have both settled for "good enough" on many occasions. We're to the point where we've put a large amount of time, energy, and money into our home and our yard… and we are so happy with how everything has come together.
However, there are still so many little projects we'd like to do "someday" (can anyone relate!) We are anxious and excited to (eventually) get to those little projects; but we realize it might realistically be a few years away since our days already seem to be so filled with other things, people, activities, and obligations.
We frequently talk about our timeline for upcoming projects, but we aren't forcing anything. We are content to let the wallpaper stay in the bathroom off the kitchen for now, and we're fine with the fact that we never did any landscaping to replace the 12 huge trees we had removed last October… even though it looks horrible back in that area right now.
We will get to those projects eventually… but for now, it's good enough! 
When it comes to my blog and business, I could do SO much more than I am. I could optimize my SEO, spend hours and hours promoting and engaging in social media, monetize my content with paid links and more advertisements, grow my email lists, pitch companies for sponsored posts and advertisements, speak for various women's groups, and maybe even write a book!
It sounds so fun and exciting when I list everything out — especially since I could probably double my income if I did everything I listed above. But I would also have to put my kids in daycare all day, sacrifice almost all my free time, and get used to being on-the-go all the time.
That's not what I want for my life right now, so I write my blog posts and do my VA work as quickly as possible and then move onto the next thing on my list. I'm thrilled to be able to work from home and happy with what I'm able to do while taking care of my kids.
In a few more years, I'll have more time to devote to my business… but for right now, it's good enough. 
I could go on and on, but I think you get the idea.
Everything from cooking and cleaning to finances and even self-care  — my main goal right now is to do as much as I can, as well as I can, in as little time as possible! 
I know this plan won't work for every personality type or in every season of life, but it's what seems to work the best for me right now.
If you constantly feel like you need to do more, I would encourage you to come up with your own "good enough" standards to free up some time.
Maybe that means only vacuuming once a week (or once a month) and using a few disinfectant wipes to "clean" the bathroom.
Maybe that means scheduling frozen pizza and takeout for 2 meals a week to allow more time for other activities.
Maybe it means ignoring the weeds for a few weeks and not planting a vegetable garden next spring.
Maybe it means not sorting your laundry or not putting out holiday decorations this year.
Whatever the case, I have a feeling you'll feel much more freedom to move forward and move onto the next task on your list if you set your own good enough standards and stop dwelling on all the things you could be doing (because there is ALWAYS more to do!)
What is your "good enough"?
Related post for anyone striving for good enough:
Our Good Enough Vegetable Garden
Why I'm a Do More at Less Than 100% Person
EST: The 3 Letters that Can Sabotage Simple Living