July means Cherry Season in many places across the country — and it just so happens that TODAY, July 11, is National Rainier Cherry Day (I should clarify that I used Bing cherries in all the recipes for today's post — but it's still a fun coincidence!)
Dave and I LOOOOOOVE fresh cherries, and even though Michigan produces tons of cherries (Traverse City Cherries!) I almost always buy Washington cherries from the grocery store.
I realize this might seem somewhat odd; however, as some of you know, Dave is from Washington State (more specifically, the Yakima Valley area), and most of the Washington cherries sold in our grocery stores are directly from Yakima Valley and surrounding areas. As I mentioned in this post a few years ago, Dave had many summer jobs picking and working with cherries — oh the memories!
If you've never had Washington cherries, you're missing out!
Here are a few pictures of the beautiful cherry orchards in Yakima Valley.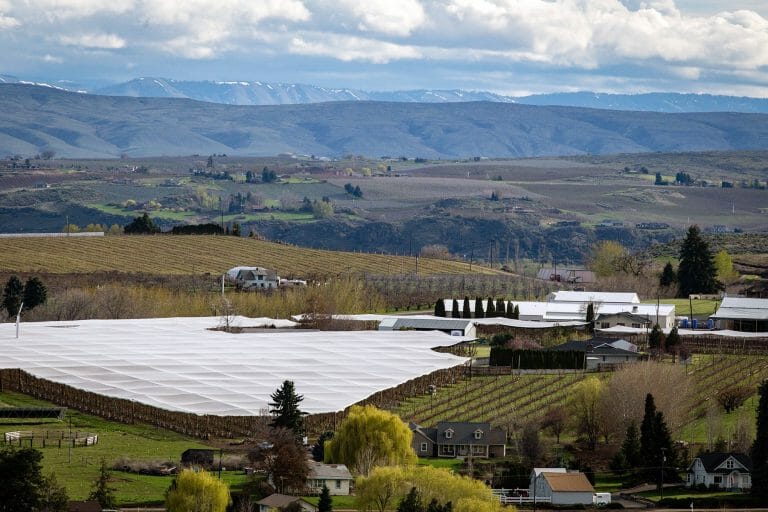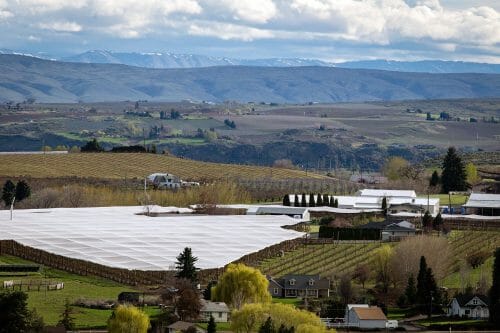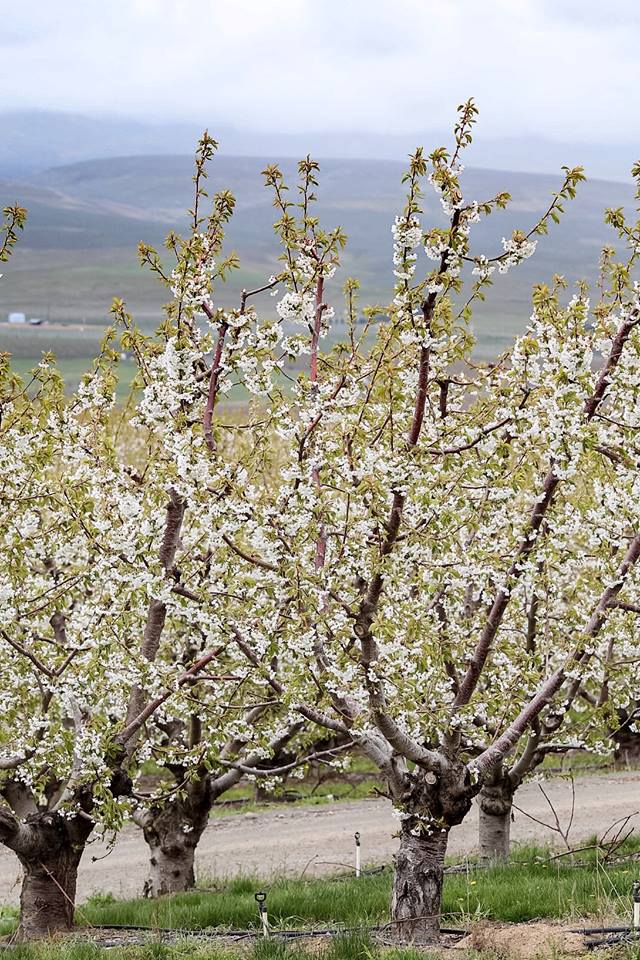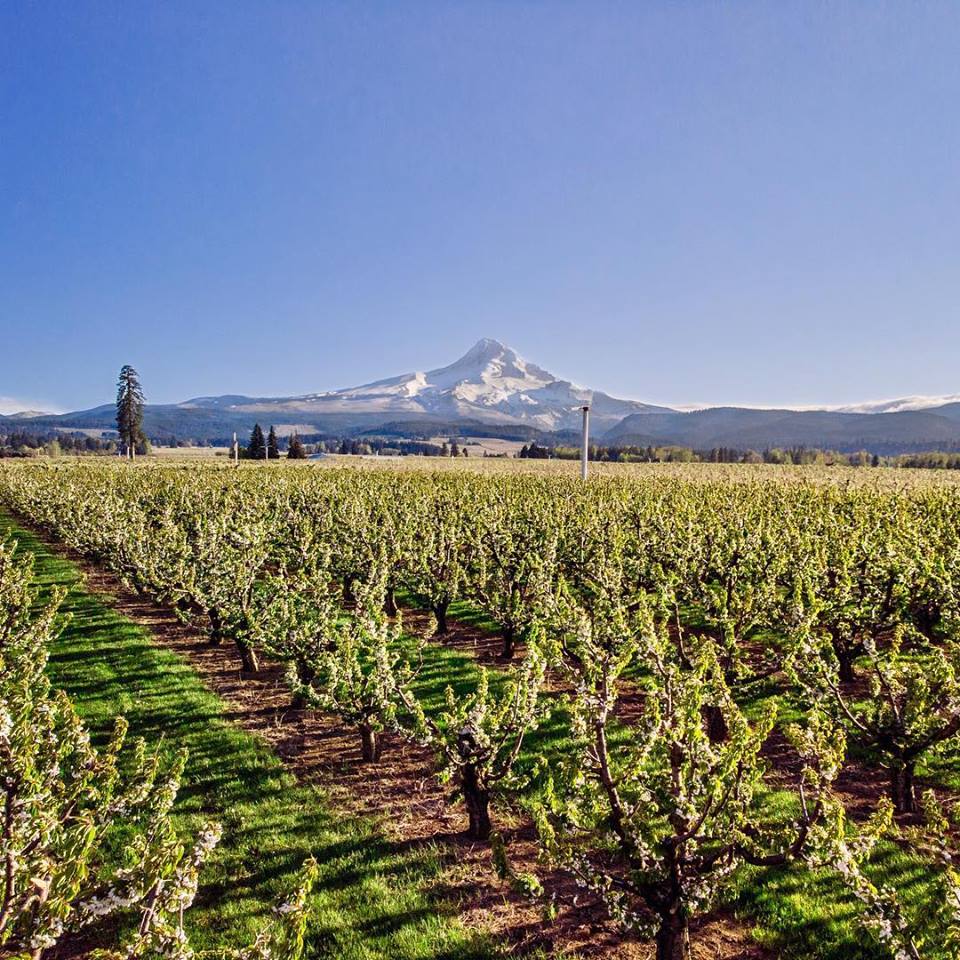 So I guess for Dave, it's sort of a "taste of home" when we get fresh Washington cherries.
And thanks to a partnership with Northwest Cherry Growers (a Yakima, Washington, based organization) we recently got a HUGE shipment of delicious sweet cherries, straight from Yakima Valley!
Dave and I were headed to his parents house the day our cherries arrived — so we brought a big bag with us to share.
The rest of the cherries were quickly pitted and frozen, baked into delicious treats, made into fruit compote for yogurt parfaits, or eaten raw as one of our favorite summer time snacks!
My hands were literally stained a reddish-black from all the cherry juice — my nail beds looked like I had just been digging in the dirt, they were so black!
Here's a link to the cherry pitter I use.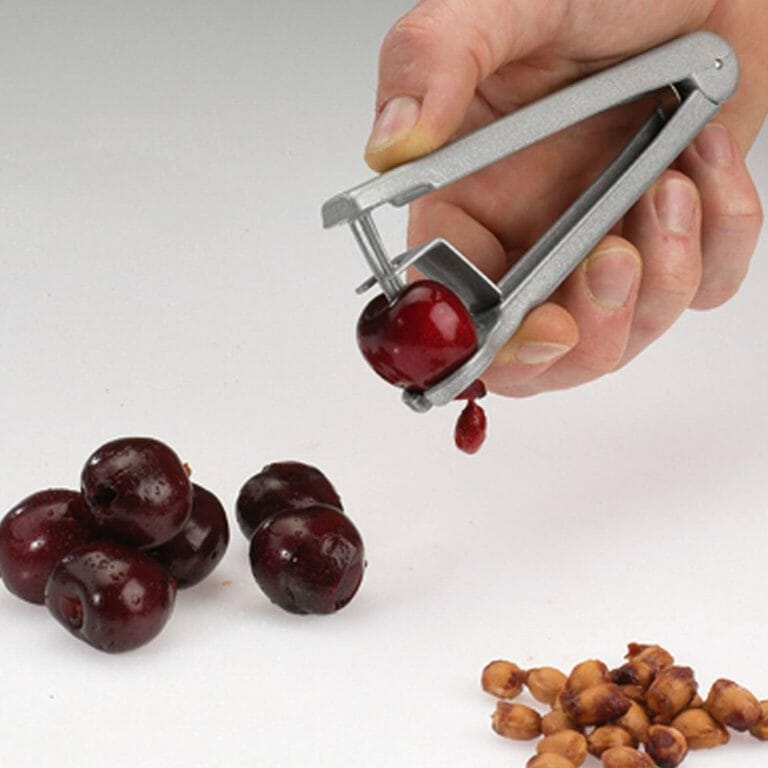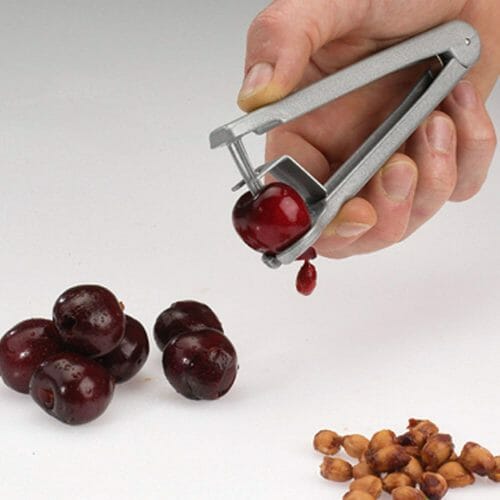 .
Did you know…?

There are roughly 65 cherries in a pound.

Cherries were around before any recorded history (they have found pits in stone age caves).

Sweet cherries are found to reduce inflammation. They also strengthen the immune system and can help fight diseases like gout and arthritis!
Although eating fresh fruit is a fantastic (and very simple) way to enjoy these delicious morsels, I didn't want to risk any of them going bad by sitting around for too long. So, as I mentioned above, I tried to use up all the cherries quite quickly.
Here are a few of the recipes I made and how we preserved LOTS and LOTS of cherries for later in the year!
.
Baked Cherry Donuts
The very first thing I did with our cherries (besides shove a bunch in my mouth) was to make these delicious baked cherry donuts.
I only made a half batch (which made 6 donuts in the donut pan I borrowed from my neighbor) and it was good I didn't make more because they were definitely "best fresh".
The donuts were absolutely FANTASTIC warm from the oven (I made them in the evening) — but the glaze soaked in and they were fairly soggy the next morning.
Frozen Yogurt-Covered Cherries
These are perfect for a quick snack — however, they still have the pit inside, so you'll need to let them defrost for a few minutes before popping them in your mouth!
Wash and dry cherries
Dip them in yogurt (vanilla or flavored yogurts taste better than plain)
Place on parchment paper
Freeze for 20-30 minutes (or longer)
Eat and enjoy
Frozen Cherries for Baking
Since I do quite a bit of baking all year long, I figured the best use of these cherries would be to freeze them for later. Fortunately freezing them is a VERY simple process.
Wash cherries
Remove stem and pit
Place into freezer bags
Freeze
NOTE: I usually cut my cherries in half before freezing — partially because I like using smaller chunks for baking, but also because there are times when the pit doesn't actually pop out, so if I cut them in half, I can remove any sneaky pits!
Creamy Chocolate Cherry Bars
I don't have pictures because they were eaten so quickly… but these bars are a combination of ALL my favorite sweets — cheesecake, chocolate, Oreos, and cherries!
YUM!!!!!
.
White Chocolate Cherry Layer Bars
I made a delicious version of my Easy Layer Bars with white chocolate chips, sliced almonds, cherries, and shredded coconut as the "layers" — all with Sweet And Condensed milk poured over top.
They were fantastic!
Cherry Peach Salsa
Dave and I love fresh salsa — although I think it's just the Cilantro we love so much 🙂
Either way, we are huge fans of cherry peach salsa — and it really tastes great with fresh peaches and fresh cherries. We were able to get fresh cilantro from our vegetable garden too!
This is roughly the recipe I use:
1.5 c. cherries; chopped & pitted
1 c. peaches; chopped
1/2 c. red peppers; diced
1/2 c. red onions; diced
1/2 c. fresh cilantro; chopped
1 t. minced garlic
2 T. lime juice
Mix all ingredients together, enjoy with tortilla chips, on grilled chicken or fish, or just by the spoonful!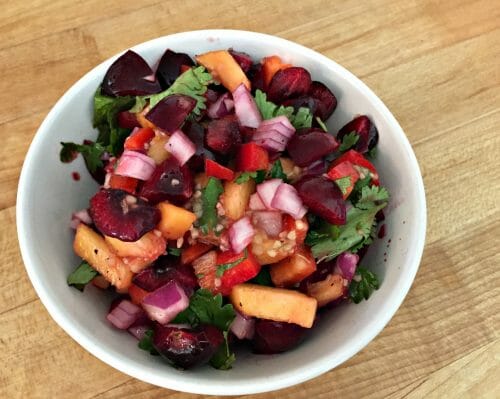 .
Oh, how we love cherry season!
As of this past winter, Dave has officially lived in Michigan longer than he lived in Washington, and although we are fortunate his family members all live fairly close by now, it's still a special treat to enjoy delicious fruit that was literally grown just down the road from where he grew up.
I'll enjoy cooking and baking with our Yakima Valley frozen cherries all winter long, and we'll anxiously anticipate another bountiful cherry season next summer!
In the meantime, I'd love to know…
What are your favorite cherry recipes?
A big thanks to Northwest Cherry Growers for sponsoring this post and giving Dave a little taste of home and giving me an excuse to do a ridiculous amount of baking!