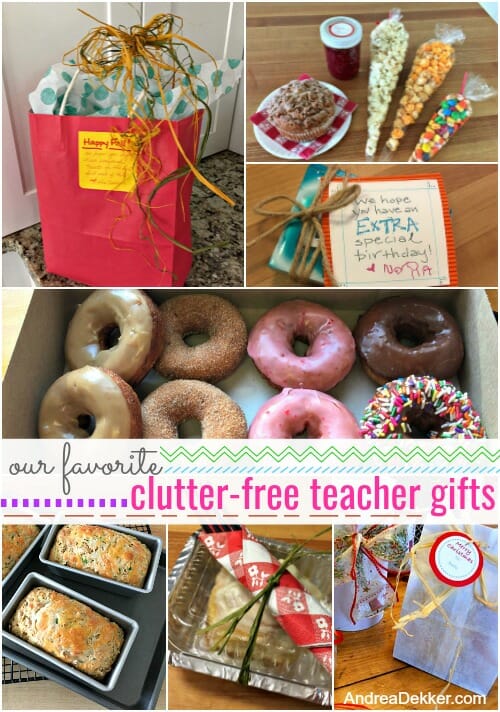 Since Dave is a teacher and since I regularly talk about clutter-free gift ideas, I've received MANY emails over the years with questions regarding gifts for teachers.
I've always had a variety of ideas to share with these readers… but now that my children are school-age, I feel like I can share more from personal experience — both receiving gifts for Dave AND gifting special treats to our children's teachers (something we do very regularly throughout the year!)
I don't know if it's simply because Dave is a teacher and I know how much time, effort, and energy they put into teaching their students every single day, but I have a soft spot in my heart for teachers.
I've never been one to worry about a strict budget when gifting our teachers — of course, I don't spend hundreds and hundreds of dollars on each teacher, but I'm much more willing to splurge on one of my children's teachers than I am on any other non-family member.
I figure they spend more time with my kids than I do during the week, so I want them to know how much they are appreciated by our entire family on a very regular basis (more than just Christmas, their birthday, and Teacher Appreciation Week for sure).
I realize teacher gifts aren't something every parent is so passionate about… but if you're looking for a few clutter-free teacher gift ideas, I think today's post will help — hopefully with plenty of time to put something nice together before the holidays!
1. Go in on a Class Gift:
So far, our "room parents" have always provided an opportunity for anyone in the class to contribute money towards a class gift. If you are low on gift funds, this is DEFINITELY the way to go.
Your $5 contribution will go much further paired with everyone else's contributions — which means the teacher can enjoy something more substantial than 20 Christmas ornament or an assortment of random $5 gift cards.
Our room parents even offered the opportunity to send money via PayPal — which means no writing a check or sending cash with a small child, no shopping, no wrapping, etc.!
Can you tell I'm a big fan of class gifts! Honestly, I'm pretty sure the teachers love them too!
If we go in on the class gift, I usually wrap up something SUPER small (like chapstick, hand sanitizer, or a pack of gum) with our own personal note on it, just because our kids like to actually give the teachers something themselves.
2. Gift Cards:
Yes, you know I'm a HUUUUUGE fan of giving gift cards as practical, clutter-free gifts.
If you're not sure what your teachers like, go with Amazon, Visa, MasterCard, or a large local grocery store.
However, if you're willing to put a little work into your gift card shopping, simply email the teacher and ask what he/she likes, where they like to eat, what stores they shop in, what their hobbies are, etc. Then go to those places and buy gift cards (or check if you can order them online).
Done — a perfect gift you KNOW they will love and won't collect dust in the bottom of their desk drawer for the next 5 years!
Here are a few creative ways to give gift cards.
3. A Silly Gift That Plays on a Hobby:
I'm always keeping my eyes and ears open for a teacher to mention a specific hobby, a favorite sports team or music group, or even just play on their classroom theme or the school theme for the year.
For example, Simon's teacher has her entire room decked out in Pete The Cat posters, books, and other paraphernalia — so we made her a Pete The Cat card with Pete The Cat colored button cookies for her birthday last month.
It was a very simple and inexpensive gift — I'm not even sure how fantastic the sugar cookies tasted with no frosting, but it was so fun to know we did something special for her that was very personalized.
I can't wait to give his teacher the Christmas gift we found on Etsy last week!! 🙂
4. Acts of Service:
Most teachers have recess duty, hall duty, lunch duty, detention duty, lounge clean-up, etc. at some point each week, each month, or each semester… and in my experience, they are SO appreciative of any parent who is willing to take over one of these tasks for a day.
They can then use the extra time to plan upcoming lessons, grade papers, organize their rooms, or get ready for the next day.
I realize not all schools will allow parents to help in this way (we need to go through a background check at the beginning of the school year before we can help in the school) but it might be worth asking — especially if you have more time than money this year.
5. Food Treats:
Since I really REALLY love to bake, I always send our teachers an email the first week of school asking if they have any food allergies, as well as requesting their favorite sweet treats, salty snacks, baked goods, candy, beverages, savory delights, etc.
This way, I can randomly surprise them with special homemade (and store bought) treats all year long.
The kids LOVE it when I put treats for their teachers in their backpacks with instructions to "give this to Mrs. _______ when you get to school." They feel special, their teacher feels special, it's minimal work for me, so yeah… it's basically a win-win for everyone!
If you don't love baking, consider sending gourmet popcorn or nuts, a favorite candy bar, a giant Costco muffin wrapped up in cute cellophane, donuts from a local bakery, their favorite fruit, or even veggies and hummus (Nora's teacher mentioned she likes veggies and hummus, so I've already gifted her with ready-to-eat veggies from our garden and a single-serving hummus container).
This is also a really great (and frugal) way to give gifts to all the special teachers — Spanish, Computers, Music, Art, Library, P.E, Bus Driver, etc.
Apparently our bus driver is our neighbor across the street — which I never realized until he came over to thank me for the cinnamon roll Nora gave him one morning as she got on the bus!
Oh, and if you want to splurge, I would highly recommend the edible fruit/flower arrangements that are readily available in most cities. They are AMAZING, so tasty, and such a fun treat. They are pricey — but it might be worth the splurge for a fantastic teacher!
6. A kind email or note of thanks.
Even if you have zero budget and zero time to put into any sort of tangible gift for your children's teachers, you can take 5 minutes to shoot them a kind and encouraging email or put a hand-written note of thanks in your child's folder/backpack for the next day.
Both Nora and Simon have always had a special folder they cart to and from school every day. Their teachers put anything we need to see in the folder, we check it, and send any requested or necessary information/papers back for the next day.
I frequently put a post-it not or simple note card inside saying "Thanks for ___________" or "Simon really loved doing _________ yesterday."
It takes a minute and I'm sure it lightens and brightens the teachers day just a bit. Totally worth the effort in my opinion.
.
I do realize that many of the ideas I mentioned above are geared more towards elementary school teachers, Sunday school teachers, children's librarians, etc. so they might not be as fitting for older children (I'll get back to you on this in another 8-10 years!)
However, Dave has gotten his fair share of food treats, gift cards, and thankful emails over the years — all of which have been much appreciated by Mr. High School A.P. Calculus teacher — so the ideas work for all age levels!
What are your favorite ways to gift the special teachers in your life?