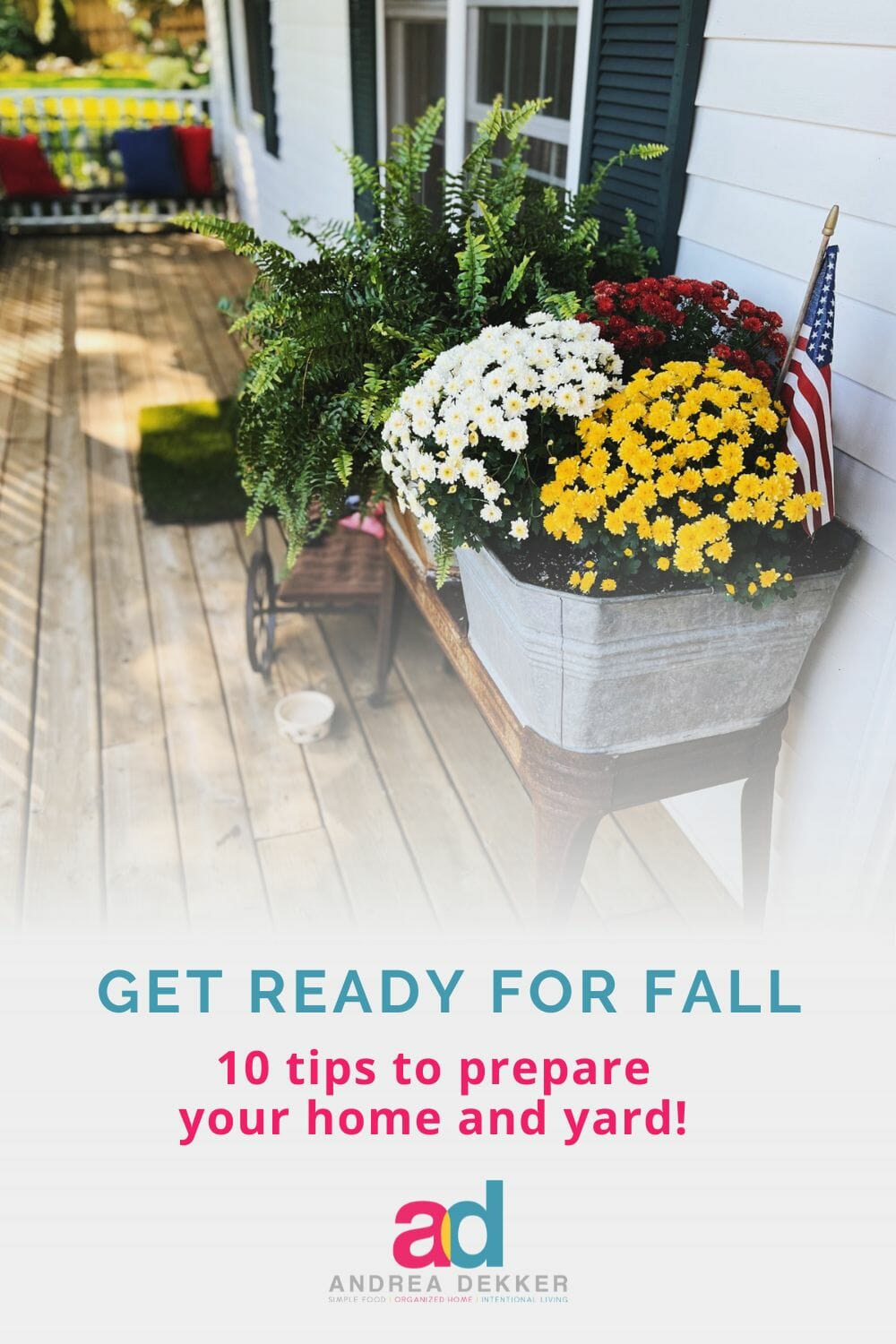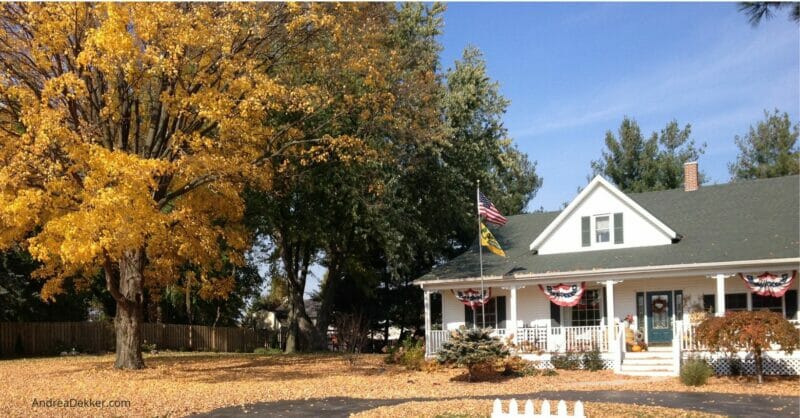 Once the busyness and newness of back-to-school routines are in place and cooler weather hits West Michigan, we begin the process of preparing our home and yard for a long cold winter.
Due to our large yard and aging farmhouse, the list of maintenance projects can sometimes feel overwhelming… but when we break it down into seasonal tasks, it feels a lot more doable!
Here are some of the things we try to do before the snow flies ( my self-imposed goal is to be finished by Thanksgiving).
1. Rake, Mulch, and Remove Leaves:
This is at the top of our list because it takes the most time.
We have SO many leaves to clear every fall, and of course, they aren't all ready to rake at one time, so it's a long, slow, ongoing process from early October through late November (once we even raked leaves during a warm spell in February!)
We have mulching blades on our mower so Dave tries to mulch as many of our leaves as he can (he double-cuts the grass to chop them up really small). However, there are times when the leaves are too thick to mulch — so we rake!
We have a pretty good system where I rake leaves into piles and Dave picks up the piles with a tarp and brings them to a trailer which we bring away to our city's yard waste dropoff — but it still takes time so we try to do a little every week (preferably when the leaves are dry).
2. Clean out Gutters:
We have gutter helmets on all our gutters except a stretch on the back of the house.
It's only about a 20-minute job but something that must be done every fall before the dirt and debris freeze (and then cause big problems when spring rains fall).
I use a regular step ladder, some rubber gloves, and a 5-gallon bucket. I usually do it twice in the fall and twice in the spring. It sure feels great when I can cross this project off my list!
3. Blow out Irrigation Pipes
We have this professionally done.
It costs around $95 and takes less than 20 minutes — we just have to remember to schedule it!
4. Drain hoses and sprinklers
I just did this last weekend — and although I was dreading it, I timed myself and realized it only took about 30 minutes to drain all of our hoses.
I drag them all to the driveway, fully extend them, drain any remaining water (our driveway is on a slight slope), and roll them up into a tight coil. I also make sure to connect the male and female ends of the hose together so no bugs or critters can get inside over the winter.
We learned the hard way that we really need to do this when the weather is still warm and sunny so the hoses are nice and flexible. One year we forgot and it was basically impossible to get the water out because we couldn't get the freezing cold hoses to lay flat.
I also make sure to drain all our sprinklers, watering cans, and spray nozzles.
Once things are "winterized" we store them in our outhouse garden shed.
5. Close the Pool
Since we went with an above-ground pool (instead of the originally planned in-ground pool), closing it is actually a breeze. We simply add a few chemicals, slightly lower the water level, disconnect the pump (we bring it into our outbuilding), and put the winter cover on.
It only takes an hour or two to and then it's done until we open things again in the spring. Best of all, we can do it ourselves for free!
We also fold up our picnic tables, stack our lawn chairs, and pull all our outdoor furniture into our outbuilding for the winter.
6. Pull out all Annual Flowers, Herbs, and Vegetables
I try to wait as long as possible to pull out our annuals, so I probably won't do this for another couple of weeks — but I'm always ready to clean out the vegetable patches in our front yard.
Whenever I pull everything out, it feels bare but in a fantastic way — like after I take the Christmas tree and decore down and the house just feels so decluttered and empty. I love it!
7. Deadhead and Trim Perennials and Shrubs
There are some plants that I trim and deadhead throughout the summer (to keep them blooming longer). We also have some plants that we wait to cut back until spring so we can enjoy them all winter (tall grasses, hydrangeas, and sedum to name a few). But the vast majority of our plants are cut back in the fall.
Although it takes time, I like doing this process in the fall because it's significantly easier to remove all the fallen leaves from our planting beds after we cut the plants back — so we sort of "kill 2 birds with one stone" in the sense that I cut the plants back, then we rake everything up at one time.
Plus, by taking care of as much as we can in the fall, we can spread mulch that much sooner in the spring!
8. Spread Preen In All Planting Beds
I am a HUGE advocate of using Preen in all our planting beds as it does a magnificent job of keeping weeds away all season long.
I usually spread preen right away in the spring (early April), then again whenever we finish mulching the beds(late May). I do another application around the 4th of July, and then again in early fall.
In my experience, the fall application helps to prevent those early spring weeds — so after we prune, deadhead, and rake all the leaves out of the planting beds, I spread one final application of Preen for the year. It's WAY better than spending all summer weeding!
9. Clean up the garage and sheds
Although we do our best to stay on top of the dirt, debris, and clutter in our garage, outbuilding, and sheds, they still need a little extra TLC every Spring and Fall.
We organize things, put the summer toys away (many end up in the trash), break out the snowblower and shovels, and just give it a good once-over clean before it gets too cold to enjoy cleaning outside.
10. Wash Windows.
This is another task I just recently completed — not necessarily one of my favorite chores, but always nice to cross it off my list!
Although I know they will inevitably get really dirty again, I love looking out freshly washed windows during the Fall and Winter months. So before the weather gets too chilly, I dedicate a couple of hours to cleaning the insides and outsides of all our windows.
It's always amazing to me how much more sunlight seems to come into our home when the windows are clean (or maybe I'm just imagining it!)
It always feels so good to accomplish everything on our Fall Clean-Up list… and once we're finished, I'm ready to be DONE with yard work for a while!
As a bonus, I broke out the first fall-scented candle of the season — so our whole house smells like fall too!
What's on your Fall Clean-Up List this year?